Side Menu:
Chief Purser Hugh McElroy
Chief Purser Hugh McElroy
- Legacy & Portrayals
There were many tributes to Hugh McElroy in the wake of his death. For example, The Liverpool "Journal of Commerce" on the 8th May 1912, contained the following notice:
"It has been said that so pronounced was the popularity of Mr H. W. McElroy, the R.M.S. Titanic's Chief Purser, that many people who frequently crossed the Atlantic, timed their voyage so as to sail on the same ship with him, and would go to some extraordinary lengths to be seated on his table with him. They thought of him as the Commodore Purser of the Line.
Allegedly, Richard -Hugh's brother also said : "Need it be added, that one who was so brave was also a true catholic." He had received Holy Communion in Southampton shortly before sailing, and Hugh's last message to his brother was, "Do not forget me in your daily Mass."" ("Death of a Purser: The Life and Times of Hugh Richard Walter McElroy, Chief Purser of R.M.S. Titanic," by Frank McElroy).
A New York world traveler who knew him well described him as, "famous among all who go down to the sea in ships as a first-class raconteur... big, jolly, courteous, human to the last inch, McElroy was the ideal man for the position he held." ("Titanic Hero Hugh McElroy: 'Sand For Breakfast Tomorrow'"" by Joe Gannon, The Wild Geese.)
In an unidentified Irish newspaper article entitled "Wexfordman Chief Purser," although it contains some inaccuracies, it described McElroy in glowing terms:
"Mr Hugh M'Elroy, who belongs to a very good Liverpool family, and is brother to Father M'Elroy, who lives close to Bootle. He had been purser in the White Star Line for a quarter of a century, and for the last ten years he had been purser in another liner when he was transferred to the Olympic. After that ship's collision with the Hawke he was transferred to Titanic. He was extremely popular with everybody who knew him, and was well known in New York and Liverpool...He was a splendid specimen of manhood, being about 6ft. 2 in in height and was a grand character and beloved by all." (Newspaper clipping courtesy of Joan O'Brien)
And there were anecdotes. According to Dr. J. C. H. Beaumont, a senior surgeon aboard the RMS Olympic, McElroy had premonitions about Titanic: "Purser McElroy had been woken on several occasions on the Olympic due to suffocating nightmares, which gave way to him having some premonitions about sailing on the "Titanic", he would have nightmares of being in a dark tunnel with no means of escape". ("Ships and People," by Dr. J. C. H. Beaumont, 1927)
There were also tributes from other colleagues:
"Another very fine chap," said one officer of the Afric, "was the purser, Mr. E. J. M'Ilroy [sic]. I see by the papers that be was probably drowned also. The boat of which he was in charge was full of women. They became excited and upset the boat, and there is nothing about his being saved. He was a big, genial Irishman, about 40 years of age, and would be well known here. Mr. M'Ilroy was in the Britannic whilst the South African war was in progress. She acted as a troopship for several voyages." (The Examiner, Launceston, Tasmania, Friday 26th April 1912)
Two years later a "Mr and Mrs. Harry D Cruickshank" placed a memorial notice for Hugh McElroy in the New York Herald of April 15, 1914 - showing that he was still being remembered as a "devoted friend and companion."
Hugh's sister Charlotte
There was also some post-Titanic religious drama in the McElroy family when Hugh's sister Charlotte left the Roman Catholic Church and married an Anglician, living at Flanders Road in Chiswick west London in July 1913. This apparantly caused her to argue bitterly with her mother and Hugh's widow Barbara, although the marriage only lasted three years as her husband died in 1918, after which she reverted back to her maiden name of McElroy and brought up two young children. According to Frank McElroy:
"Charlotte realised the enormity of what she had done, in changing her religion and prepared herself for the onslaught, given that her family were for generations staunch Roman Catholics, she would be excommunicated from the family as well as the church, and because the Roman Catholic church felt she had committed such a grave offence against the ecclesiastical authorities, the Bishop would put her under interdict (denying her confession, communion or consecrated burial), which made it a mortal sin for a Catholic to support." ("The Life and Times of Hugh Richard Walter McElroy, Chief Purser of R.M.S. Titanic", by Frank McElroy)
Frank McElroy and the "autobiography"
For many years Hugh McElroy remained a relatively unknown character in the Titanic narrative, until Frank ("Frankie") McElroy appeared on the scene in the late 1990s researching the life of his great uncle, culminating in self-publishing of his book in 2011 entitled "Death of a Purser: Hugh Richard Walter McElroy, Chief Purser of R.M.S. Titanic". He first began with a family website on GeoCities, launched on the 26th of January 1995, updated on the 21st February 2007 with the last update on October 27th, 2009. The website is no longer active, although fragments can be found via the Internet Achive "Way Back Machine."
The information on the website was then compiled into what he incorrectly labels an "autobiography" (!), a book that was released in 2011 via AuthorHouse, a self-publishing company based in the United States. The book is dedicated to his "Mum and Nan" saying he "kept his promise to both of you in doing this bioresearch the world can know the truth with regards to Hugh and hopefully have a better understanding." While it contains a lot of research, photographs and documents of interest he has gleaned over the years, it suffers from a lack of editing to prepare it for professional publication, as well as reduced printing quality (some photographs lack any detail) and occasionally unreadable and inconsistent computerised typeset. In a review on Encyclopedia Titanica, Stanley C. Jenkins wrote about the book on its release, also noting mislabelled photographs:
"It must be said that the grammar and punctuation throughout Death of a Purser is somewhat eccentric, so much so that the book is, in many places, extremely difficult to read. There are, for example, whole paragraphs without full stops or indeed any recognisable sentence structure... There are some obvious errors and inconsistencies... The book tends to be discursive, in that it jumps from subject to subject, and from place to place, with little regard for any kind of overall structure." (Stanley C. Jenkins, Review of "Death of a Purser," Encyclopedia Titanica)
1987 - McElroy's and the Herald of Free Enterprise sinking
The MS Herald of Free Enterprise was a roll-on/roll-off (RORO) car ferry which capsized moments after leaving the Belgian port of Zeebrugge on the night of 6 March 1987, killing 193 passengers and crew. According to Frank McElroy's book, the author and his family were involved:
"This was the last boat Frankie was aboard "Herald of free Enterprise", which Capsized 6 March 1987 and he has sworn never to step foot on any other boat, that night was one never to be forgotten, Frankie was on a day trip with his wife and family, Thank God no-one in his group was loss [sic] that night, only his daughter, after that night, he has ever ventured aboard a boat, (cruise ship around the Mediterranean)." ("Death of a Purser" by Frankie McElroy)
The above is the only reference that can be found on the event - leaving something of a mystery, as Stanley Jenkins pointed out in his review of the book:
It also comes as something of a shock to discover that on 6th March 1987 the author's family were, by a tragic coincidence, involved in another major shipping disaster, when they survived the sinking of the Herald of Free Enterprise – a truly terrifying ordeal in which the 13,600 ton car ferry capsized and sank in just 90 seconds – the worst peacetime British maritime disaster since the loss of the Titanic. It would have been interesting to have been told a little more about this more recent disaster – after which Frankie McElroy swore 'never to set foot on any other boat'. (Stanley C. Jenkins, Review of "Death of a Purser," Encyclopedia Titanica)
Purser's office in the wreck
The purser's office in the Titanic wreck has been explored during several missions including James Cameron's 2001 and 2005 expeditions.
"On the starboard side, we looked at what were once the Purser's and Enquiry offices from outside in the foyer. There are a few remnants of the heavy oak architrave above and what look to be collapsed marble countertops. Beyond, in the tangle of debris, are two large, very solid-looking metal boxes or cabinets, the one at the forward end of the room almost reaching the overhead. I'm assuming these are the safes. Little else was recognized. It's the usual tangle of wires and heaps of debris in there, and Cameron did not risk entry. I saw no sign of the ornate gilt-bronze queue dividers, which were once in front of the Enquiry Office. Where they would be are just rolling mounds of debris, several feet deep." Marschall, Ken (2001)James Cameron's Titanic Expedition 2001: What We Saw On and Inside the Wreck. Retrieved October 28, 2004 at the website: http://marconigraph.com/
When James Cameron and his crew returned to the purser's office in 2005 they found several pieces of rotting furniture including desks, and cabinets.
Film Portrayals
Despite the important role McElroy played in the disaster, he has not been prominently portrayed in any dramatisation as yet.
Purser McElroy was portrayed by actor Arthur Hosking in the 1958 British film "A Night To Remember". His only appearance is during the early stages of the sinking when many of the 1st class passengers are lined up at his office to retrieve their valuables. He is addressed as "purser" while a man behind him inside the office could possibly be Reg Baker. This is his only appearance.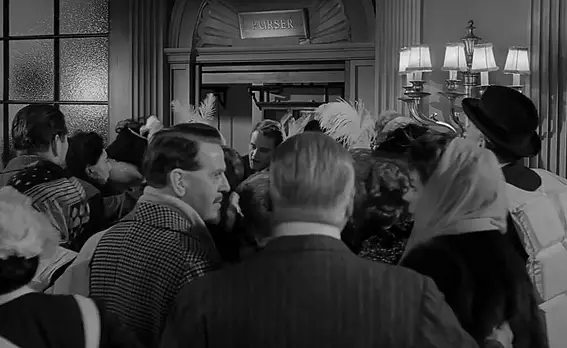 In James Cameron's 1997 film Titanic there is no character specifically designated as the purser, however we catch a glimpse of someone who may be a purser during the Southampton scene, as the First Class passengers are boarding. He has no lines and is played by unknown.
In the 1996 computer game, "Titanic - Adventure Out of Time," the role of the "Purser" is an important one and played by James Richardson, but bears little to no resemblance to Hugh McElroy.