Chief Officer Wilde - Master and Olympic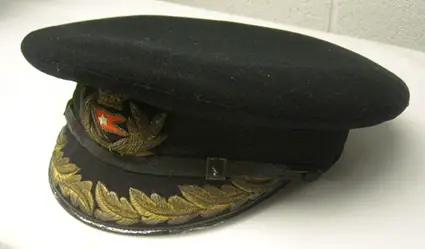 Speculation that Wilde was once a captain stemmed from a photograph of Wilde's cap in the possession of his grandson Chris Bayliss. The curious aspect is that the brim of the cap has oak leaves on it, indicating the rank of captain. This had caused some to speculate that prior to Titanic he was in fact master. Susanne Störmer has apparantly stated that Wilde had temporarily been in command of a vessel, possibly a White Star Line cargo ship, based on information from Lloyd's Register of Captains in the Guildhall Library. Titanic researcher Gael Bordet also notes that he may have commanded the Mersey for a month in 1908. However all of this information was until recently speculation.
Captain of the SS Zeeland
The SS Zeeland was a British and Belgian ocean liner of the International Mercantile Marine Co. (IMM) and when launched in 1900 was initially owned by the Red Star Line. However, in April 1910, the Zeeland was chartered to the White Star Line for service between Liverpool and Boston, where she remained until September 1911 (after which she was returned to Red Star for the Antwerp–New York service).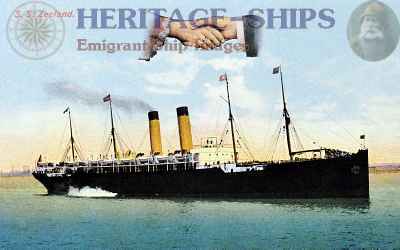 According to The Atlantic Transport Line, 1881-1931: A History with Details on All Ships by Jonathan Kinghorn "the Zeeland was handed over to the White Star Line. Pending the delivery of the Olympic she was used as a temporary replacement for the recently lost Republic on the Liverpool to Boston route, sailing for the last time on this service in September 1911."
With two smoke stacks, the 561 foot long Zeeland was a steel screw steamer capable of 15 knots, with 342 first class, 194 second class and 626 third class and 121 crew aboard. There was one special inclusion on that first voyage as a White Star ship that departed Liverpool on the 7th of April 1911. Its Captain was Henry Tingle Wilde. He had finally made it to Captain!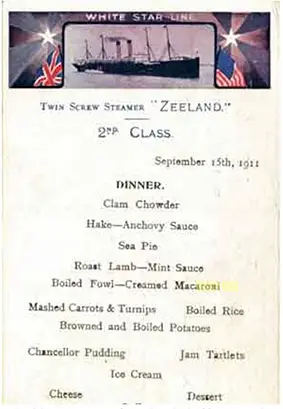 Wilde is clearly listed as "master" in the Royal Navy documents held by the National Archives and shows him working in that capacity from the 7th of April 1911 until the 5th of May 1911. Additionally, Wilde's White Star Line record also confirms that he was in command of the Zeeland from the 10th of April 1911 until the 6th of May 1911. And it confirms his reference made in a letter to his sister-in-law Annie Williams written on the 20th of April 1911 , having reached Boston: "If Pollie had been spared to me how pleased she would have been to see me in this ship. I had looked forward so much to get command for her sake, so that she could have had an easier time with someone to look after the children."(Sincerely Harry, Michael Beatty (63.))
Also in his letter to Annie he says he likes the Zeeland: "I like the ship very well but unfortunately I am not stopping here. I don't know what change is in store for me, it will be rather a drop to go to one of the Australian cargo steamers after this." And he is still suffering: "I have been keeping all right only very miserable. I have so much time this trip to think of my terrible loss no work of the ship to occupy my mind…How I miss her nobody knows. I loved her so much Annie, and to be taken from me, it is too cruel to think of." (Sincerely Harry, Michael Beatty (63.))

His time as Captain of the SS Zealand was unfortunately short-lived - he signed off on the 5th of May 1911 and by the 11th of May he is listed as aboard the RMS Teutonic, back in the capacity of Chief Officer for the Liverpool-Montreal service. The Teutonic was not too dissimilar to the Zeeland, although it was built under the British Auxiliary Armed Cruiser Agreement, and was Britain's first armed merchant cruiser, initially sporting eight 4.7" guns. And in 1891 the Teutonic took the Blue Riband (the award for the fastest Atlantic crossing) with an average crossing speed of 20.25 knots. But once again he only stayed on for one month before finding himself aboard familiar decks aboard the Cedric on her Liverpool to New York run in July 1911.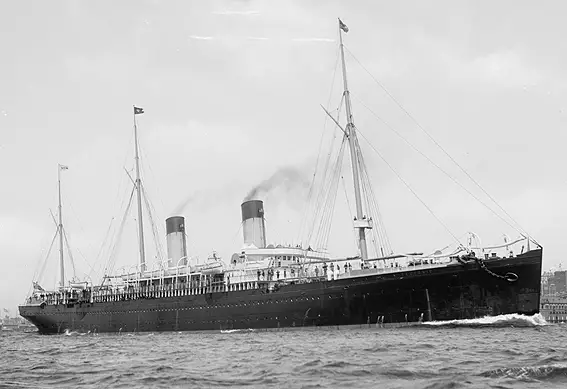 Sidney H.V. Abbott, a shipmate of Murdoch and Wilde who wrote to Walter Lord when he was researching his book "A Night to Remember" in 1955, recalled the following about Wilde:
"Wilde joined the old Teutonic in April 1911 and only served one trip when he was transferred to the Olympic where he remained until he went to the Titanic. During the short period I served with him, three weeks only. I remember him as a splendidly built man, rather quiet, perhaps a stickler for etiquette, but giving the impression of a most efficient officer." (letter dated 25/6/55 courtesy of Paul Lee's transcription of Lord's, and Macquitty's, notes and letters)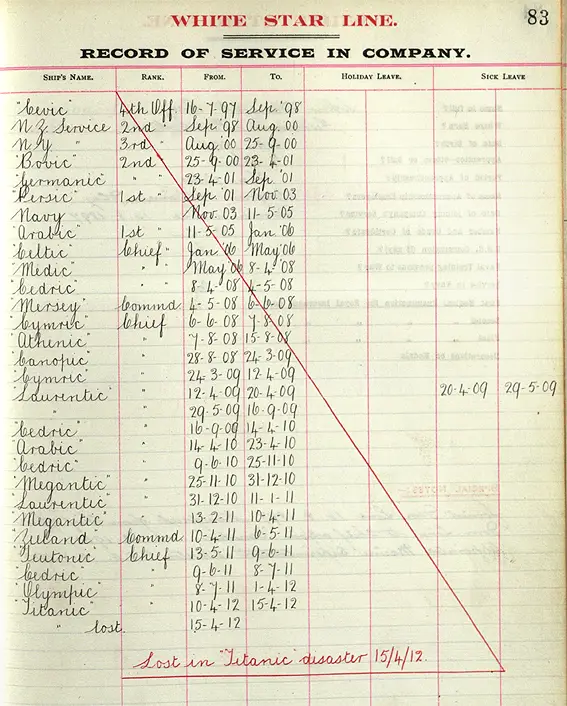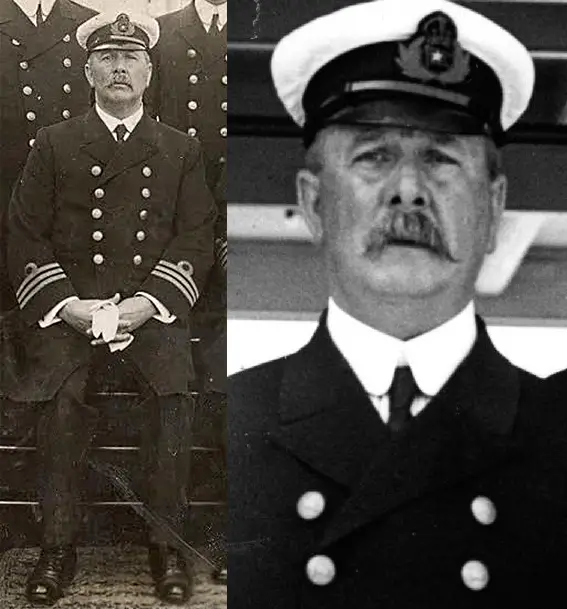 RMS Olympic - largest ship in the world
In what can only be described as a huge step up, in July 1911 Wilde was appointed as Chief Officer to the White Star Line's newest ship - the RMS Olympic. At the time she was the largest ocean liner in the world, 882 ft long, with 9 decks (8 for passengers and 1 for crew) and a capacity for 2,435 passengers and 905 crew.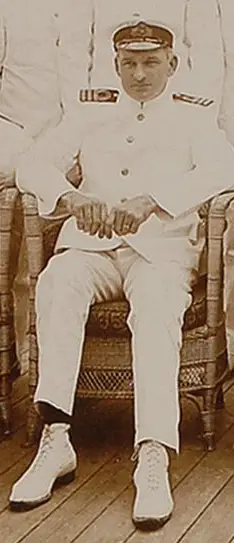 It would also be the longest he stayed with a single ship for a considerable length of time - although he was not the Chief Officer for her maiden voyage, which had commenced on the 14th of June 1911 from Southampton Joseph Evans in that role.
However on the following voyage, he took up duties as the Olympic's Chief Officer, listed in his RNR documents as serving from the 6th of July 1911. This was the first time that Wilde would serve under Titanic's future captain, Edward J Smith. During his time aboard there are several photographs of him posing with fellow deck officers. Notably, in one of these photographs, his wedding ring is clearly visible on his hand. Not surprisingly, family was constantly on his mind; he wrote no less than 15 letters back home to Annie and Owen Williams.
While the Captain and other senior officers such as William Murdoch and Charles Lightoller had moved to Southampton when in 1907 the White Star Line had started running its large ocean liners out of Southampton, instead of Liverpool, there is no indication, despite the long journey back to see family at 25 Grey Road, Walton, Liverpool, that Wilde intended on moving the family south.
On the 20th of September 1911, on the Olympic's fifth voyage and fourth with Wilde as Chief Officer there was a collision between the Olympic and the British cruiser the HMS Hawke. While the HMS Hawke suffered severe damage to her bow and nearly capsized, the Olympic was able to return to Southampton under her own power; no one was seriously injured or killed.  Although the ship was technically under the control of the harbour pilot, Captain Smith was still in command of Olympic at the time of the incident.
Wilde duly appeared before the Admiralty inquiry into the incident to give evidence. The inquiry found that the Olympic had indeed been responsible for the collision but absolved Smith specifically of blame, for his ship was under compulsory pilotage.
However, the incident turned into a financial disaster for the White Star Line, as the voyage to New York had to be abandoned and the Olympic taken to Belfast for repairs, which took a good six weeks and also slightly delayed the construction of Titanic. It was not until December, 1911, that Wilde was able to rejoin his ship. Other than the return crossing from Belfast in November 1911 following her repairs in the Harland & Wolff yards - a short journey which saw A. Holme briefly stepping into the Chief Officer's duties - Wilde remained with the Olympic until his final voyage with her on the 13 - 30 March 1912. During the time that he served aboard Olympic as second in command there were two further -though lesser- incidents, striking a sunken wreck and having to have a broken propeller replaced in February 1912, and nearly running aground while leaving Belfast.