Chief Officer Wilde - Death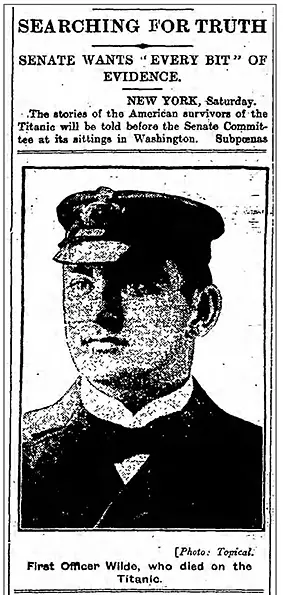 At the very end Wilde was most likely working on either collapsible A or B,, although there are presently no primary sources to place him at either. Considering that most of those still on the boat deck at this time would perish in the sinking, this lack of testimony is perhaps not surprising.
At the British Inquiry, Lightoller was asked:
14766. (Mr. Holmes - To the Witness.) Can you tell me the last that you saw of Mr. Wilde before the ship went down?
Lightoller: The last I remember seeing of Mr. Wilde was quite a long time before the ship went down.
Colonel Archibald Gracie makes a reference to Chief Officer Wilde having been washed overboard in his book:
"Clinch Smith and I got away from this point just before the water reached it and drowned Chief Officer Wilde and First Officer Murdoch, and others who were not successful in effecting a lodgment on the boat as it was swept off the deck." (The Truth About the Titanic, Gracie)
Chief Officer Henry Wilde's body was never recovered and so his cause of death can neither be confirmed nor denied. The possibilities are death by debris (e.g. falling funnels etc), drowning, hypothermia or suicide.
Suicide Rumours
According to most publications, Wilde was last seen assisting with the work at Collapsibles C and D. In fact, Lightoller in the British Inquiry evidence said of Wilde: "The last I remember seeing of Mr Wilde was quite a long time before the ship went down." (24.)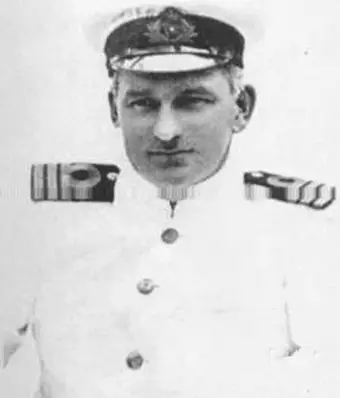 With reports of a shooting and suicide appearing shortly after the disaster, the term "Chief Officer" and Wilde's name began to appear. According to James Cameron's Titanic Explorer CD-ROM "to this day, rumours persist that he committed suicide on the Boat Deck during the sinking." (41.) Also Murdoch researcher Richard Edkins has developed what he calls the "Wilde hypothesis":

"Elizabeth Gibbons was sure that if anyone shot himself, it was Henry Tingle Wilde, the Chief Officer, by a process of elimination. Moody was last seen jumping or falling into the sea from the deckhouse, so presumably could not have killed himself. Smith either went down with the ship or died in the water, Murdoch died when the ship abruptly sank...which only leaves the Purser, McElroy, or Henry Tingle Wilde, poor fellow. McElroy's body was buried at sea, with no reference to any gunshot wounds, when found in the water. The bodies of Moody, Smith, Wilde and Murdoch, were never recovered.

"The researcher Geoff Whitfield was the first to pass word to me that the Liverpool Echo published a story at the time, that Wilde had shot himself. Other newspaper accounts offer the same story, some (for example, the Sunday April 21st 1912 News of the World) prematurely stating that it had happened on the bridge before any boats were launched. The best that the writer can state for certain, is that both Murdoch and Wilde were alive when Collapsible C was launched. Thereafter, interpretations diverge; Wilde was a taller man than Murdoch, so that may help separate the identity of the 'officer who shot himself'.

"It was alleged by one of my correspondents that Wilde's wife (who died in 1910, soon after two of their children) had wealthy relatives who did not let the suicide story spread past its first mention. The story may have been re-directed at the less-influential William Murdoch." (Richard Edkins, Murdoch of the Titanic (1.))

There are two accounts that refer to a "chief officer" involved in a shooting/suicide. Firstly we have an anonymous account which mentions Chief Officer Wilde by name:

"Chief Officer Wilde stood on the bridge after the collision. He raised his arm and shot himself. He dropped where he stood." (News of the World, April 21, 1912)

Then we have Mr. Carl Olof Jansson a 21 one-year-old from Sweden :

"Janson saw Chief Officer Murdock shoot himself just before the last boat was launched. ....Shortly before the last boat was launched I glanced toward the bridge and saw the chief officer place a revolver in his mouth and shoot himself. His body topped overboard. (Chicago American Thursday 25 April 1912).

References to the "chief officer" in the suicide accounts may have arisen due to continued confusion over the reshuffle caused by Wilde's late arrival aboard. Some researchers such as Paul Lee have theorised that Murdoch and Lightoller would not have had enough time to change uniforms and this could have caused the resulting confusion.

And those who have said that the family tragedy predisposed him to suicidal tendencies have refuted this. George Behe, who in his monograph vigorously refutes Richard Edkin's speculation regarding the "Wilde Hypothesis," summarises this: "It seems rather unlikely that Wilde (after having had such a long period of time to come to grips with his loss) would suddenly take it into his head to mourn his dead wife, fall to pieces over it and suddenly become suicidal -- all during the middle of a sea disaster." (George Behe, First Officer Murdoch and the 'Dalbeattie Defense' (11.))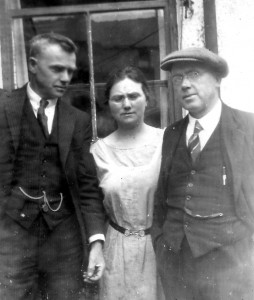 It is interesting to note that Second Officer Lightoller, in an article he wrote for The Christian Science Journal (Vol. XXX, 10/1912, No. 7), stated "[I] was on my way back on deck again when I heard Wilde say, 'I am going to put on my life-belt'" which would indicate self-preservation was on his mind rather than any suicidal tendancies.

Also, new evidence revealed by Senan Molony has been recently found that suggests he was last seen smoking a cigarette shortly before the end. The evidence comes from a letter which was part-published in the May 11th edition (page nine) of the Northern Constitution, a newspaper based in Coleraine, Northern Ireland. The letter was written by John Smith who worked as chief steward at the International Mercantile Marine Company's (IMM) Officer's Club at Pier 60 on the North River in New York City. After the sinking of the Titanic, the surviving officers came to the club and told their stories of the disaster. Later John Smith wrote to his brother Hugh, who lived in Portrush, Ireland, about what he heard, including the following:

"The account I got from the surviving officers, I am sure, is as near the truth as will ever be known....Mr Wilde, the Chief Officer, and Mr Murdock, the first mate, were splendid types of men, and old Captain Smith was beloved by everyone...I can only say that the Titanic crew were the pick of the White Star Line.

"The last seen of Mr Wilde he was smoking a cigarette on the bridge. I expect he was hoping the water wouldn't put it out before he finished it. His wife died about sixteen months ago, and I have heard him say he didn't care particularly how he went or how soon he joined her. He leaves three children. He would have been Captain of the Cymric two trips ago, only the coal strike and the tying up of some of the ships altered the company's plans." ("The Portrush Letter" by Senan Molony) (8.)

It seems from this letter that John Smith himself had earlier heard Wilde say that 'he didn't care particularly how he went or how soon he joined his wife' sometime between the death of Wilde's wife and Wilde's assignment to the Titanic. Then after the disaster, via survivor's accounts, he must have heard that Wilde was last seen "smoking a cigarette on the bridge".

This account does tie in with an account in the Cornish Post of May 2, 1912 in which reference is made to "Chief Officer H.T. Wilde, who was last seen on the bridge smoking a cigarette." It further claims that he "waved good-bye to Second Officer Charles Lightoller as the Titanic's bows went under."

Jemma Hyder and Inger Sheil summarise the accounts:

Whether his death was attributable to drowning, debris related injuries or hypothermia is not possible to know now, as his body was not recovered. His name appeared in early newspaper accounts (none of them first hand from a reliable witness) suggesting that he had committed suicide with the Webley revolver, just as Murdoch and Smith's names were also suggested. The New York Herald of 19 April 1912 ran the headline Saw Chief Officer Wilde End His Life With Pistol over an article that asserted that several survivors, including third class passenger Abraham Hyman, witnessed the incident. Hyman is the only named individual whose account is included in the article, and as printed he makes no specific mention of an officer's suicide. Another story in The Liverpool Daily Post and Mercury of the 20 April 1912 about the headlined Liverpool Officer's Alleged Suicide, naming Wilde, is more than slightly problematic, as it cites as its source 'Quartermaster Moody' (most likely an odd amalgamation of QM Robert Hichens and Sixth Officer James Moody) - an example of one of the more garbled pieces of journalism to appear in the disaster's aftermath. In spite of the efforts of researchers, reports of a suicide remain elusive and inconclusive. Many accounts are evidently second or third hand gossip, thrice told tales that circulated on the Carpathia when she conveyed the survivors to New York or aboard the Lapland and Adriatic when they returned surviving crew to England, later recounted as eyewitnesses accounts from individuals in no position to have witnessed what they claim to have seen. Some are more plausible and give the reader pause for thought. None are definitive. ("On Watch" - Nautical-papers.com, 2002 by Jemma Hyder and Inger Sheil.)
Response in Liverpool
On Saturday April 20th, 1912, the Liverpool Echo newspaper ran a small article, under the headline "Liverpool's Officer's Alleged Suicide" based on a report from a 'Quartermaster Moody' who stated: "Mr Wilde, as soon as he realised that the accident was serious, drew a revolver from his pocket and shot himself. He fell dead upon the bridge." The newspaper added in brackets: Mr Wilde resided when ashore at 28 Grey road, Walton."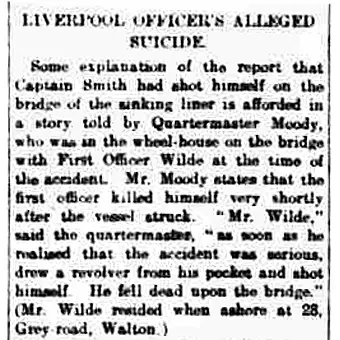 Two days later, on April 22nd, 1912 in a Daily Post (Liverpool) article, the family made a statement: "The relatives in Liverpool of Lieutenant Wilde are very indignant at the report that he shot himself shortly after the disaster happened. Lieutenant Wilde's relatives say he was not the sort of man to shoot himself while duty called him." (April 22nd, 1912 Daily Post, Liverpool)
Letters: Mental State
For many years there has been speculation over Wilde's mental state with some saying that the family tragedy predisposed him to suicidal tendenacies, while others such as George Behe refute this as unlikely.
However the tone of his letters throughout 1911 and into 1912 are indeed an interesting insight into a man grappling with overwhelming grief and admittedly not handling it well. Some notable excerpts, as reprinted in Sincerely Harry by Michael Beatty (63.):
15 January 1911 to his sister-in-law Annie:
I am feeling very miserable here in this afternoon… I feel my loss more every day. I don't know how ever I will get over this great blow. I am trying to keep up but I have to give way at times.
January 16th 1911:
I don't feel very much inclined for reading up. I cannot settle my mind to it at all." He also writes about his concern of his oldest daughter, 9 year old Jenny and how he wished it was him that died: "Poor child she will miss her mother very much. I am worrying very much about Jenny. I think had I been it would have been easier for her.
January 16th 1911:
I don't care to go out after finishing for the day the recollections of the last time I was down here being too much for me, and I am feeling my loss so vert acutely just now…I don't know now I am going to get over it. It is a terrible blow to me. Nobody can understand my feelings. The emptiness seems unbearable.
January 24th, 1911 he writes to Annie:
I have not been into Plymouth yet. I can't bear to go there it brings back memories of the time Pollie and I spent down here 7 years ago. I do feel so miserable. I can't think of anything else. My loss is terrible to bear. It really seems impossible that such a thing can have happened.
January 30th 1911 he writes:
I don't know what I will do when I do come home. I don't seem to have much to look forward to now. Nobody knows the knock I have had. I don't know how I am going to get over my loss. I used to look forward so much to getting home and having a few days with Pollie… I can't understand why I should have this terrible trouble put onto my life. I don't seem to have anything to live for if it was not for the children. I would not care what happened to me.
After finally visiting Plymouth he wrote:
It quite upset me seeing all the familiar places and thinking of the emptiness of my life now. I quite broke down...
2nd of February 1911 Wilde wrote once again to Annie. Notably he writes:
I can't think of anything but the cruel fate that took Pollie away from us. I could have put up with anything but this, it is terrible to bear. I am nearly heartbroken at times don't know how I am going to get over it.
February 18th, 1911 writes to Annie that he is feeling:
"very very miserable... My feelings today are terrible. Nobody knows what I am going through."
20th of April 1911, in letter to sister-in-law Annie Williams:
I have been keeping all right only very miserable. I have so much time this trip to think of my terrible loss no work of the ship to occupy my mind…How I miss her nobody knows. I loved her so much Annie, and to be taken from me, it is too cruel to think of.
Then on the 31st of March 1912, there are still references to his state of mind:
...all work down here. I am just about tired of it, altho it keeps me busy and no time to think.
When he wrote to his children's nurse in a letter dated 9 April 1912, there is some indication of stress:
I have to go... I have been so busy and unsettled.
One man who knew Wilde, was to note that in speaking of his wife 'I have heard him say he didn't care particularly how he went or how soon he joined her.' (Letter to Smith, H., cited Northern Constitution May 1912, "On Watch" - Nautical-papers.com, 2002 by Jemma Hyder and Inger Sheil)
In 1996, author Dan Van der Vat (who co-authored the Titanic conspiracy book, Riddle of the Titanic, with Robin Gardiner in the same year) wrote an article for the Daily Post, in Liverpool, entitled "Victim of Wilde Speculation". He describes Wilde as a "Liverpool's forgotten hero... at last emerging from an unjust obscurity." The article references the suicide rumours but then states that what is "undoubtedly true about Henry Wilde is that he did not want to sail with the Titanic, because he had serious misgivings about her" based on the letter her reportedly wrote to his sister from Queenstown. However, as already discussed in this biography, there is no evidence that such a letter really existed and his thoughts on Titanic in all letters were quite positive. The article also erroneously says that "Smith had specifically asked for Wilde" and that "Wilde was never given command."