Third Officer Herbert Pitman
- Early Life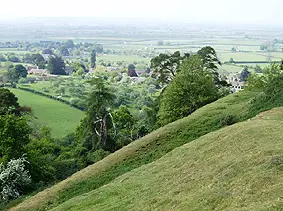 Herbert John Pitman was born in the village of Sutton Montis near Castle Cary, Somerset, England on Tuesday the 20th of November in the year 1877. He was the son of farmer Henry Pitman (born circa 1813) and Sarah.A. Pitman (née Marchant, born in 1851, Bloder, Somerset, England).
Frequently known as "Bert," his father Henry died when he was only three years old in 1880. In the same year, his sister Ida Mary Pitman was born at Sutton Montis, in Somerset. Bert also had an elder brother, William Henry Pitman.
In 1881, a census shows a 4 year old Herbert Pitman living on a 112-acre (45 ha) farm on Sutton Road with his brother, sister, and widowed mother. With such a large farm it is perhaps not surprisingly that his 30 year old mother soon remarried to Albert Charles Candy (born in 1860, Kilmersdon, Somerset).
Later, Bert left home and moved into the Somerset town of Castle Cary.
Apprenticeship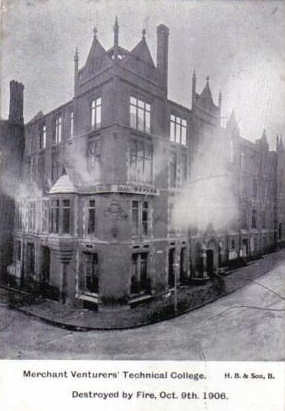 Pitman first went to sea in 1895 at the age of 17 or 18 after joining the Merchant Navy. He received the shore part of his nautical training in the Navigation Department of the Merchant Venturers' Technical College, under Mr. E. F. White.
The technical college was started by the Society of Merchant Venturers, a charitable organisation in the nearby city of Bristol. In the sixteenth century the Society had maintained a free school for mariners' children under the Merchants' Hall in King Street. A century later sailors were being instructed in the 'Arte of Navigacion'. This was to evolve into the Merchant Venturers' Technical College in Unity Street towards the end of the nineteenth century when over 2500 students were enrolled. Founded in 1885 there were 5 floors with the basement devoted primarily to technical instruction on engineering, both steam and electric, and other applied arts. The top portion of the building housed chemical laboratories. There were large amounts of pitch pine (floors, panelling etc) used in the fabric of the building. The Hall was almost entirely of wood from floor to ceiling. A severe fire broke out in the early hours of 9th October 1906 and the building had to be rebuilt.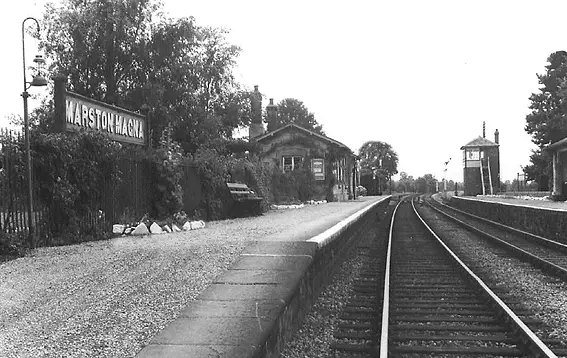 Herbert's journey to a life at sea began at Marston Magna Station, where he was seen off by his step-father, Albert Candy. It was an ambitious choice of career, especially considering he suffered from sea sickness, but also not helped by catching the wrong train:
Whenever Mr. H. J. Pitman of "Redhouse" Sunnyhill passes through Marston Magna Station, his mind goes back to the time 59 years ago when he was seen off by his step-father- on his trip to Liverpool to join the Merchant Service. It was the first time that he was leaving Somerset and his people to embark on a life of adventure...

Not only did he have to get from Marston Magna to Liverpool at a time when railway companies operated rather confusingly and when the G.W.R. got him to Birkenhead, the wrong side of the Mersey, when he should have caught the London and North Western train, but to this day he still suffers from "malade au mer" even on the relative calm of the Bristol Channel. (Central Somerset Gazette, 27th August 1954)
Herbert then served a four-year apprenticeship with James Nourse Ltd. According to his Board of Trade records, the apprenticeship began on the 19th of April 1895 on the Mersey, aboard which he is listed as an Able-Bodied sailor and ended on the 18th of April 1899 aboard the Bann.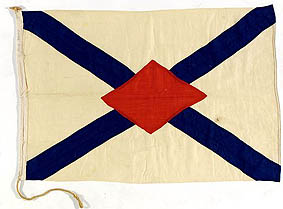 The Nourse Line was a shipping company formed by Captain James Nourse in 1861, who later died in April 1897. After taking delivery of his first ship, the Ganges, in 1861, Nourse went on to build up one of the last great fleets of sailing ships. His company began building iron sailing ships and was based in Greenock but then transferred to London in 1864. By the 1880s wooden sailing ships had been replaced almost entirely by iron sailing ships.
According to the website The Ships List "Nourse soon entered the India to the West Indies trade carrying indentured labour for the plantations. Standards aboard the ships were high and the native passengers were said to be in better health when they arrived than when they left India. The general route for the fleet was to leave a European port with a cargo of salt or railway iron for Calcutta. From there a cargo of rice and a party of coolies were picked up for the West Indies, followed by a passage to the east coast of North America where grain or case oil was loaded for Europe. An occasional ship would sail back direct to Calcutta from the West Indies with coolies who had completed their contract of employment. Other voyages were made from Calcutta to Mauritius or to the Fiji Islands with labour for the sugar plantations. Voyages to Fiji usually returned to Calcutta via Australia with cargoes of coal." (http://www.theshipslist.com/ships/lines/nourse.shtml)
The company continued to build sailing ships until well into the 1890s when most other ship owners had made the transition to steam ships.  It wasn't until 1904 that the company took delivery of their first steamship having persevered with sail, mainly for economic reasons and the lack of coaling facilities between India and the West Indies.
Bert is listed in his Board of Trade paperwork as serving aboard three ships during his apprenticeship:
Mersey
Description: Steel sailing vessel, 3 masted ship
Builder: Charles Connell & Company, Glasgow
Launched: 1894
Tonnage: 1829 grt / 1713 nrt
Length: 270.7 ft
Breadth: 39.0 ft
Depth: 22.5 ft
Fate: Broken up in 1923
Notes: 1911-1915 employed as a cadet training ship by Oceanic with berths for 60 cadets, made 6 sailings to Australia. 1914 fitted with radio, believed to be the first sailing ship to be so equipped 
Forth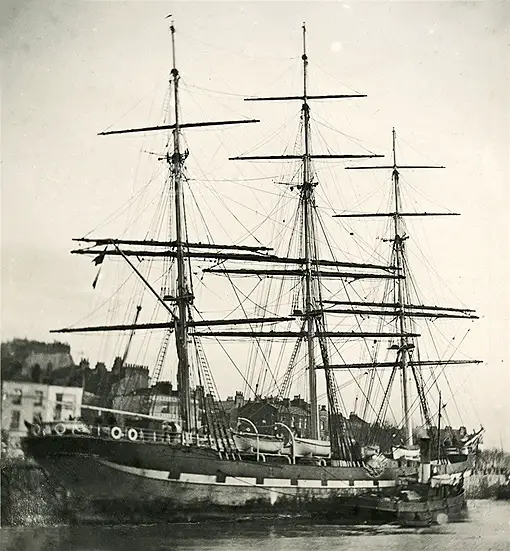 Description: Steel sailing vessel, 3 masted ship
Builder: Charles Connell & Company, Glasgow
Launched: 1894
Tonnage: 1829 grt / 1713 nrt
Length: 270.7 ft
Breadth: 39.0 ft
Depth: 22.5 ft
Fate: Abandoned 27/09/1915
Notes: 1910 sold to Norway. Abandoned in 1915, foundering en route Liverpool to Port Arthur, Texas in ballast. 
Bann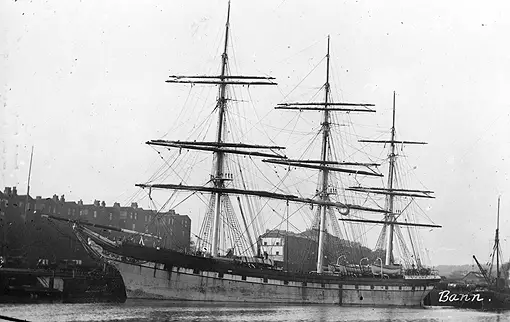 Description: Iron sailing ship
Builder: Thomas R. Oswald & Co., Pallion
Launched: 1875
Tonnage: 1723 grt / 1650 nrt 
Length: 250.1 ft
Breadth: 38.9 ft
Depth: 24.2 ft
Fate: 1911 became a coal hulk based at Port of Spain, Trinidad
Notes: Bann later renamed the Hildegard was an iron 3-masted ship which was engaged in the Indian labor trade under the house flag of James Nourse often going out to Calcutta with iron rails or salt. Sold to Germany in 1904, the ship was renamed Hildegard and ended up as a coal hulk in Trinidad. The photograph shows Bann with unshipped jibboom--and royals sent down suggesting that Bann could be tender when light —not an unusual condition in iron ships. (Texas Tech Universities Library)
Along with the glamour of sailing ships, life at sea was not easy, as described in a biographical article on his life:
Even today one's mind can capture the grace of line of a sailing ship and pictures can be conjured of the long, pointed bows easing through calm stretches of water like a knife slicing its way through ham. There is that gentle swaying motion as the vessel is caught by the tides and currents of the ocean, the creaking of the spars and rigging as the tropic breezes change and veer from different points of the compass. But there is also the other side, and more true picture, of strong nor'-westerly gales thrashing at the very joints of the timbers, when the stinging salty spume hurts the eyes as they peer out into the cold reaches of the Atlantic, the battling rage of the Bay of Biscay as if in torment; of the meals of salt beef and biscuits, black tea and hash.(Central Somerset Gazette, 27th August 1954)