Third Officer Herbert Pitman
- Family and Death
Marriage
In 1922 Herbert Pitman married Mildred "Mimi" Kalman from New Zealand. Not much is known about Mimi other than she was 9 years younger than Pitman, having been born in 1886, and her parents were Carl Simon Kalman and Marie Kalman. It seems she passed away not too longer after they were married but at present there is no confirmation of the exact date or circumstances.
In 1928 his stepfather, Albert Charles Candy died in Bridgwater, Somerset at the age of 68.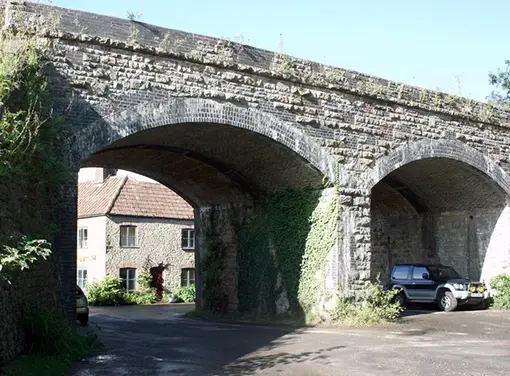 Freemason and Stamp Collector
In addition to his life at sea, Pitman was also a freemason and stamp collector.
He had joined the Freemason's Abbey Lodge, No. 3341, in Hatfield in 1909 and remained a member until his death in 1961. A letter from the lodge congratulating him on his rescue was sold at auction in October 2011.
Although there is no supporting evidence, there is a story that Pitman was 'quite a stamp collector' although he usually left his collection at home. However, for the voyage of the Titanic, being that she was said to be "unsinkable", he brought it with him.
Retirement and Death
Pitman, a widower, spent his retirement living in Pitcombe, Somerset, only a few miles away from his old home in Castle Cary, and lived with his niece, a Mrs. A. Mainstone.
On the 7th of December 1961, 84 year old Lieutenant-Commander Herbert John Pitman, MBE, RD, RNR, died of a subarachnoid haemorrhage, a rare form of stroke.
He was buried in the church yard of the village of Pitcombe near Bruton (also in Somerset). His headstone is made of black, granite and reads:
IN LOVE WE REMEMBER HERBERT JOHN PITMAN M.B.E. 1877-1961 MERCHANT MARINE 1895-1947 REST IN PEACE. 3RD OFFICER S.S. TITANIC 1912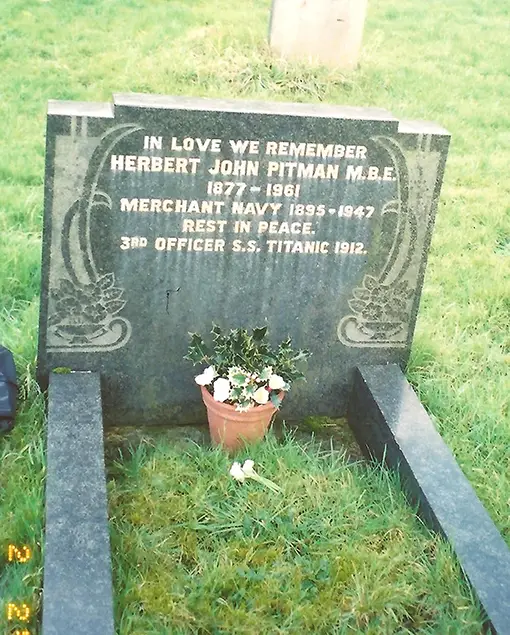 After Pitman's death, Fourth officer Boxhall became the last remaining surviving officer. Boxhall wrote a letter to Joe Carvalho (one of the original trustees and co-founders of the Titanic Historical Society, founded in 1963) dated 30 January 1962:
"Since writing you in April, my old Shipmate Herbert John Pitman who was 3rd officer of Titanic, and for some years Pitman and I have been the last 2 surviving officers of the 4 that were saved. I am sorry to say that he died on 7 Dec and now I am the only surviving officer of the Titanic." (courtesy of Joe Carvalho & Shelley Dziedzic, Encyclopedia Titanica)
Auctions
After his death, there were two auctions of his possessions, in 1991 and 1998, that made the news, as reported in the following articles:
April 20th 1991: 1912 Disaster Recalled.
Titanic mementoes are sold
The Personal possessions of a Castle Cary man who was one of four officers to survive the sinking of the Titanic were the most interesting lots at a recent London auction.
The sale by Onslows was held on the 79th anniversary of the disaster.
The items belonging to Herbert John Pitman, Third Officer on the ill-fated liner, included an inscribed brass Thunderer whistle, which was expected to fetch between £700 and £1,000 and sold for £3,410. The total value of Mr. Pitman's collection alone was £12,474 - more than twice the estimated value of all the lots in the special Titanic auction.
There was also a telegram sent from the rescue ship the Carpathia, which said simply: ''Safe - Bert.'' This remains in the family for it was bought by a great nephew, Mr. Andrew Pitman, who lives in Kent, for £250.
Mr. Pitman, who was 34 at the time and died in the late 1950s left his collection to a relative.
Other items in his personal collection, all of which sold well above the estimates, included photographs - the one above made £1,210 - studies of the Titanic collapsibles and lifeboats, pictures of icebergs and rescue ships and the interior of the liner, a souvenir film programme, books, magazines and related ephemera.
Mr. Pitman died in 1961 and is buried in the Parish Church Cemetery, Pitcombe, Somerset.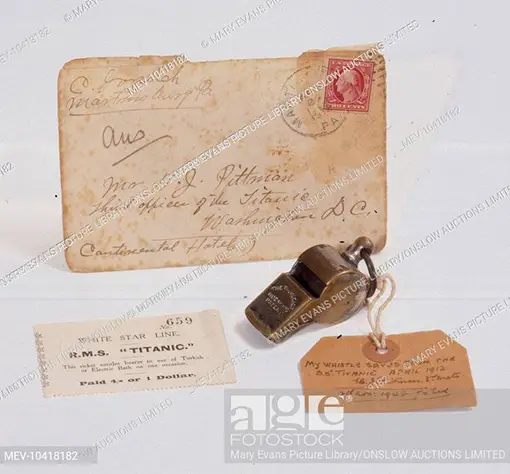 On April 17th 1998 at Onslows Auction, at the Hilton National Hotel, Southampton the following lot sold for: Lot 73 for £280. Herbert J. Pitman Third Officer on the Titanic, his warrant certificate of member of the Civil Division of the Most Excellent Order of the British Empire (MBE) dated June 1946, with accompanying letter dated 13th March 1948, both in original envelope, and programme and invitation card to Dedication and Unveiling of Submarine Service, Royal Naval, Airborne and Special Air Service Memorial Westminster Abbey, May 1948 with related press cutting (6).