Side Menu:
Second Officer Blair
Second Officer David Blair
- Early Life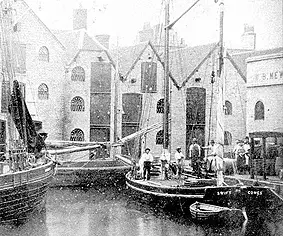 David 'Davy' Blair was born on the 11th of November 1874, in Newport on the Isle of Wight. His father was Lt. Col. John Blair (1841 - 1915) and his mother Clementina Ross Stewart (ca. 1848 - 1908).
He was the second of four children, with an older sister Clementina Stewart Gordon Blair (1872 - 1932) and two younger brothers Aeneas George Gordon Blair (1877 - 1952) and the Rev. John Gordon Blair (1883 - ) (Source: Unrelated Gordons from Kirkcudbrightshire, Scotland, Link)
His father, Lt. Col. John Blair was a Colonel in the HM 18th Royal Irish Regiment (source - Alison Mitchell, compiler, The Stewartry of Kirkcudbright Monumental Inscriptions, Pre 1855). He married  Clementina Ross Stewart on the 17th June 1868 in Twynholm Parish, Kirkcudbrightshire, Scotland (General Registry Office of Scotland, online, Statutory Marriage Registrations).
Despite being born on the Isle of Wight, an island off the south coast of England, the Blair family hailed from the Kirkcudbrightshire area of Scotland. So it is possible his birth took place while his father was on duty in the Portsmouth area. According to the website Victorian Forts and Artillery, the 18th (Royal Irish) Regiment was indeed listed at Fort Wallington and Fort Fareham in 1873 and 1874 (https://www.victorianforts.co.uk/rga.htm).
In the census of 3rd of April 1881, the Blair family was listed as lodgers in the home of Harriett MacLean, in Seaforth House, Logie, Logie Parish, Stirlingshire, Scotland. Later documents state a number of addresses for David Blair during his adult life in the Broughty Ferry, Dundee area of Scotland. Logie, Stirlingshire is somewhat inland, while Broughty Ferry is a residential suburb on the River Tay estuary, at the mouth to the North Sea, formerly a prosperous fishing and whaling village. So it could be reasoned that his move to a seafaring area of Scotland aligned with his new career.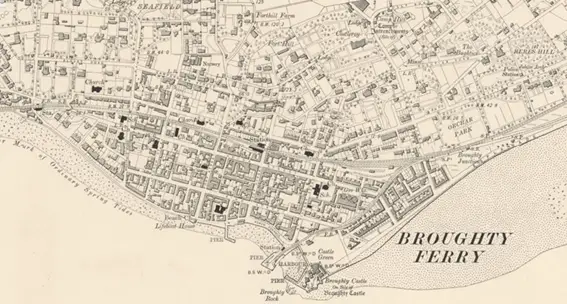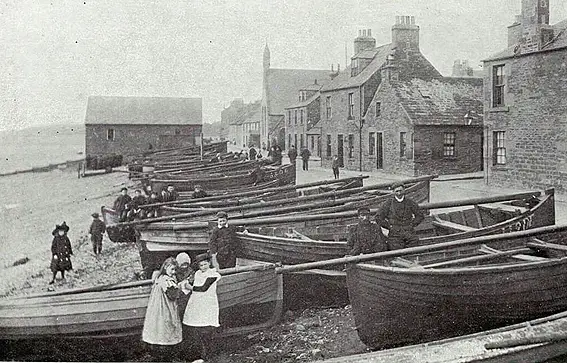 Apprenticeship
In March 1890, at the age of 15, he began his apprenticeship with H Fernie & Sons of Liverpool, also known as The Liverpool Shipping Co Ltd.
Founded by Henry F Fernie, William J. Fernie and David Fernie, the line was based at 7 Rumford St, Liverpool and most of their ships were iron-hulled square-rigged sailing ships, also known as windjammers and were named in the form of 'Omene.'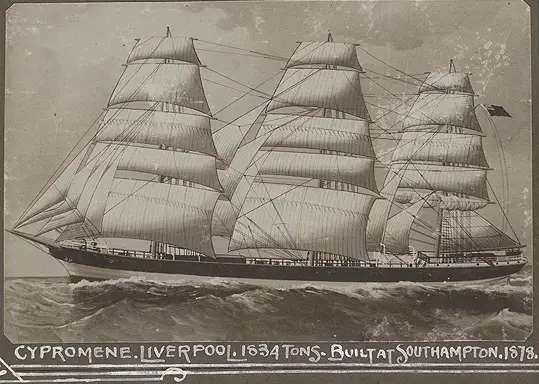 On the 3rd of March 1890 Blair signed on to his first ship as an apprentice - the Cypromene, a Liverpool registered square rig sailing ship that had been built in Woolston, Southampton in 1878. An iron ship of 1824 tons, she had a length of 260 ft, breadth of 37.5 ft. and a depth of 24 ft.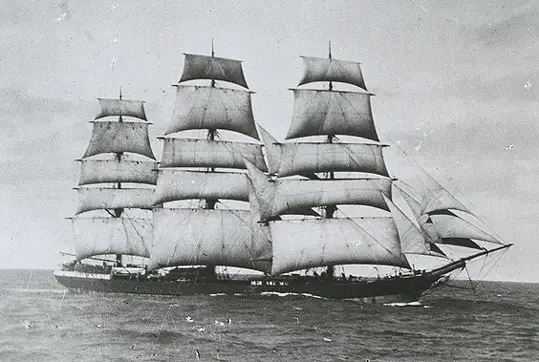 Blair spent one year and one month aboard her, before moving on to the Philomene on the 4th of September 1891, a slightly older and smaller ship built in 1875 with a tonnage of 1465 grt / 1352 nrt; Length: 240.7 ft; Breadth: 37.1 ft; Depth: 23.2 ft.
After 10 months aboard the Philomene he was then moved to the Aristomene where he spent the rest of his four year apprenticeship from the 23rd of September 1892 until the 26th of February 1895. The Aristomene was also a Liverpool registered square rig sailing ship, 1750 Tons with a length of 263 ft. Breadth; 39.1 ft. Depth; 24.1 ft.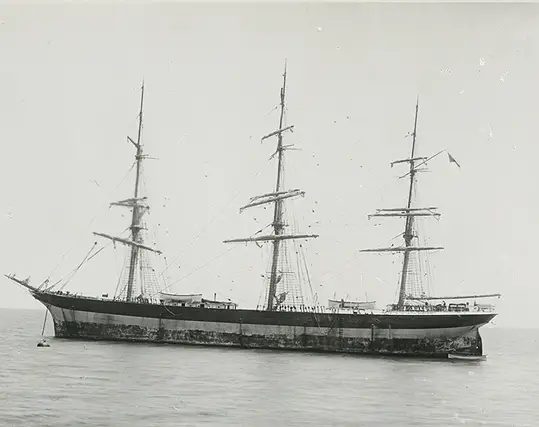 He stayed on with the Aristomene for a further 22 days (26/2/1895 - 19/3/1895), before transferring to the Howth on the 25th of March 1895, a Dublin registered four-masted steel barque built in 1892 by Workman, Clark & Co., Belfast. Its dimensions were 86,66×12,71×7,43 meters [284'4"×41'9"×24'5"] and tonnage: 2244 GRT and 2166 NRT and described as rigged with royal sails over double top and topgallant sails. (Source: http://www.bruzelius.info/Nautica/Ships/Fourmast_ships/Howth(1892).html)
From March 25 1895 until July 17, when Blair was listed as being aboard, the ship sailed from Tacoma, U.S.A. to Liverpool in 114 days with a cargo of grain and likely under Captain B.A. Martin.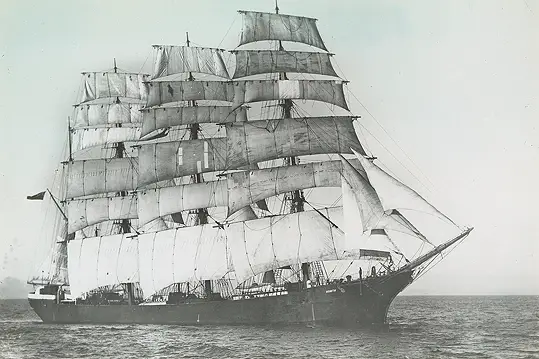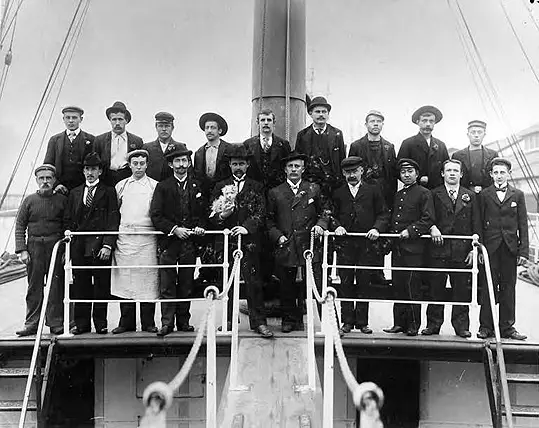 Board of Trade Qualifications
With a four year apprenticeship completed, Blair was now ready to take his first qualification. According to notes in Blair's Board of Trade records, on the 19th of August 1895 he was "on shore at school." Then on the 19th of November he applied for his Second Mate qualification but failed in "navigation."
Interestingly, his BOT records also contain a copy of a letter he wrote on the 14th of February 1896 expressing concern over resitting his exam to the Examiner of Masters and Mates in Dundee:
"Sir, I am very anxious to come for examination on Tuesday 18th. Will you please inform if I can do so, having failed on 19th November the three months have not yet expired by one or two days. David Blair."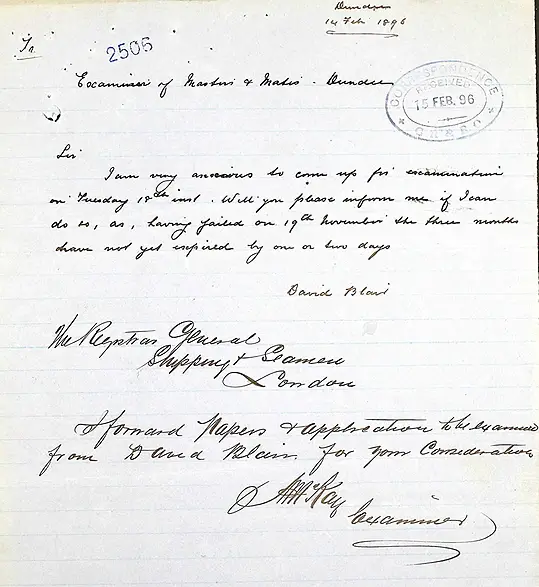 The Dundee Examiner of Masters and Mates responded quickly to his request and on the 17th of February 1896, he passed his Second Mate exam on his second attempt, with the certificate issued on the 22nd of February 1896. At the time of application, his address is listed as 4 Newington Terrace, Broughty Ferry.
He was now ready to become a "steamship sailor."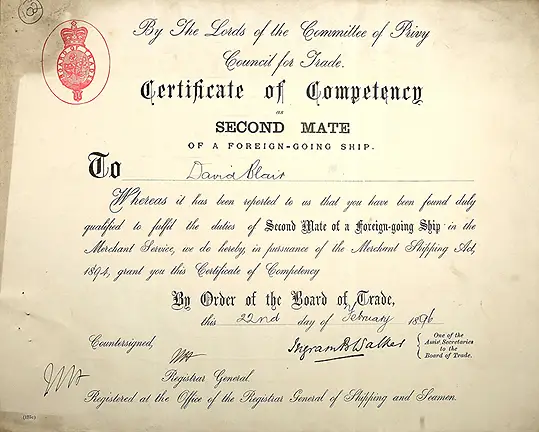 It was not until May 1896 that the 21-year-old acquired his first position, as second mate, on a steam ship, the SS Baltazan. Owned by H Fernie & Sons of Liverpool the British cargo ship had been completed earlier in 1896 and was 3278  grt, 100 x 14.4 x 4.85 m and had a 277 n.h.p triple expansion engine (https://www.wrecksite.eu/wreck.aspx?145722). In addition to being a new ship, likely on its maiden voyage, it also has the distinction of being noted in Blair's records that he was "in charge of watch". He worked aboard the SS Baltazan for 4 months and 6 days (18/5/1896 - 23/9/1896).

On the 16th of November he moved onto the SS Pindari for four months, but now as third mate, ending on the 15th of March 1897 when he began work on the SS Ameer on the 16th of March 1897, still as third mate but this time with the additional note that he was once again "in charge of a watch." He worked aboard the SS Ameer for two foreign trade sailings that lasted four months each in 1897 from March until July (16/3/1897 - 20/7/1897) and then once again from July until November (21/7/1897 - 22/11/1897).
Possibly the SS Ameer is the cargo steamship built by Harland and Wolff in 1889 for T & J Brocklebank, for their Liverpool - India service, with a weight of 4014 grt, and a speed of 10.5 knots (Source: http://www.theyard.info/ships/ships.asp?entryid=218)
Upon his return to Dundee in November 1897, he was ready for his next BOT exam, this time for his First Mate certificate, passing on his first attempt on the 29th of November 1897. His address provided with the application is different from that he supplied the year before - it is now Albert Place, Broughty Ferry.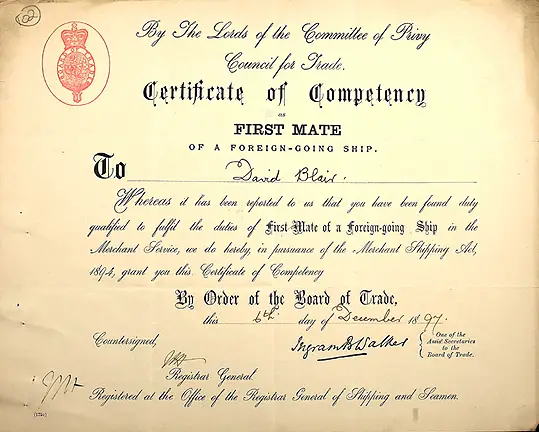 Little was to immediately change for Blair with his new qualification as he was back on the SS Ameer for the next four years for a total of 9 sailings, all of which he remained in the role of Third Mate:
24/11/97 - 22/3/98 SS Ameer, third mate, 3 months 27 days
21/4/98 - 17/8/1898 SS Ameer, third mate, 3 months 28 days
24/8/98 - 13/12/98 SS Ameer, third mate, 3 month 20 days
14/12/98 - 24/4/98 SS Ameer, third mate, 4 months 11 days
28/4/98 - 4/9/98 SS Ameer, third mate, 4 months 7 days
5/9/99 - 6/5/00 SS Ameer, third mate, 8 months 2 days
24/5/00 - 29/12/00 SS Ameer, third mate, 7 months 6 days
31/1/01 - 30/4/01 SS Ameer, third mate, 3 months
1/5/01 - 4/11/01 SS Ameer, third mate, 6 months 7 days
In December 1901, Blair then decided to apply for his Masters Certificate in Leith, Edinburgh, passing on the 10th of December 1901. This was a pivotal moment in Blair's career, as he then applied to join the White Star Line, doing so on the 22nd of January 1902.