Side Menu:
Second Officer Blair
Second Officer David Blair
- White Star Line & Navy
According to Blair's White Star Line records, he was introduced to the Line by "Captain Ray" after 11 years at sea. When he joined in January 1902, his address was listed as 9 James Place, Broughty Ferry, Forfar - Dundee.
His first White Star ship was the SS Doric, which he served aboard in the capacity of fourth officer from the 22nd of January 1902 for three voyages until April 1902 and quickly rose through the ranks, becoming Third Officer on the second voyage (07/02 - 03/04) and second officer on the 3rd of April 1902.
The SS Doric, launched in 1883 was 4,784 GRT with a length of 440.1 ft (134.1 m, beam of 44.2 ft (13.5 m) and height of 28 ft (8.5 m) and at the time Blair was aboard, was running a service between San Francisco and Hong Kong. To give an idea as to cargo, The New York Times reported on 6 July 1902 that the Doric had arrived in San Francisco with a particularly large cargo of 2,693 tons, which included the largest ever shipment of opium, at the time, of 33,210 pounds, and 129,492 chests of tea. The SS Doric was also the ship that Charles Lightoller's father, Frederick, had taken when he moved to New Zealand in 1885.
As was common among White Star Line officers, on the 12th of July 1904 Blair was appointed Sub Lieutenant in the Royal Navy Reserve and began regular 7 day drills intermittently over several years.
On the 22nd June 1905, The San Francisco Call ran a curious article indicating that Blair requested to be transferred back to England to marry:
Going Home to England
The San Francisco Call
Thursday 22nd June 1905

J. Blair [sic], second officer of the White Star liner Doric, has been detached at his own request and ordered home to England, where he will be assigned for duty on one of the company's other and larger ships. H. Howe, who formerly was on the Gaelic, will succeed Blair on the Doric. Blair is well liked in the service out here and on the Doric has established a reputation for conscientious attention to duty and loyalty to the interests of the White Star Line. It is not dislike of the Pacific Ocean trade or of the people with whom he has been thrown into contact while out here that induced Blair to apply for a transfer, but he loves more the girl he left behind him, a rosy-cheeked English lass, who has promised to marry him when he reaches the tight little island. So for Blair it is he for England, home and beauty.
This "rosy-cheeked English lass" was Madeline Temple Mackness (1866 - 1950) and they indeed were married a few months later on the 2nd of September 1905 in Broughty Ferry, Scotland.
Although missing from his White Star records, according to Navy documents from the 21st September 1905 until the 22nd January 1906 he was aboard the SS Gothic - Navy records state that he "was appointed 2nd mate of the Gothic of White Star Line sailing London to New Zealand." The same records also show he stayed on the New Zealand service aboard the Armenian still as second officer (19/7/1906 - 2/11/06).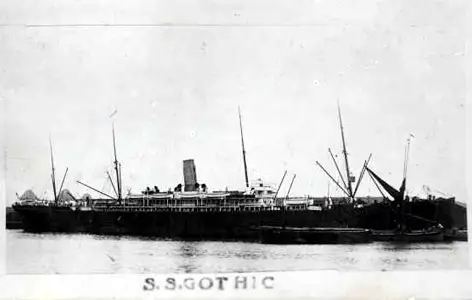 On the 2nd of November 1906, he became First Officer aboard the Cufic from the 2nd of November 1906 until the 5th of September 1907, on the Australia run. This is not the same Cufic of which Captain Smith became master in 1888 (and Wilde fourth officer in 1898) - that ship had been sold to the Dominion Line in 1901 and renamed the Manxman. This Cufic was a cargo liner launched in 1895 at Harland and Wolff for the West India and Pacific Steamship Company. Originally known as the American, she was sold to the White Star Line in 1904 and renamed the Cufic.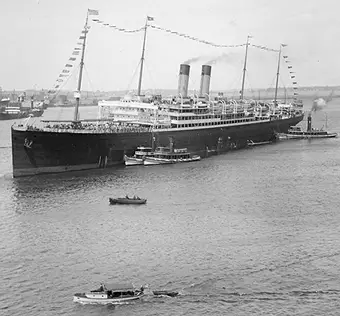 From September 5th 1907, he joined the SS Celtic, down a rank to Second Officer, on the New York route until the 1st of October 1907. Captain Smith, Henry Wilde and William Murdoch had all worked aboard this ship previously and it would later become Charles Lightoller's last ship before retiring.
On the 18th of October 1907, Blair became Second Officer of the SS Cevic, an 8,301 GRT steam ship built in 1893 initially for the North Atlantic but later transferred to the Australian run. She was one of the largest cargo ships in the world in her day and, in addition to her normal cargo holds, was equipped to carry up to 1000 head of cattle. Henry Wilde had served aboard her as the fourth officer when he first joined the White Star Line in 1897.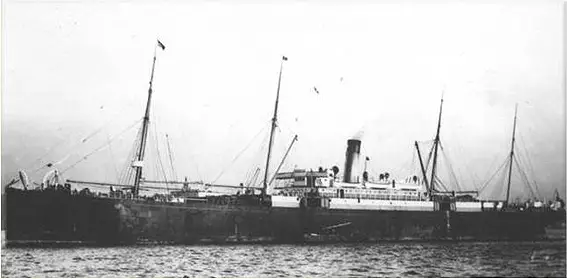 Blair worked aboard the Cevic for two voyages to New York (18/10/07 - 21/11/07, 28/12/07 - 14/1/08), which was just before the Cevic ended its cattle service and put on the Australia route in 1908. But for Blair, he stepped back to Third Officer and was briefly appointed to the Oceanic on the 14th of January 1908 until the 22nd of January 1908. During these few days aboard he would most likely have encountered Charles Lightoller who was then Second Officer of the Oceanic. This was followed by Blair spending another few days as a "standby" Third Officer on the Cufic (3/2/08 - 13/2/08) before returning to Second Officer aboard the Georgic on the 13th of February 1908 until the 4th of April 1908. Lightoller had also been aboard the Georgic as Third officer in 1902 (9th September- 25th January 1902).
Blair met another future Titanic officer on his next appointment - to the Canopic, as Second Officer (4/4/08 - 30/9/08). Just as he was nearing the end of his time aboard, on the 12th of September a new Chief Officer was appointed - Henry Wilde. Wilde and Blair served together under Captain Inman Sealby on the Mediterranean service. Although Blair finished on the 30th of September, Wilde continued until June the following year.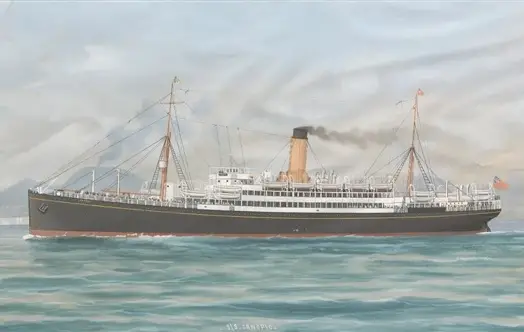 Navy Training
As was common to many White Star officers in the RNR, there was some time devoted to training. According to Blair's White Star Line records he was away for Navy training from the 14th of November 1908 until the 24th of April 1910 - almost a year and a half. His Navy records break the time down into four main sections, beginning with time at HMS Excellent - a Royal Navy "stone frigate" (shore establishment) sited on Whale Island near Portsmouth in Hampshire, (also known as Portsmouth Gunnery School ) where Blair received "Gunnery & Torpoedo" training and was marked "VG" - very good (14.11.08 - 22.1.09). He was then moved on to another shore establishment - HMS Vernon, the Royal Navy's Torpedo Branch also known as the Torpedo School (1.2.09 - 26.3.09)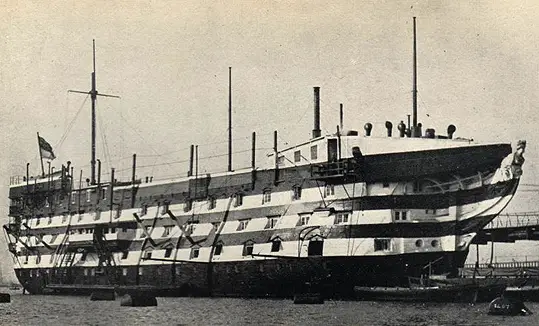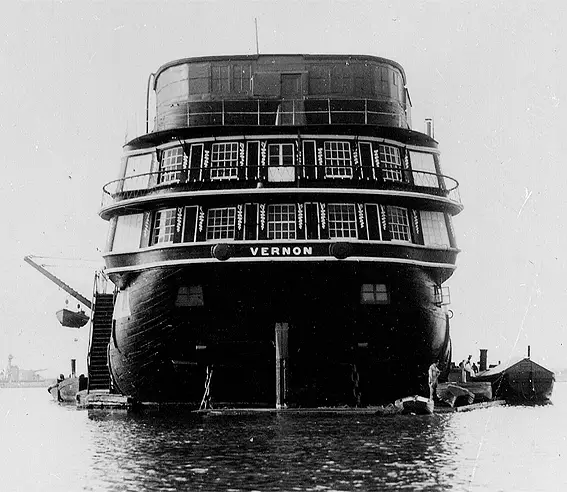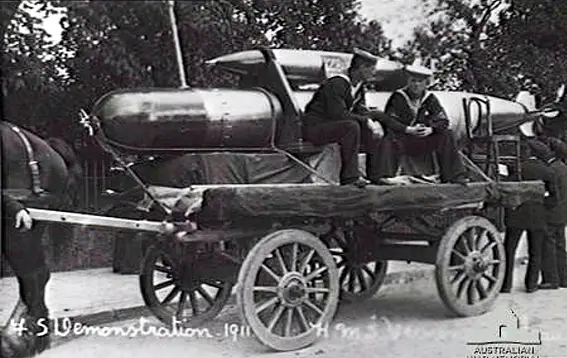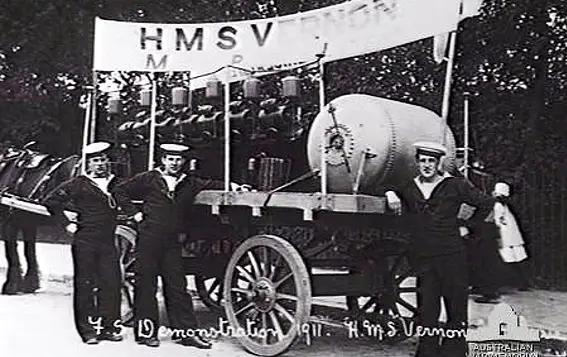 Once his shore training was complete, his training continued aboard the HMS Dominion, a King Edward VII-class battleship of the Royal Navy that was completed and commissioned in 1905. 453 ft 9 in length, with a beam of 75ft and draught of 25ft, the HMS Dominion had a displacement of 17000 long tons when fully loaded and 2 triple expansion engines, with 2 screws that propelled her to a speed of 18.5 knots. Blair's training, lasting a year from the 21st of April 1909 until the 20th of April 1910 went well as he was marked as "VG".
Accordingly, on the 21st of April 1910 he was promoted to Lieutenant in the RNR.
Teutonic and Majestic
On his return to the White Star Line, Blair was made Second Officer of the Teutonic on the 24th of April 1910, and worked aboard her for almost a year - until the 22nd of March 1911. Appropriately, the Teutonic was built under the British Auxiliary Armed Cruiser Agreement, and was Britain's first armed merchant cruiser, initially sporting eight 4.7" guns. And in 1891 the Teutonic took the Blue Riband (the award for the fastest Atlantic crossing) with an average crossing speed of 20.25 knots. If he had stayed aboard another month he would have been joined by Chief Officer Henry Wilde in May 1911, however Blair was moved to the SS Majestic in March, as Second Officer firstly for three months (22/3/11 - 28/6/11), then a break for a Navy drill, and then returning again to the Majestic for another four months (15/7/11 - 11/11/11). During this time the Fourth Officer of the Majestic was a Herbert Pitman (4th March 1911 - August 1911) who would become Third Officer aboard Titanic.
He returned to the Teutonic briefly from the 29th of November 1911 until the 5th of February 1912, again as Second Officer and then was back aboard the Majestic from the 5th of February 1912 until the 26th of March 1912, by which time Charles Lightoller had joined as First Officer (7.12.11 - 9.3.12). At this point the Majestic was laid up.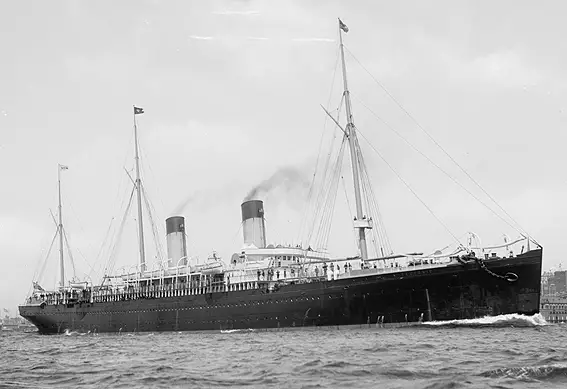 Lightoller and Pitman were not the only officers that Blair would have rubbed shoulders with at this time. According to Inger Sheil & Kerri Sundberg, James Moody, Sixth Officer aboard the Oceanic, apparently struck up a friendship with Blair: "David Blair, one of Moody's seniors, became something of a friend and mentor to the young man as he settled into the routine of trans-Atlantic voyages to New York. (Bridge Duty, Officers of the RMS Titanic,  Inger Sheil & Kerri Sundberg, 1999). However, according to the White Star Line records and his Navy records, Blair was never a senior aboard the Oceanic, so perhaps any such friendship was while ashore in Southampton or New York. This is also indicated by a letter written by David Blair's daughter, Elizabeth Blair in 1958 to author Walter Lord in which she wrote: "My aunt is a friend of Miss Moody, sister of the young Moody who was drowned. He was a frequent visitor at our house in Southampton."
At the end of March 1912 both Lightoller and Blair were then appointed their same roles as First and Second Officers respectively aboard a new liner on its maiden voyage: the RMS Titanic.