Side Menu:
Sixth Officer Moody
Sixth Officer James Moody
- Early Life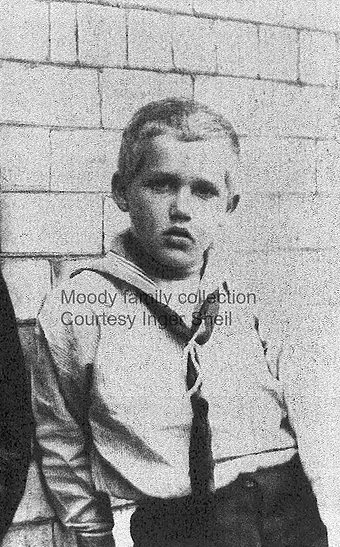 James Paul Moody was born in Scarborough, England on the 21st of August 1887, the youngest of four children born to 30 year old solicitor John Henry Moody (born circa 1857) and his wife 29 year old Evelyn Louis Lammin (born 1858, Fulham, Middlesex, daughter of William Henry Lammin).
At the time of his birth the family lived at 17 Granville Rd, in a pleasant middle class suburb of Scarborough In 1891, 3 year old James is listed as living with the rest of the Moody family at the same address. His three older siblings were John E Moody (born c.1882), Margaret Moody (born c.1883) and Christopher W Moody (born c.1886). John later became a doctor, his sister Margaret became a nurse, and his brother Christopher a solicitor.
James was later baptised in an Anglican church, at the St Martin On-The-Hill parish church in Scarborough. Scarborough is a resort town on England's North Sea coast of North Yorkshire. The older part of the town lies around the harbour and is protected by a rocky headland.
The Moody family was very well known in Scarborough. James' father was on the town council, and his grandfather and namesake, John James Paul Moody, had been a prominent local figure, as the town clerk.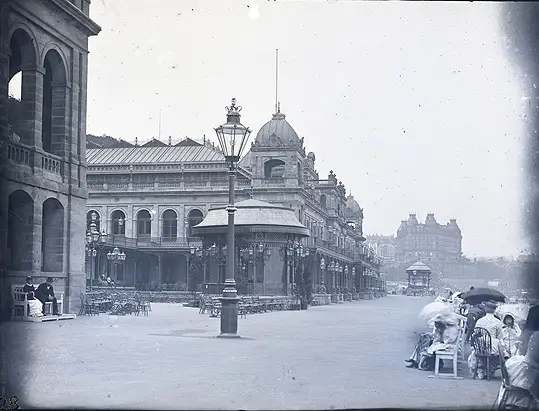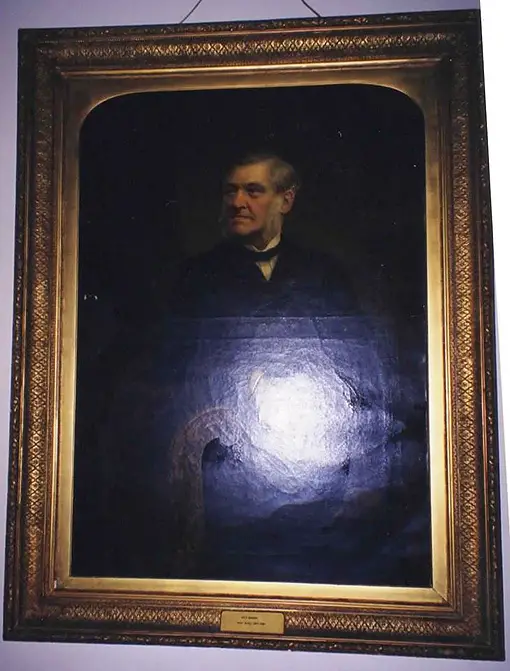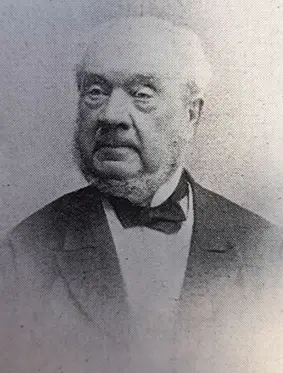 One of his ancestors, his great uncle Charles Bartholomew Moody, was a prosperous doctor, active in civil affairs in Grimsby and became the first coroner of Grimsby and also Mayor of Grimsby from 1855 to 1856. He lived at the large house at the left-hand foot of Deansgate Bridge (Grimsby Telegraph, Doug Weir and Abby Ruston, 14 April 2019).
James' grandfather, John James Paul Moody, originally from Grimsby, moved to Scarborough in 1845 and oversaw a lot of civic programs during a key period of expansion, including the construction of the Crown Hotel and was instrumental in the building of the Church of St Martin's on the Hill. He held many positions, including town clerk for more than 30 years, and his portrait today hangs in the Scarborough town hall.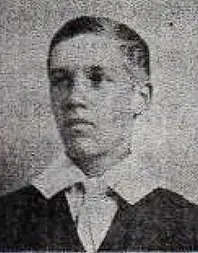 In 1898 James' mother Evelyn died (aged 40) when he was 11 years old. According to author Inger Sheil this "affected him quite deeply for the rest of his life. He tried to write each year on the anniversary to the family member he was staying with at the time of her death, a day he remembered with terrible vividness and wrote about movingly." (Inger Sheil, Encyclopedia Titanica messageboard, February 8th, 2009) His father remarried shortly thereafter to Annie Moody and had a further four children (step-siblings to 11 year old James): Antony Moody (born 1899 Scarborough, Yorkshire,), John Paul Moody (born c.1903 Leeds, Yorkshire,), Henry Hugh Moody (born 1905 Huddersfield, Yorkshire), Roger Moody (born 1907, Leeds, Yorkshire). In 1901 the family are listed as living in North Lane, Cayton, Scarborough
James attended the 'Rosebery House School', likely the Rosebery House Preparatory School, located in Fulford Road, Scarborough. There was nothing to indicate his career path. As Inger Sheil and Kerri Sundlberg write: "Nothing at the outset marked him for a career at sea. His family background was solidly middle class professional, with strong links to the practices of law and medicine. Law, in particular, was the province of the Moodys, and John Henry was a solicitor. The Moodys had hailed from Grimsby, to the south in Lincolnshire, and the Scarborough offshoot of the family had been established by James' grandfather, who became clerk of the town. Involvement in civic affairs continued with James' father, a town councilor... A career in the navy, army or merchant marine was traditionally the recourse for dealing with the second or third son of a professional or aristocratic English family, and in James Moody's case there is no suggestion that he was reluctant to follow this career route. Indeed, indications are that he was enthusiastic and conscientious as well as talented in his role as a merchant marine officer" (Bridge Duty, Officers of the RMS Titanic, Inger Sheil & Kerri Sundberg, 1999)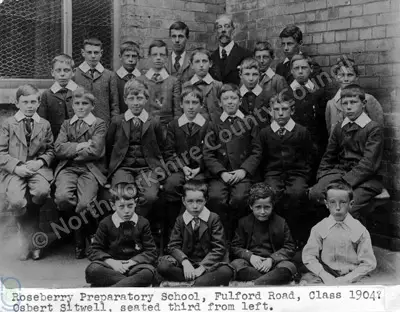 Conway Cadet
In 1902 James, at the age of 14, left Scarborough to train as a ship's officer by joining the HMS Conway as a cadet. According to Titanic researcher Inger Sheil, a life at sea "wasn't his profession by choice - it was decided by his relatives that sending him to HMS Conway would be a good way of finishing his education and providing him with a career. His closest living relative has expressed the opinion that, even if he had not been involved in the Titanic sinking, he would not have remained at sea." (Encyclopedia Titanica, message board, January 16, 2009)
The HMS Conway was a naval training school or "school ship", founded in 1859.  According to the website hmsconway.org by Alfie Windsor, the HMS Conway was "used to train 11,000 young boys for a life as officers in the British Royal and Merchant Navies as well as navies and other maritime organisations around the world... Cadets arrived as boys and left, about two years later, as men, true to the ship's motto: "Quit ye like men, be strong". A special breed of men who continue to have a strong influence in all walks of life around the world."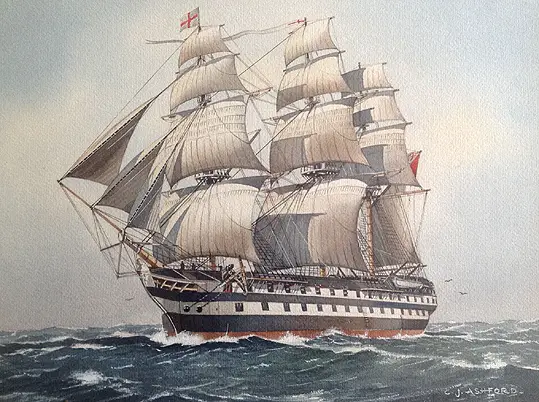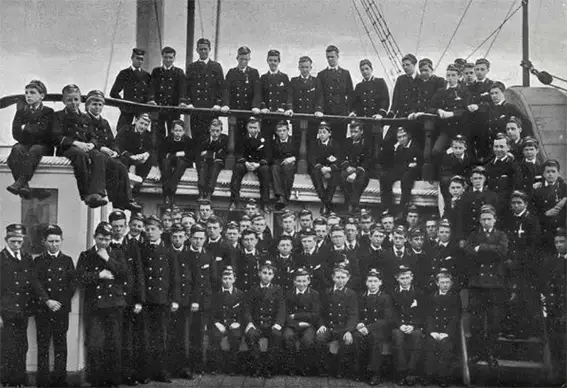 His two years aboard the ship learning the theory and practice of sail, from 1902 to 1903, counted as one years' sea time towards his Board of Trade Second Mate's Certification, for which he required a total of 4 years to apply.
Boadicea Apprenticeship
In 1904 he joined the William Thomas Line's Boadicea as an apprentice for three years. The Boadicea was a fully rigged, three masted sailing ship built in the same year as James' birth, 1887, of 1,824 ton iron.
On the 24th of February 1904, Moody signed on. According to Inger Sheil in her article "All the Horrors Seem to Happen at Night" (Encyclopedia Titanica) Conway cadets were "much in demand, and there had evidently been no difficulty in placing him with the well-regarded William Thomas line upon payment of his indenture bond. After a Christmas spent with family members, he returned to Liverpool, where he and some of his colleagues stayed at the Sailors' Home until the Boadicea – the 'Boa' to her crew – was ready to sail."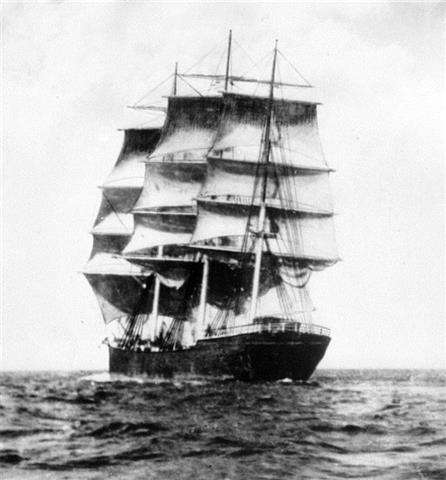 There were five apprentices aboard, of which three became seasick, Moody among them and later wrote that he "managed to keep on deck all my watches above, and was first of 3 to get better." (1904 - 1912 correspondence of James Paul Moody.) Shipmates referred to Moody as "Jim" and according to Inger Sheil "he was already tall for his age, and had a resilience both natural and honed by early hardships, including the prolonged illness and death of his beloved mother in 1898. This helped protect him from bullying, as did his engaging personality. He had a natural charm which enabled him to stay on the right side of shipmates such as the steward, 'which I find pays!'" (Inger Sheil, "All the Horrors Seem to Happen at Night", Encyclopedia Titanica)
Food aboard the ship consisted of "salt pork and beef which are not half as bad as I expected." he later wrote. For the first few weeks of Moody's first voyage across the North Atlantic, towards New York, the weather was fine. However on Friday March 25th, "Moody and John Marshall were sent aloft to the main royal yard and spent an hour and a half making ropes fast. His Conway training served him well; three of his colleagues were not yet allowed to leave the decks as they were still prone to bouts of dizziness." (Inger Sheil, "All the Horrors Seem to Happen at Night", Encyclopedia Titanica).
This was a sign of things to come as a month later they hit a storm during which the Boadicea lost three sails. He wrote: 'It was an awful sight to see the great masses of canvas and rope rip up like silk with a noise like a train rushing through a tunnel.' With his Conway training Moody was once again sent up with Marshall: " 'I shall never forget the first time I went up with the second voyage apprentice and about 10 men to take in the main sail. Oilskin suit and heavy sea boots on as well, and the mast swaying till the end nearly touched the water." The sea crashed onto the decks "like an avalanche, sweeping everything away" sweeping them off their feet to " 'crash like a ton of bricks right into the scuppers with a white wave and perhaps 5 or 6 men on top of you." (1904 - 1912 correspondence of James Paul Moody.)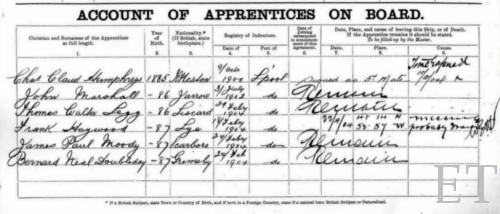 The worst was yet to come however, when on April 10th, in what Moody described as an "awful night" seaman Victor Benninghaus fell from the foreyard. Moody helped him up but "felt one part of his skull grate against another!" Benninghaus died the following night and was buried at sea "with a huge chunk of iron tied to his feet." Moody would later write that 'all the horrors seem to happen at night' little knowing how true those words were to be eight years later. (1904 - 1912 correspondence of James Paul Moody.)
Later that month there was another tragedy - fellow apprentice Frank Haywood had been the victim of bullying from one of the officers and on April 22nd jumped overboard and was nowhere to be found, presumed drowned. There had been earlier indications of his suicidal mind; earlier in the voyage Moody had prevented Haywood from cutting his wrists with a knife.
The Boadicea finally anchored off Sandy Hook, New Jersey on the 28th of April 1904, in a voyage that the master, Captain Jones, admitted was an unusually hard passage. But it did not end there. When the ship was moved to Brooklyn, Moody witnessed another tragedy: On May 29th, 1904.  A fire broke out at the New Jersey shore freight yards of the Delaware, Lackawanna, and Western Railroad, destroying six piers and at least two dozen barges resulting in damage that reached a million dollars. 16 year old Moody watched in a launch from the Seamans' Mission.
On June 11, 1904 the Boadicea resumed her voyage, bound for Sydney, Australia.
Despite the horrors he witnessed on his first North Atlantic voyage, he persevered with his apprenticeship for another three years. But perhaps he was not entirely convinced of his safety, writing in a letter in February 1905: "Lots of people have put in their letters how they would love to be seeing all the beautiful places I am seeing, but I tell them to stop at home or else invent a floating palace which doesn't roll and can't possibly sink." (J.P Moody letter dated 18 February 1905)