Side Menu:
Captain E.J. Smith
Captain E.J. Smith - Memorials and Family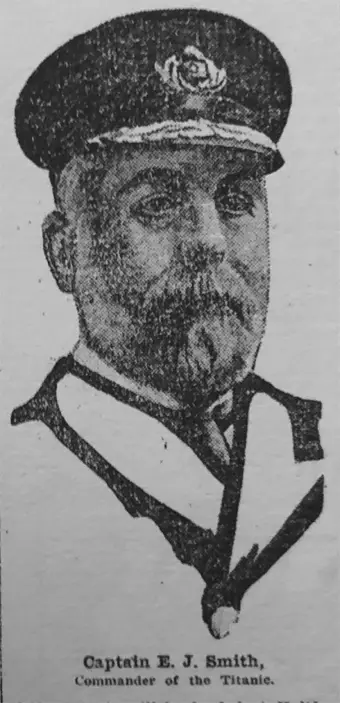 According to the Daily Sketch of 17th April, 1912, "at Captain Smith's house the garden is full of spring flowers, but the blinds are half drawn as if to show that the fate of the captain is still in doubt. When I called this morning I was told by the maid that Mrs Smith was prostrated with grief. No communication has been received from the captain since he sailed from Southampton."
The Philadelphia Press of April 19th, 1911 under the headline of "Sympathy for Captain's Family" wrote:
"There is no more pathetic figure in Southampton than Mrs. Edward J. Smith, widow of the commander of the ill-fated Titanic. The Smiths and their one daughter, a golden-haired and hithero vivacious girl of thirteen years, reside in a suburban villa in Winn Road, and in maritime and social circles they were the most popular. The widow is a prominent member of the Southampton Rifle Club, in connection with which she has organised a strong ladies' section. She is also the head of the brigade of the Red Cross Society and is identified with many other local movements. She and her daughter are absolutely prostrated. They refuse to see any but intimate friends, but their poignant grief to some degree is lessened by the shoal of sympatheic messaged received from all parts."
Eleven days later, on the 28th of April, a message from the grief-stricken widow of Captain Smith was posted outside the White Star Line offices in Southampton:
"To my fellow sufferers: My heart overflows with grief for you all and is laden with sorrow that you are weighed down with this terrible burden that has been thrust upon us. May God be with us and comfort us all. Yours in deep sympathy, Eleanor Smith."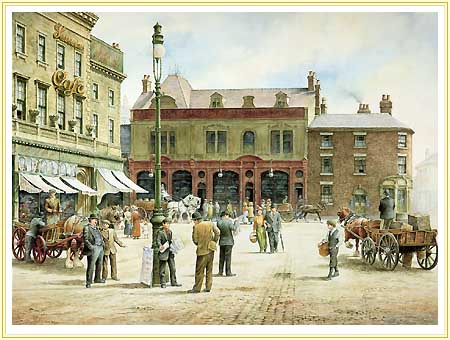 Memorials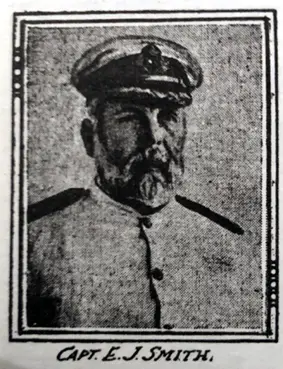 In Smith's hometown, Hanley, where he was hardly known beyond his circle of close friends, the news of Smith's connection to the area was not seen as good publicity, and so the council made no move to commerorate Smith directly. However that did not mean there were no tributes being paid. On the 6th of June, 1912, his wife Eleanor wrote to her nephew Frank Hancock "I wish you could know –read all the magnificent tributes paid to him. I never knew any one man created such esteem and love as he had the power of doing, and no son of England died a more noble death…."
Here are some of the well known memorials:
Hanley Town Hall
Hanley put up a brass tablet in Smith's memory in the apse facing the entrance to the Town Hall, with a ceremony on Tuesday 16th April 1913, unveiling the plaque, along with a picture of Smith in his RNR dress uniform, which bears the inscription:
"This tablet dedicated to the memory of COMMANDER EDWARD JOHN SMITH R.D. R.N.R. Born in Hanley, 27th January 1850, Died at sea, 15th April 1912. Be British. Whilst in command of the White Star SS Titanic that great ship struck an iceberg in the Atlantic Ocean during the night and speedily sank with nearly all who were on board. Captain Smith having done all man could do for the safety of passengers and crew remained at his post on the sinking ship until the end. His last message to the crew was "Be British."
During the dedication ceremony the Mayor proclaimed that Smith 'always carried out his duties faithfully and honestly, and on every occasion justified his appointment even in that lamentable disaster to the Titanic.'
According to "Titanic: A Night Remembered" by Stephanie Barczewski (2006) the town hall plaque "had not come from the town's government. Instead, it had been a private citizen, William Hampton, who had started th subsciption campagin that had provided the necessary fund. Hampton, an old friend of Smith's, was determined to see him properly commemorated in the town of his birth... total contributions of just over £210 were received from around ninety subscribers...One can imagine the dilemma that Hampton's efforts caused Hanley Town Council...Smith they must have felt, was not the best advertisement for the town, but to reject the memorial would have created a tremendous stir." (Titanic: A Night Remembered by Stephanie Barczewski, 2006)
The plaque in the Hanley Town Hall was removed in 1961, given to the Etruria British School and then returned to the Town Hall but remounted in the interior of the building in 1978.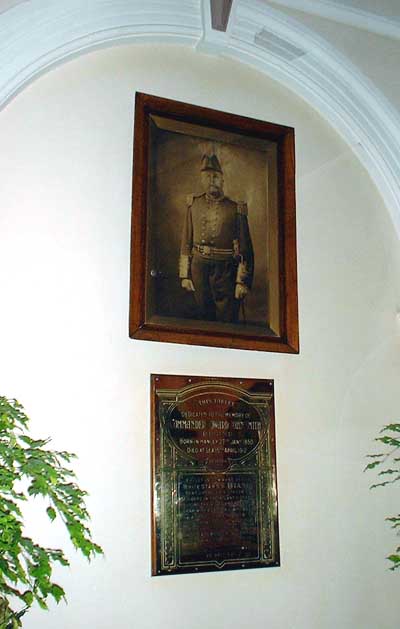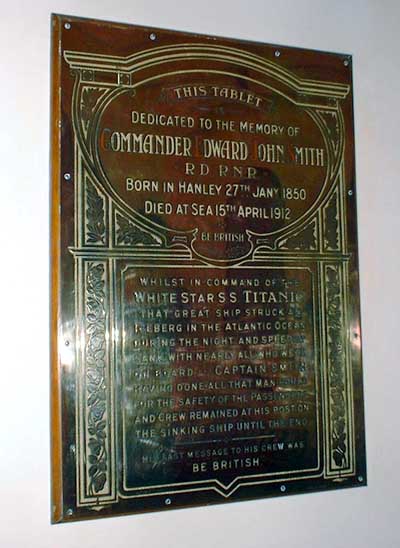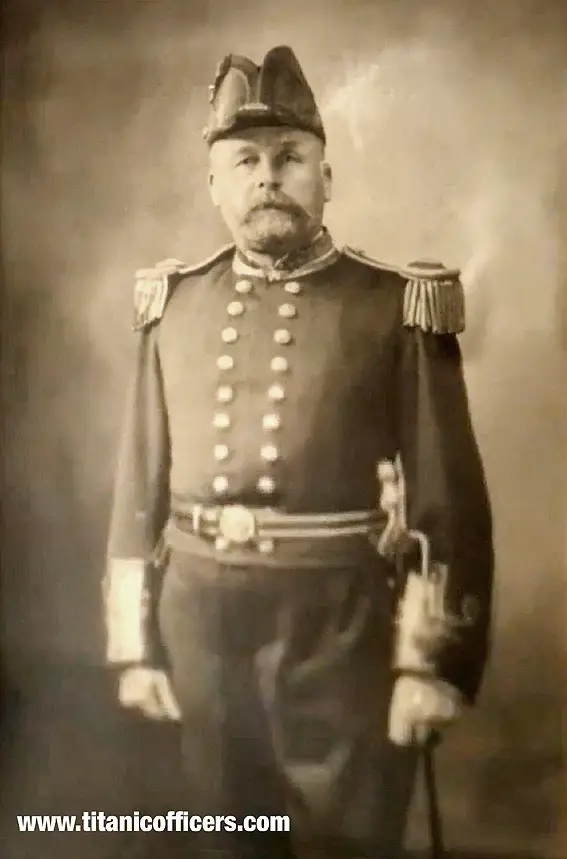 Etruria British School, Etruria
A week after the ceremony at the Hanley Town Hall, two portraits and a brass tablet in his memory were unveiled at his old school in Etruria - the Etruria British School. Major Cecil Wedgwood, who unveiled the portrait, spoke primarily of Smith's successful career. (Titanic: A Night Remembered by Stephanie Barczewski, 2006)
Seaman's Church Institute in New York City
A tablet that was hung inside the institute, which has since been demolished, that attempted to capture the essence of Captain Smith. It read: He sailed the sea for forty years, Faithful in duty. Friendly in spirit. Firm in command. Fearless in disaster. He saved women and children and went down with his ship. Record of Service Edward J. Smith R.D. R.N.R.
Madame Tussaud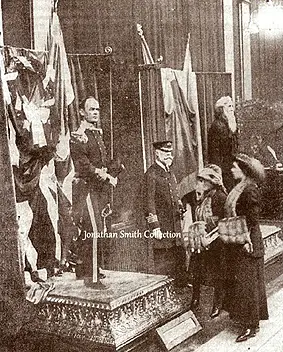 A wax image of Captain Smith was created at the Madame Tussaud's Exhibition in London. Captain Smith's figure, located near the portrayal of telegraph inventor Guglielmo Marconi, proved to be very popular. On the 7th May, 1912 'Daily Sketch' newpspaer wrote: "An excellent model of Captain Smith, the brave captain of the Titanic, has just been added to Mme Tussaud's Exhibition. Mr John Tussaud has modelled the figure from a 'Daily Sketch' photograph taken on the Titanic shortly before she started on her fatal voyage." However the wax image was sadly lost during a fire on the 18th of March 1925.
Lichfield Statue
In November 1913 a number of Smith's old friends and passengers, notably the Bishop of Willesden, Lady Astor and the Duchess of Sutherland, formed the Captain Smith Memorial Committee, and commissioned Lady Kathleen Scott, the widow of Captain Robert Scott (of the Antartic) to create a bronze statue 7ft 8 inches high mounted on a 7ft high pedestal. With The Potteries not interested (Hanley already having a plaque in their town hall), they found a location in Beacon Park, in the south Staffordshire city of Lichfield. Some residents of Lichfield presented a petition to stop the project, pointing out that Smith had no legitimate connection to their town and questioning whether the Captain was of sufficient national importance to justify a statue. However, with the force of the Duke of Sutherland's committee and its many prominent members, the objection ultimately was rebuffed.
A statue, sculpted by Kathleen Scott, wife of Antarctic explorer Robert Falcon Scott, was unveiled in July 1914 at the western end of the Museum Gardens in Beacon Park, Lichfield.
The statue was unveiled on a sunny afternoon of Wednesday 29 July 1914 by Smith's daughter, Melville. Eleanor Smith ended the ceremony by placing a wreath of red and white roses at the foot of the statue. A plaque adorning the pedestal included these words:
COMMANDER EDWARD JOHN SMITH R.D. R.N.R BORN JANUARY 27 1850 DIED APRIL 15 1912 BEQUEATHING TO HIS COUNTRYMEN THE MEMORY & EXAMPLE OF A GREAT HEART A BRAVE LIFE AND A HEROIC DEATH "BE BRITISH"
The inscription notably omitted the name "Titanic". In later years an additional inscription was added above the plaque: "Capt. of RMS Titanic." The pedestal is made from Cornish granite and the figure is bronze. Lichfield was chosen as the location for the monument because Smith was a Staffordshire man and Lichfield was the centre of the diocese. The statue originally cost £740 (£70,000 with inflation) raised through local and national contributions.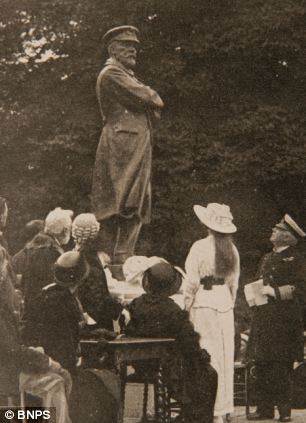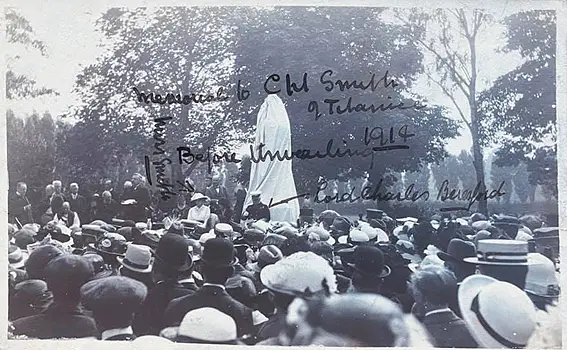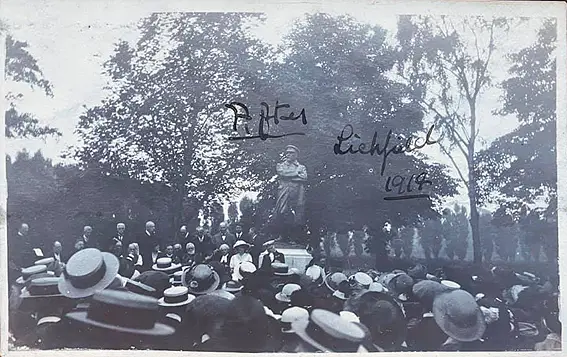 Above: The statue of Captain Smith in the Museum Gardens in Beacon Park, Lichfield, Staffordshire. (Click images to enlarge)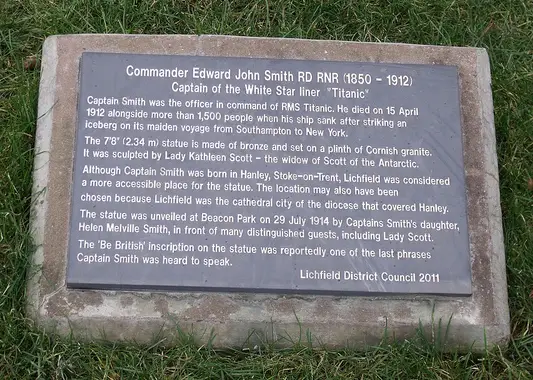 Captain Smith's Sword
Captain Smith was a Royal Naval Reserve Commander and as such his uniform included a Royal Naval Reserve dress sword, which his widow, Sarah Eleanor Smith, gave to a newly established museum in Southampton, at the Tudor House on 15th April 1913 - the first anniversary of the sinking. The sword is on display today at the SeaCity Museum in Southampton. It carries the caption: "Like most officers who work for White Star Line, Captain Smith is i nthe Royal Naval Reserve. As a former Honorary Commander of the Royal Naval Reserve, Captain Smith can fly the Blue Ensigh flag from any merchant ship under his command." The sword has the initials RNR inscribed on it.

Family - a Titanic curse?....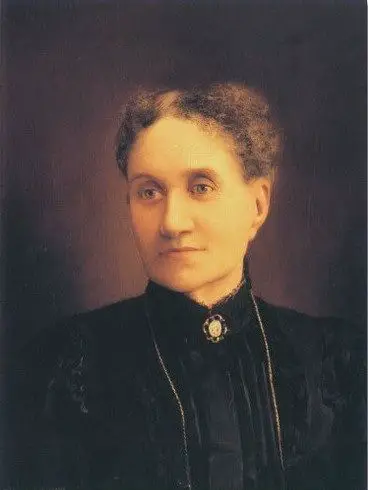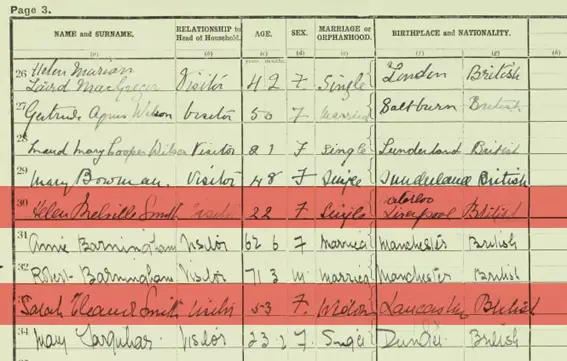 Eleanor Smith continued living in Southampton at first, but eventually moved to London. According to the recently released 1921 census, Sarah Eleanor Smith (incorrectly listed as 53 years old - she was actually turning 60) and her 22 year-old daughter Helen Melville Smith, were listed as "visitors" at 41 Queens Gate Gardens (presently Grange Strathmore Hotel.), in South Kensington, London. (Information courtesy of Paul Van Doodson). Tragically, ten years later, on April 28th, 1931, she was struck by a taxi in front of her home and died from the resulting injuries. She was only a couple of months shy of her 70th birthday. She died at St. Mary Abbot's Hospital, Kensington and was buried in Brookwood Cemetery, in Woking, Surrey. The Scotsman newspaper later ran an article which gave details of the accident - including that it was raining and Eleanor was practically blind in the left eye and holding an umbrella at the time:
TITANIC CAPTAIN'S WIDOW
"Accidental Death" Verdict at Inquest

An inquest was held at Paddington yesterday on Mrs Sarah Eleanor Smith (69), widow of Captain E.J.Smith, who commanded the ill-fated liner Titanic at the time of the disaster.

Mrs Smith was knocked down by a taxi in Cromwell Road, Kensington, last Sunday afternoon, and died in hospital on Tuesday from a fractured skull. Evidence was given that Mrs Smith was crossing the road holding up an umbrella, as it was raining hard.

The drive of the taxi, estimated his speed at four to five miles an hour. He said that Mrs Smith was crossing with her back partly-turned towards him, and although he sounded his horn and shouted, she cross in front of his cab and was struck by the front wheel.

It was stated by a solicitor representing the family that Mrs Smith was practically blind in the left eye.

Returning a verdict of "Accidental death" the jury exonerated the driver from blame.

(The Scotsman, Friday, May 1, 1931)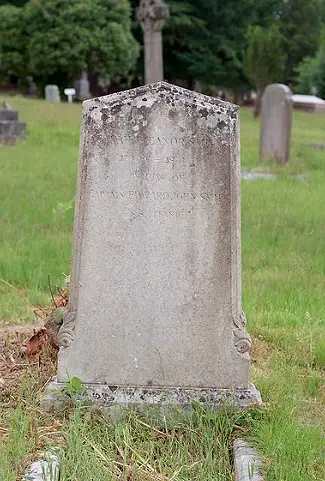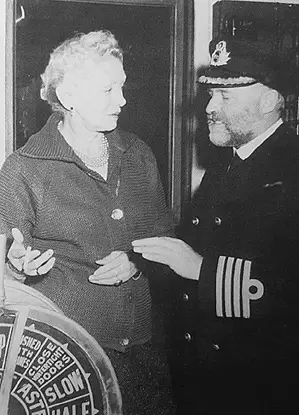 Earlier in 1921, Smith's half-sister Thyrza had died. According to the book Titanic Officers and a Gentleman, there were a number of tragic events that led to rumours of the "curse of the Titanic":
"Smith's daughter, Mel, possibly was first married to Captain John Gilbertson, the youngest captain in the British Merchant Marine when he took command of the Morazan for the Libby Line. Unfortunately, he died of blackwater fever, a complication of malaria which causes the red blood cells to burst open, leading to the failure of the kidneys."

"Mel married Sidney Russell-Cooke in 1922 and gave birth to twins on June 18, 1923. Tragedy continued to plague the family, fueling continued comments about the curse of the Titanic. Sidney was fatally injured in a hunting accident in 1930. Mel's son, Simon, who never married, was killed in action as an RAF pilot during World War II on March 22, 1944. Mel's daughter, Priscilla, wed a lawyer by the name of John Phipps, but she died of polio the following year. This left Mel quite alone, but at least she did not wallow in sorrow. She continued to live an active life, even to the point of driving sports cars and becoming a pilot, surprising endeavors given that she had moved to the quiet village of Leafield in 1934."

"Mel was particularly pleased with Lawrence Naismith's portrayal of her father in the 1958 movie A Night to Remember. The locals in Leafield often referred to her as "The Titanic's Captain's Daughter." But when the Anglican Church bells in Leafield tolled out her death on August 18, 1973, Captain Smith's hereditary line had come to an end." 61.)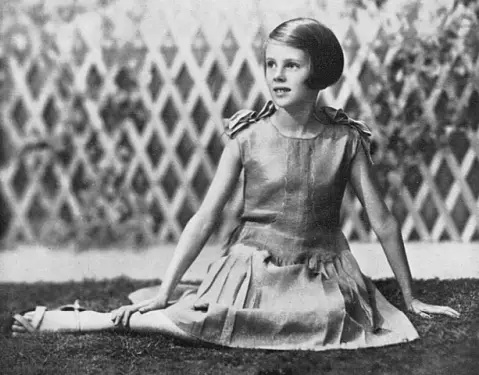 Melville Smith and Grandchildren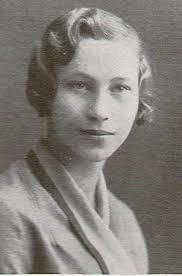 Ted and Eleanor's daughter Helen Melville Smith, mostly shortened to "Mel" or "Melville", had just turned 14 (April 2nd) when the Titanic disaster happened and she lost her father. According to a letter written by her mother Eleanor on Thursday 6th June 1912. "Melville went away to boarding school last May 7th so I am alone. She is happy and has the same bright-happy disposition as her Father."
In 1922 she married a stockbroker, Mr Sidney Russell-Cooke at St. Mark's Church, Mayfair, Middlesex. Sidney Russell-Cooke was born in Paddington on the 12th December 1892 to William Russell Cooke and Margaret Mary Smith. They had two children - Simon Russell-Cooke (1923-1944) and Priscilla Russell-Cooke (1923-1947). They were both born on the same day - 18th June 1923 in the Isle of Wight, England, making them non-identical twins. According to findagrave.com they were married in "January of 1923" - if this is the case then it would mean the birth of the twins was less than 9 months after they were married.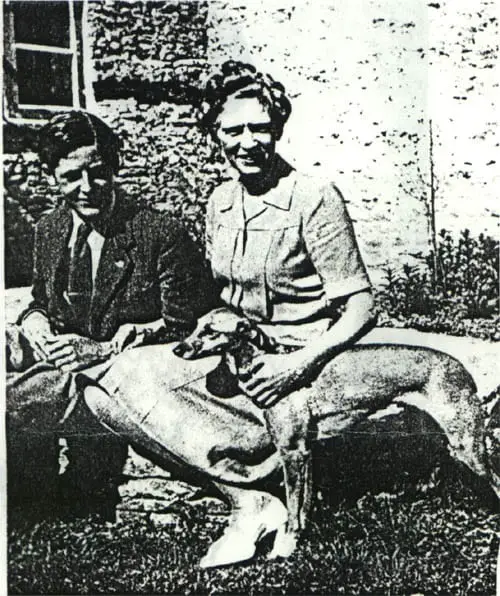 Tragedy struck again when her 37-year old husband Sidney died in an accidental shooting incident in his chambers at Kings Bench Walk, The Temple, London, on 3rd July 1930); he was apparently cleaning his double-barrelled shotgun while holding it towards his stomach, when it went off.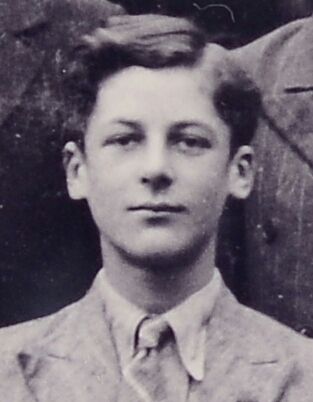 Of the two children - Simon, who never married, was killed in action as a RAF pilot during World War II on March 23, 1944, aged only 20 years old. He was a Flying Officer with the Royal Air Force Volunteer Reserve 144 Squadron, according to th Commonwealth War Graves website. His name is inscribed on panel 205 of the Runnymede Memorial, Englefield Green, Runnymede Borough, Surrey, England
Priscilla Russell-Cooke married lawyer John Constantine Phipps in 1946, but she died only a year later from polio, aged24, on the 7th of October 1947, in Scotland. Her burial details are unkown (according to findagrave.com). There were no children of her brief marriage and Capt. Smith's direct line of progeny would end with her untimely death. John Constantine Phipps is also listed as dying not longer after in 1948.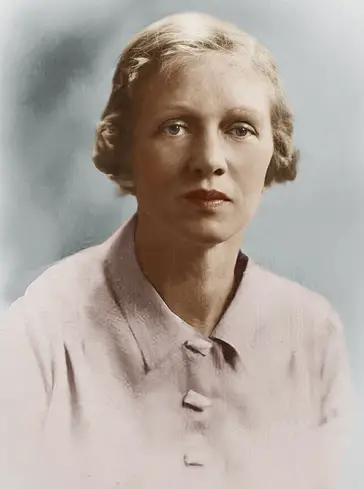 Ultimately, this meant that Mel's father, mother, husband, son and daughter all died in tragic circumstances all before she was 49. In later life she resided for many years in a cottage known as "Pratt's" on the south side of the village green at Leafield, near Witney in Oxfordshire.
She was a long term friend of David Rolt, a British artist, who painted leading figures from the arts, politics and high society during the 1940s and 50s. Rolt painted at least two portraits of Mel. According to the website roberteaglefineart.com "in his early twenties Rolt had formed a relationship with Mel Russell-Cooke, daughter of the captain of the Titanic. A vivacious woman who drove fast cars and held a pilot's licence, she was 18 years older older than Rolt and already married, but their relationship continued until the artist was in his 40s...his friendship with Mel continued until her death in 1973."
Mel died on the 18th August 1973, aged 75, of a brain aneurysm while apparantly preparing for a bath.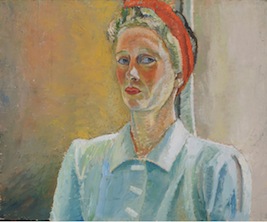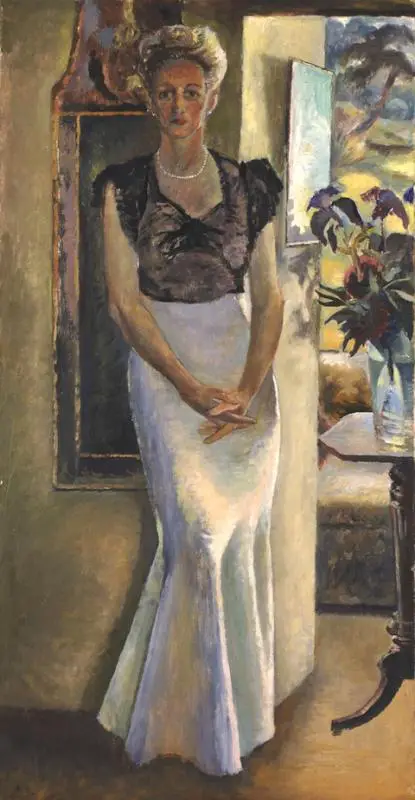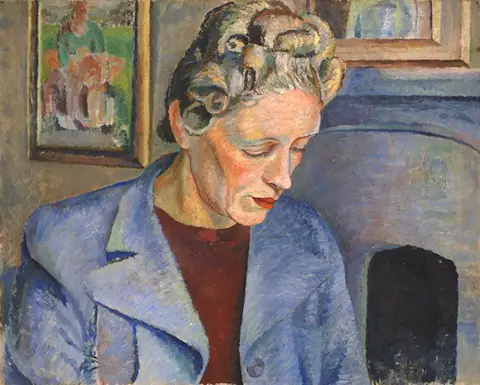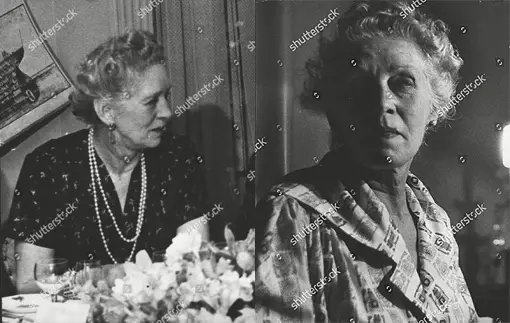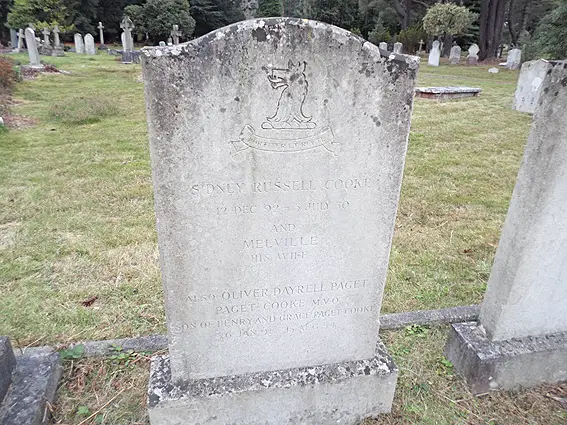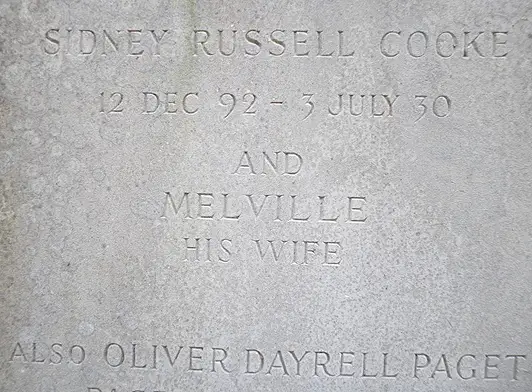 Legacy
Captain Smith has remained a popular character due to his distinctive look and the manner of his death - resulting in unabaited interest in anything connected to his life. To cover these aspects in more detail there are seperate articles on some notable examples: