Side Menu:
Second Officer Lightoller
Second Officer C.H.Lightoller
- White Star Line and Wife
Once Lightoller decided to 'settle down to something really permanent' he approached the White Star Line and to his surprise received an assignment aboard the RMS Medic just one week later. He describes the moment in his book:
"So, in the year of Our Lord 1900, armed with a letter of introduction and full of good resolutions, I made my appearance at 30 James Street, Liverpool, the headquarters of the wonderful White Star Line. It was customary in those days to have to wait anything up to six months before getting an appointment, so, feeling very virtuous at having done the great deed, I slipped away for a few months' holiday. Within a week, to my utter disgust, I had orders to report; and on arriving in Liverpool, found I was appointed to the R.M.S. Medic, the first of the five huge White Star Liners that were to open the new Australian service."(47.)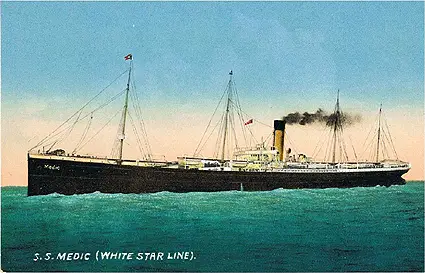 Fort Denison Incident
Lightoller's reputation as a practical joker is sealed in a rather embarrassing incident while docked in Sydney Harbor in October 1900. With apparently six weeks of planning, and during the height of the Second Boer War (11 October 1899 – 31 May 1902) Lightoller and a group of his fellow sailors purchased gun powder in small quantities so as to not draw attention to themselves, rounded up fifty feet of fuse, and on Saturday night, October 6th, 1900, they hoisted a Boer flag and fired a cannon protruding from Fort Denison, a small island in the middle of Sydney Harbour. The eventual newspaper coverage would keep the story of a Boer attack on Sydney alive for days, with it quickly realised that it was a practical joke.
Lightoller's joke even made the news:
WHAT HAPPENED AT FORT DENISON

A Strange Story

Who fired the gun?

The police are engaged in investigating a peculiar occurrence which is reported to have taken place at Fort Denison the other morning. The authorities are strangely reticent about the matter, but from what can be gleaned, it would seem that either a big practical joke has been played by someone, or else there are in our midst persons of a very strong pro-Boer temperament. The police are busily engaged in looking for an explanation.

Just as the Post Office clock had struck the hour of 1 a.m., a gun went off at Fort Denison, breaking some of the windows and, the story goes, putting the red light out. How it happened, nobody seems to know. On the tower are several large guns of an obsolete pattern, and it is one of these that is said to have gone off. Moreover, it has been stated that in the morning, a flag with the Boer colours was found flying on the tower. But, whilst this has not been positively denied, an official communicated with last night said he 'never heard of such a thing.' At the same time he admitted having received a similar report. A man was dispatched to examine the guns, with the result that he reported that one of them had the appearance of having just been fired. A direct question as to whether it had been fired met with the answer. 'That remains to be proved.'

Meanwhile the mystery continues and all sorts of stories, possible and impossible, are going about. One is to the effect that a boatman saw a man pull over to Pinchgut; and, making his boat fast, climb up the tower. It was too dark to see what he was doing, and though he watched him for some time, thinking his movements somewhat mysterious; the boatman took no particular notice of the occurrence until he suddenly heard a gun go off. A fuse is supposed to have been employed, and it is also clear that the gunpowder was carried to the fort.
The Daily Telegraph, Sydney Australia, October 11, 1900, p.7
At the time he was serving as 4th officer aboard Teutonic, from 22nd September 1900 until 9th September 1901. In 1901, clearly eager for promotion, he applied for his Extra masters certificate, which he achieved after two attempts on the 26th and 29th July, 1901. Soon afterward he became Third officer aboard the Georgic (9th September 1901- 25th January 1902) and then 2nd Officer aboard Cymric from 25th January 1902 until May 1903.
Marriage to Sylvia
In 1903, while working the Australian run and serving aboard the Suevic, 28 year old Herbert Lightoller met 18 year old Iowa Sylvania Zillah Hawley-Wilson (known as Sylvia). She was born on the 16th of July 1885 in New South Wales, Australia to John H. Wilson and Charlotte Wilson and had three brothers. Syvia had been staying with an aunt in England, studying music and completing her education. Sylvia had a club foot, and Lightoller took to assisting her around the ship by carrying her up steps and companionways. Her mother, Charlotte, was an Australian who had married an American named John Hawley-Wilson who had come to Australia to prospect for gold but was killed in a mining accident, and Charlotte opened a guesthouse which became a hotel in order to support the family. Herbert and Sylvia were married in St James' Church, Sydney on the 15th of December 1903 and returned to England on the return passage.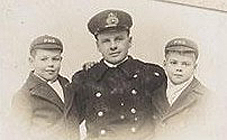 They moved first to Crosby, a pleasant town along the coast near Liverpool, England. Later in December 1906 their first child was born: Frederic Roger Lightoller. In 1907 White Star started running its large ocean liners out of Southampton, so the Lightollers moved once again, this time into a much nicer, ten-room house called 'Nikko Lodge' in Netley Abbey at 110 Station Road. Their second child, Richard Trevor Lightoller, was born in June the following year.
It was sometime soon after marrying Sylvia that Lightoller first came in contact with the Christian Scientists when a leaflet was stashed in his pocket on the streets of New York, which later led him to take up the study of Christian Science. (For more information regarding his Christian Scientist beliefs and writings, check this article here: Second Officer Lightoller's Faith: A Christian Scientist)
Oceanic
1907 was also the year that Lightoller started serving aboard the Oceanic, beginning as Second officer, and then moving to first officer in November 1909. Launched in 1899, she was the largest ship in the world until 1901 and at 17,272 gross tonnes was 704 ft (215 m) long and 68.4 ft (20.8 m) wide, powered by triple expansion reciprocating engines equalling 28,000 horsepower. Lightoller wrote highly of the ship:
"I got my severest mail boat training during the seven hard, though happy years I spent in the Queen of the Seas, as the Oceanic was then called. A wonderful ship, built in a class of her own, and by herself….She was an experiment, and a wonderfully successful one; built by Harland and Wolff, regardless of cost, elaborate to a degree, money lavished where it was necessary, but never gaudily as is so common nowadays."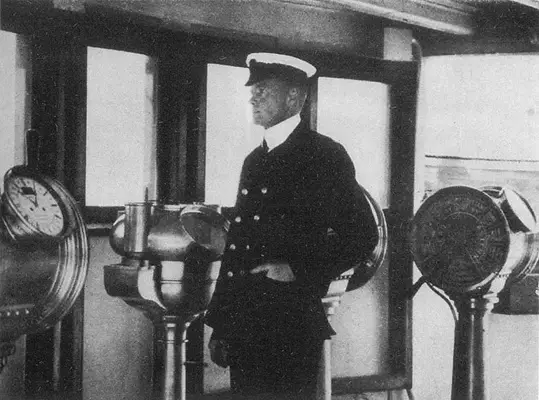 The Oceanic's bridge also allowed opportunity for Herbert to 'lark' about:
"The Oceanic's bridge was covered with expensive white rubber, laid in narrow strips, representing planks. This had to be scrubbed every morning with bath brick, until it was snow white. Incidentally if it was not scrubbed and got salt water on in, it became so abominably slippery that we had to lay down coir matting to walk on. She had a bow fronted wheel house, and covered in bridge amidships. After a shower I used to amuse myself, when she had got a slight roll on, by trying to slide from one side of the bridge to the other, without touching anything. It was rather difficult to negotiate the forward bulge of the wheel house, steering between this and the wheel on the bridge. With much practice I became so proficient that four out of five times I would make the passage without touching. One morning, after several ineffectual attempts, I at last came across in one beautiful sweep, shooting both wheel house and wheel, when, to my horror, on the opposite side, out stepped John G. Cameron.

"And what the hell do you think you're doing, sir?"

I replied, "I'm awfully sorry, sir. I slipped."

"Slipped, did you? I wish you had broken your damned neck, sir, as you nearly broke mine."

And with that the incident was closed."(47.)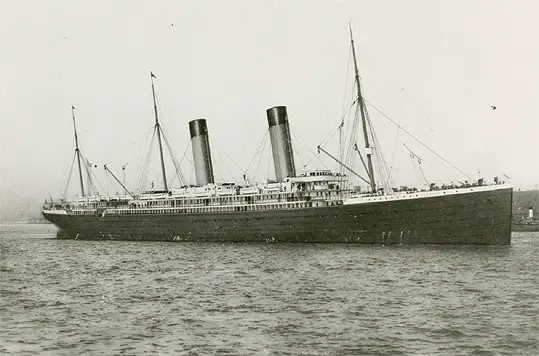 After some time serving aboard the Oceanic as first officer, he then moved to the Majestic in the capacity of first officer. He describes this shuffling: "From Second Officer of the Oceanic to First of the Majestic, then temporary Chief of the Majestic and back again to First of the Oceanic, such were the moves covering the next couple of years."(47.)
His time as the Majestic's first officer was also notable as the Captain had been Edward J.Smith, who commanded her from 1895 until 1902, a man he was about to serve under aboard his next ship: Titanic.