Side Menu:
Second Officer Lightoller
Second Officer C.H.Lightoller
-Family Legacy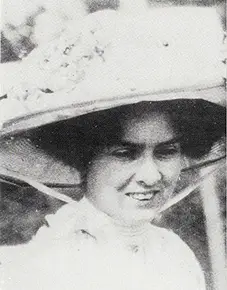 Herbert's Australian wife, Sylvia, who had a club foot and a distorted hip from a horse fall,was by many accounts a vivacious woman. She reportedly attended every day of the British Board of Trade Inquiry in London. Refered to as "Granny Lights" Sylvia was photographed at 80 years of age aboard the Sundowner bound for Dunkirk on the 25th anniversary of the evacuation.
She outlived Herbert by 17 years, passing away on the 3rd of October 1969 , with congestive heart failure listed as the cause of death, and their son Richard Trevor the informant.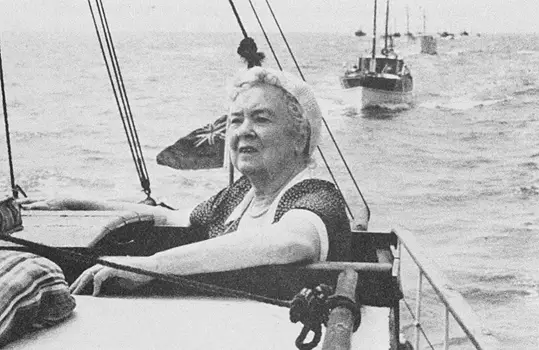 Herbert and Sylvia had five children. Two of their children died before they did - the oldest (Roger) and the youngest (Brian) at the beginning and end of World War Two. Their graves are in France and Germany respectively.
1. Frederick Roger Lightoller - Lieutenant, killed 9 March 1945 aged 38 .(1906-1945). His grave is located in the Bayeux War Cemetery, Bayeux, Departement du Calvados, Basse-Normandie, France.
2. Richard Trevor Lightoller - Born 28 April 1908 Hampshire . A Lieutenant Colonel he joined the Army just before the war, and was commissioned in June 1939. Married to Gertrude Betsy Arnold. Died 27/12/1972 Staines Middlesex England.

3. Sylvia Mavis Lightoller Born 11th of April, 1913 in Stoneham, Hampshire. Spouse Frederick H Braybrook

4. Claire Doreen Lightoller Born 14th of September, 1915. Served with the Political Intelligence Department. This department within the British Foreign Office was set up in 1939 to produce weekly intelligence summaries. After 1941 the Department's name was used as a cover for the Political Warfare Executive. Claire's married name was Rowe and her daughter Louise Rowe, became Lady Louise Patten who later wrote a book expounding an erroneous concept that a steering error caused the Titanic disaster.

5. Herbert Brian Lightoller Born 19 Jan 1918 - died in RAF action, 4 Sep 1939 (aged 22) (1918–1939). His grave is in the Sage War Cemetery, Grossenkneten, Landkreis Oldenburg, Lower Saxony (Niedersachsen), Germany
Granddaughter's Allegations
In September 2010, 57 year old novelist Lady Louise Patten, Second Officer Lightoller's granddaughter (via mother Claire Rowe née Ligtholler) released information that accused quartermaster Hichens of making a fatal steering error and later Titanic's officers of deliberate negligence. In what seemed to many to be a co-ordinated marketing push for her fictional new novel Good as Gold, Patten went public with what was labelled a 'family's Titanic secret' -that confusion over rudder orders had caused 'an officer to steer into an iceberg instead of away.'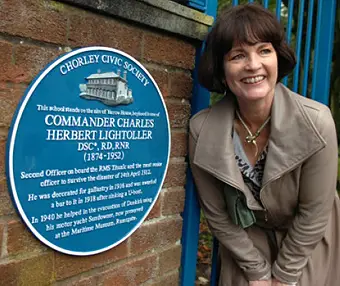 However her claims have been universally dismissed by Titanic historians and authors who point out the many inaccuracies in her allegations and also note that she was no older than ten years old when she heard the story from her grandmother - who was not a primary source (i.e. not from second officer Lightoller himself) and is now relating it 40 years later. For more information on the inaccuracy of the allegation check this article here.
Grand Nephew's Allegations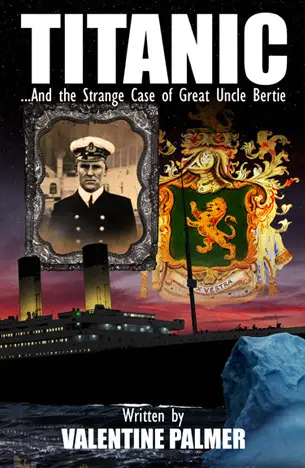 In 2012, actor and voice coach Valentine Palmer published the book "Titanic... and the Strange Case of Great Uncle Bertie." Valentine's grandmother, Gertrude, was Charles Herbert Lightoller's youngest sister. Lightoller died when Valentine was 12 however he "met the 'Great Man' several times and been somewhat over awed by his claxon of a voice, craggy weather-beaten features and a reputation as a much decorated hero." (Source: https://www.family-tree.co.uk/news-and-views/titanic-and-my-great-uncle-bertie)

In his book Valentine not only describes the life of his "great uncle Bertie" but also he "may have been privy to, but was unable to disclose, a giant conspiracy that, if discovered, would have bankrupted the White Star Line. For Second Officer Lightoller this would have meant the loss of a very considerable salary, his ten bedroom house, servants and all that went with this. My researches conclude that Great Uncle Bertie, although he went on to fame and fortune as a much revered hero in both world wars, had, immediately after the sinking of the 'unsinkable' Titanic, been made 'an offer he couldn't refuse'."

This "giant conspiracy" is of course that the Titanic was 'switched' with the Olympic, a tabloid theory that has been universally dismissed by any serious author and researcher of the Titanic (for more information on this please refer to: www.titanicswitch.com) Perhaps a clue to the inaccuracy of this book was apparent just from the cover. Firstly, we know that Herbert was not called 'Bertie'. His wife, when interviewed by the Chorley Guardian, Friday 18th July 1958 said in regards to his portrayal in the film A Night to Remember: ''I am supposed to have called him 'Bertie', she said. ''I never did any such thing and certainly he would have been astounded, had I done so!'' Secondly, the picture on the cover of the book is not of Charles Herbert Lightoller, but is of Third Officer Henry O. Cater of the Olympic. The mistaken image is due to a picture of RMS Olympic's officers being frequently mistaken for Titanic (more information check this article here)