Side Menu:
Fifth Officer Lowe
Fifth Officer Harold Lowe
- Early Life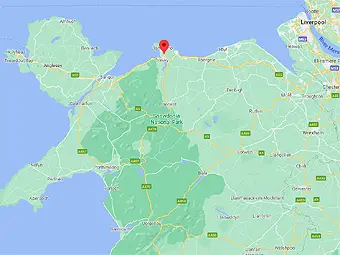 Harold Godfrey Lowe was born on the 21st November 1882 in his grandfather's home "Bryn Lupus" ("Wolf Hill") in an area known as Eglwys Rhos  (sometimes spelt Eglwysrhos and now known as Llanrhos), Conway (now Conwy), Caernarfonshire, North Wales. Llanrhos (in English it means 'Church on the moor') is a village to the east and south of Llandudno in Conwy County Borough, Wales.
His father George Edward Lowe, was born in Chester on the 20th of April 1848 and his mother Emma Harriet Quick was born on the 24th of March 1856 - so were 34 and 26 respectively when Harold was born. They had met in Liverpool and were married on the 6th of June 1877.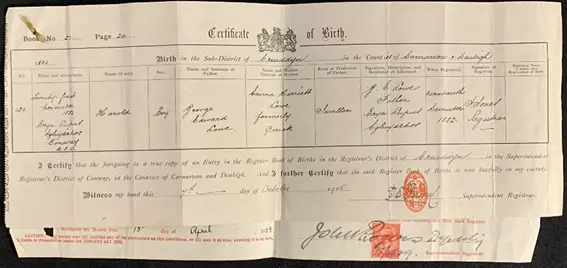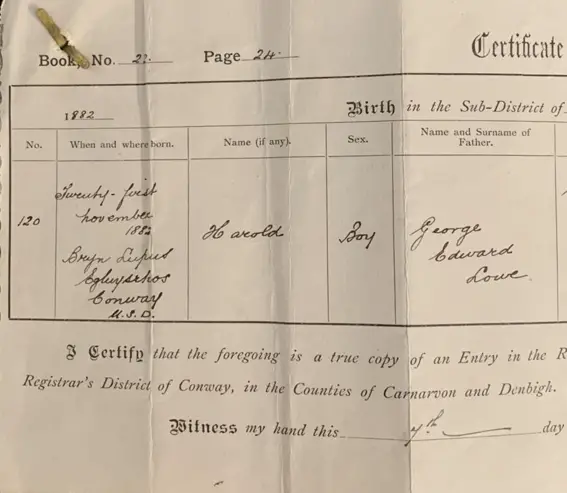 At the time of Harold's birth he was their third child. His older brother George Ernest Lowe was born in 1878, and his older sister Ada Florence was born in 1879. After Harold was born he had a sister, Annie May (birth date presently unknown) and three younger brothers - Edgar (born 20 September 1884), Arthur and Edward (1894).
A year after Harold was born, the Lowe family moved to Harlech, 40 miles south of Llanrhos, in the North Wales county of Gwynedd (previously Merionethshire). The 1891 census lists eight-year-old Harold and his family as having moved to the Castle Hotel in Llanddanwg, Merionethshire, where his father's occupation was listed as "landscape and cattle painter" and his mother as the hotel manageress.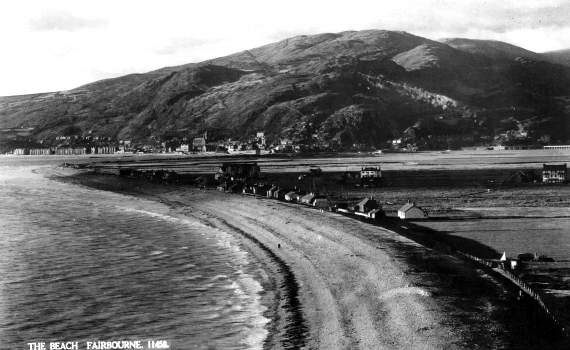 In 1893 the family moved to Barmouth, a further 10 miles south, where the Lowes lived in "Penrallt". Situated in northwestern Wales (but also in the historic county of Merionethshire), Barmouth is a seaside town and community in the county of Gwynedd, lying on the estuary of the Afon Mawddach and Cardigan Bay.
Lowe & Sons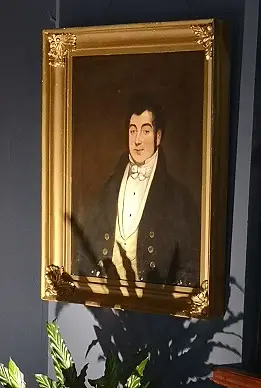 His father, George Sr. grew up in Cheshire, England, and the Lowe family were silversmiths, goldsmiths, jewellers and watchmakers with shops in Chester and Liverpool, England, as well as Llandudno, Wales. Not surprisingly, George Senior ran a branch of Lowe & Sons in Barmouth and was a regular visitor to the Chester store, then owned by his uncle.
The Chester store of jewellers "Lowe & Sons" still exists today. Founded by the first George Lowe in 1770 at "The Cross," it has occupied the premises in Bridge Street Row, Chester since 1804, for more than 200 years.  (https://www.loweandsons.co.uk/pages/our-story).
In 2012, the general manager of Lowe & Sons, on Bridge Street Row, Kevin Parry, said: "They were a close family so Harold would have been here quite a few times. His father owned a branch of the jewellers and all the silversmithing was done here." (Cheshire Live)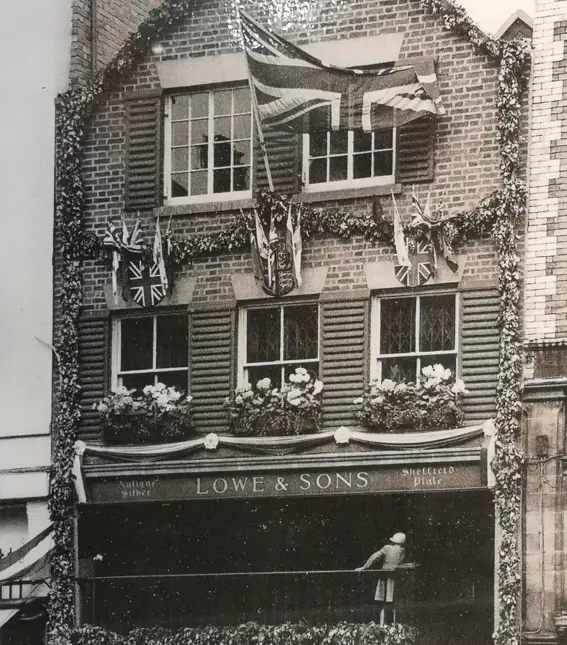 Although Lowe & Sons closed in 2018 new owners, the family run "Powell's Fine Jewellery" took over the shop in 2019, but retained the original Lowe name. "The upper floor of the fully refurbished premises houses a small museum area which houses many documents and artefacts from Lowe's esteemed history…There is also a display about family member Harold Lowe, who was 5th officer on the doomed Titanic." (The Chester Blog)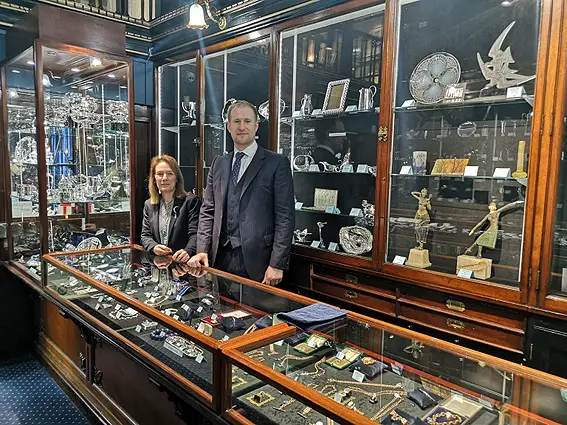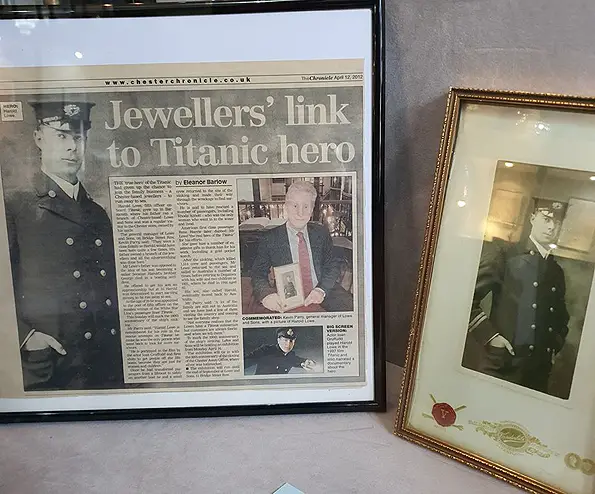 Drowning Incidents
As a sea-side town it is not surprising that Harold Lowe and his brothers took up seafaring careers:
"The Lowe children became familiar with sailing and boat handling, abilities that would stand Lowe in good stead in his chosen career. Eventually three of the Lowe boys would turn to seafaring as an occupation. The spirit and courage that he would later be noted for were in evidence from a young age – one anecdote relates how, when he was twelve, a punt (a small boat) that he and his father were in capsized at sea. The boy swam half a mile to shore, no small feat considering he was still wearing his heavy boots and clothes. His quick intelligence and dauntless character frequently led to mischief – for many years Barmouth residents would recall an incident in which he and a group of boys took a small boat so far out to sea that those ashore feared they were in danger and dispatched a lifeboat to rescue them. As it drew alongside, Harold coolly inquired where the lifeboat was bound for. (Bridge Duty, Officers of the RMS Titanic, 1999 Inger Sheil & Kerri Sundberg)
When Harold was 13 years old, an event occurred that no doubt affected him. On Friday 27 December 1895, Harold's eldest brother 17-year old George drowned in a boating accident. Some mystery surrounds his death, but it seems he went to secure his punt at 5.30 in the evening and subsequently went missing. His body was later found floating on Aberamffra Bay. It seems he had fallen accidentally and could not swim. This tragic death was almost followed closely by another family fatality when on the afternoon of 14 September 1896 - a year later - Harold took his father's punt out on the Aberamffra Bay during bad weather and capsized. However Harold managed to swim back to shore. (Titanic Valour: The Life of Fifth Officer Harold Lowe by Inger Sheil)
The death of his older brother George meant that Harold took on the role of the eldest son and it appears that his father took his education seriously. "In November 1897 the two eldest boys, Harold and Edgar, transferred from the 6th grade of the Barmouth Board School to the newer Barmouth County Intermediate School." (Titanic Valour: The Life of Fifth Officer Harold Lowe by Inger Sheil).