Side Menu:
Fifth Officer Lowe
Fifth Officer Harold Lowe
- First Ships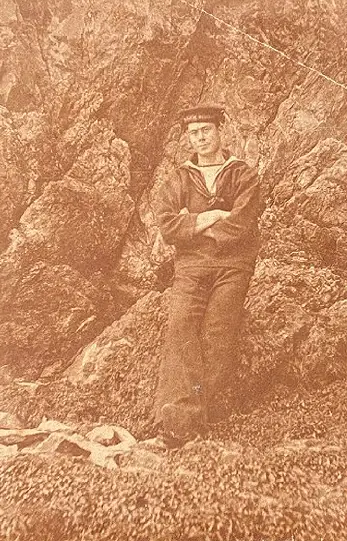 Growing up in a family with several generations of jewellers, it would seem logical that Harold Lowe was destined to follow in the same career. His father likely wanted it. However, he decided, in his words "to run away". During the US Senate Inquiry he explained his reasons:
"I ran away from home when I was about 14, and I went in a schooner. I was in seven schooners altogether, and my father wanted to apprentice me, but I said I would not be apprenticed; that I was not going to work for anybody for nothing, without any money; that I wanted to be paid for my labor. That was previous to my running away. He took me to Liverpool to a lot of offices there, and I told him once and for all that I meant what I said. I said "I am not going to be apprenticed and that settles it."

So of course I ran away and went on these schooners, and from there I went to square-rigged sailing ships, and from there to steam, and got all my certificates, and then I was for five years on the West African Coast in service there, and from there I joined the White Star Line." (United States Senate Inquiry, Day 5)
It is interesting to note that his father would often take him to Liverpool "to a lot of offices there" and that his "father wanted to apprentice me". He does not state what line of work - it could have been the family jewellery business or similar office-based work that did not involve the dangers at sea. But also Liverpool was at the time the heart of the British shipping industry. The following will attempt to trace the ships he worked aboard prior to his engagement at the White Star Line.
"Seven Schooners"
There is one slight inaccuracy in his above Inquiry statement - school records show he was still enrolled in school in late 1897, so when he ran away he must have been 15 years of age. (Titanic Valour: The Life of Fifth Officer Harold Lowe by Inger Sheil). Of course, Liverpool would be too far from Wales for a 15 year old to run away to, so it is most likely that he ended up on a schooner on the Welsh coast, perhaps first travelling to the nearest port - Portmadoc (his first registered vessel was indeed moored there). There are no records of exactly which vessel he first worked aboard, or the "seven schooners" he described before moving on to sailing ships. But they were all likely small vessels in and around the Welsh coastal areas.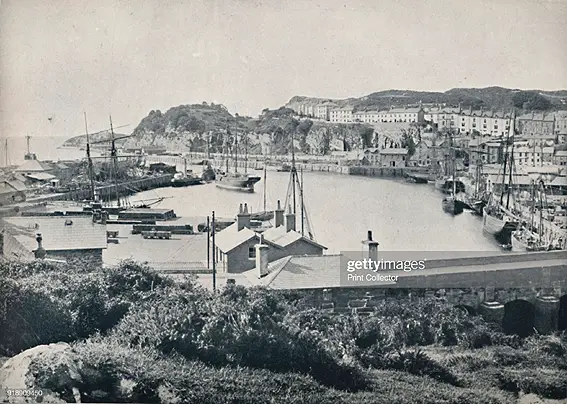 A schooner is defined by Britannica as "a sailing ship rigged with fore-and-aft sails on its two or more masts… Fore-and-afters, or schooners, handle better in coastal winds, have shallower drafts for shallow waters, and require a smaller crew in proportion to their size. " (Encyclopædia Britannica)
At present there seems to be no record of the first schooner Lowe worked aboard. However we have been able to identify three of the "seven schooners" he referred to - the Merrion Lass, the William Keith and the British Queen.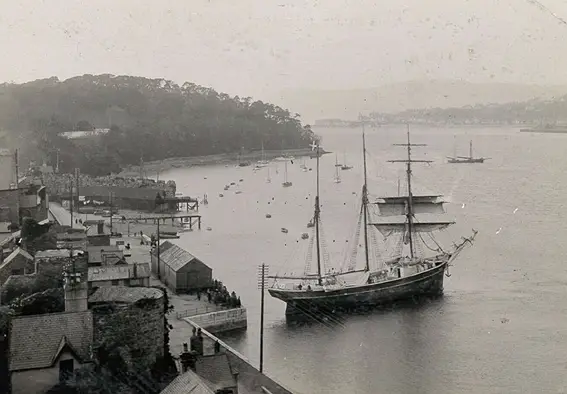 c.1900 Merrion Lass
According to researcher Inger Sheil "the earliest known was the Merrion Lass of Carnarvon, an obscure vessel that does not appear in Lloyd's register although listed in port records. She carried only two or three crewmen." (Titanic Valour: The Life of Fifth Officer Harold Lowe by Inger Sheil). Sheil does not seem to provide the origin of this information regarding the Merrion Lass, but it is of note that the next schooner, the first documented vessel, is also registered as from Carnavon - the Wm Keith or William Keith.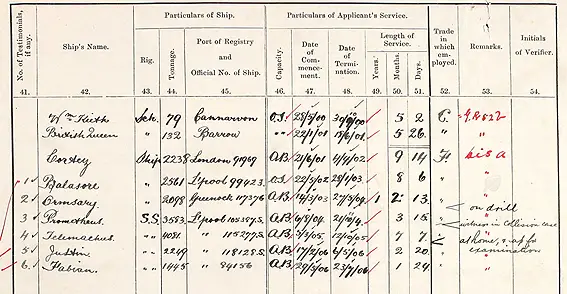 1900 Willam Keith
His next two schooners are listed in his second mate application, starting with the Willam Keith (written as "Wm Keith" in the document), described as a 79 tonne schooner, registered in Carnarvon, aboard which Lowe is signed on as "O.S." or an ordinary seaman from the 28th May 1900 until the 30th October 1900, or a total of 5 months and 2 days.
1901 British Queen
The following year Lowe is listed as aboard the British Queen, a slightly larger schooner of 132 tonnes according to his second mate application. Lowe worked aboard her for 5 months and 26 days as an ordinary seaman from the 22nd of January 1901 until the 18th of June 1901.
1901 Cortez
As he described during the Senate Inquiry, after the 7 schooners "from there I went to square-rigged sailing ships." The first of these was the Cortez. This was a considerable jump in size from the 132 tonne British Queen schooner, to the 2238 tonne Cortez, a London registered ship (no 91969). Lowe signed on as an "A.B. " - an able-bodied seaman, from the 21st June 1901 until the 4th of April 1902. According to the State Library of Victoria who hold a stunning image of this ship, it was built in Southampton in 1886.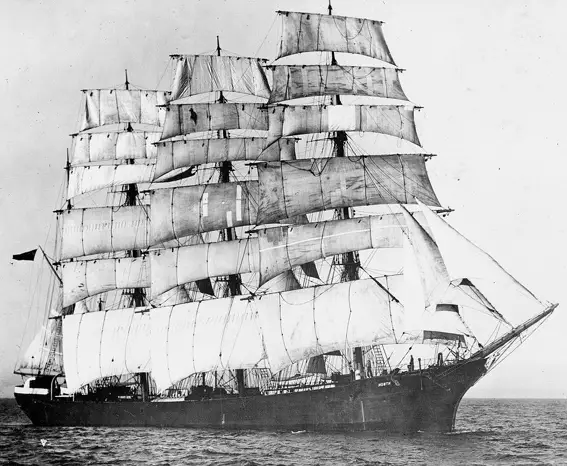 As a larger vessel it travelled to much further distances than the coastal schooners - in this case to Iquique, a port city in northern Chile, as part of the foreign trade routes (marked as an "F" in his second mate application).
1902 Balasore
Lowe had to return to being an OS on his next ship - the Balasore, a Liverpool registered ship (99423) of 2238 tonnes. It was built in 1892 and is described as "Steel Sailing Vessel 4 Masted Barque" that was built by Barclay, Curle & Co. Ltd., Glasgow, measuring 311.0fr x 43.6fr x 24.5ft. (http://www.clydeships.co.uk/view.php?ref=1514)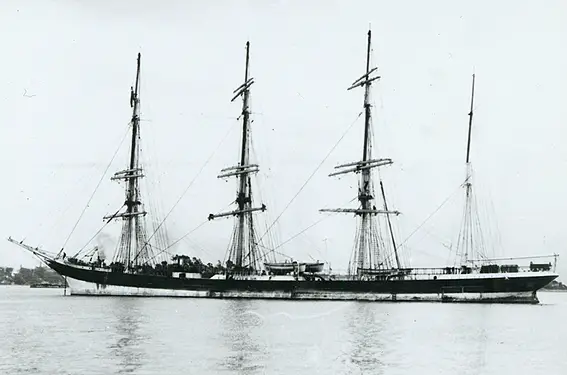 Lowe signed on from the 20th April 1902 until the 28th of January 1903, a total of 8 months and 6 days.
1903 Ormsary
Lowe was back as an AB on his next ship, the Ormsary, a Greenock registered ship (117376) of 2098 tonnes. It was a new ship, launched on the 19th of December 1902 and built in 1903 at Russell & Co, Port Glasgow (the last ship they built), measuring 278.8 feet in length, 42.1ft in breadth and 24.5ft deep. It was owned by The Ship Ormsary Company, (Lang & Fulton, managers). (http://www.clydeships.co.uk/view.php?ref=16014)
Hence Lowe joined the ship on its maiden voyage on the 11 March 1903, sailing to Australia and Hawaii, signing off on the 27th May 1904, a duration of 1 year, 2 months and 13 days according to his records - the longest time he had spent thus far on a ship. It was not without incident. On the return trip an 18-year-old apprentice, Frederick John Marsh, somehow fell overboard and was lost at sea. (Titanic Valour: The Life of Fifth Officer Harold Lowe by Inger Sheil).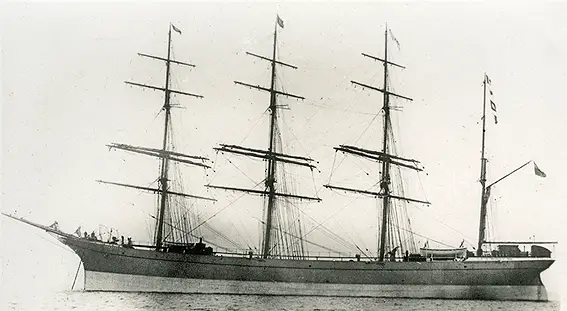 "And from there to steam"
The Ormsary would be his last sailing ship at it turned about before he embarked on a career aboard steam ships. At his point his second mate application notes "on drill" and indeed he joined the Royal Naval Reserve as a rating (number 13213) between signing off the Ormsary on the 27th May and his next ship on the 6th of August 1904.
1904 SS Prometheus
Lowe's first steam ship was the SS Prometheus, 3583 tonnes, registered to Liverpool (registration number 105387). Built in 1896 by Scott & Co., Greenock at a cost of £61,594, it was a Steel Screw Steamer, 422.0 ft long, 49ft wide and 28.3 feet deep. It was owned by Ocean Steamship Company, (Alfred Holt & Co, managers), Liverpool. This was part of the Blue Funnel Line -  Alfred Holt founded the business on 16 January 1866. The main operating subsidiary was the Ocean Steam Ship Company, which owned and operated the majority of the company's vessels. (http://clydeships.co.uk/)
Lowe signed onboard on the 6th August 1904 and signed off on the 21st of November, on a journey to Japan. Although only 3 months and 15 days in total, it would not be without incident. His second mate application notes that he was a "witness in Collision case." On the 10 November 1904 in Amsterdam, the Prometheus collided with the larger vessel Pectan, which resulted in Lowe appearing at the Board of Trade Inquiry on the 1st of March 1905. Ultimately the Prometheus was found responsible. It was not only Lowe's first taste of steam, but a first taste of being a witness at an inquiry.
1905 SS Telemachus
Staying with the Alfred Holt Line (Blue Funnel Line) as an AB on a voyage to Japan via Seattle, Lowe signed on to the SS Telemachus from the 5th of March 1905 - only days after appearing as a witness at the Board of Trade inquiry into the SS Prometheus collision. The Telemachus was a larger ship at 4081 tonnes, Liverpool registered (115277). Lowe worked aboard the SS Telemachus, along with a Chinese crew, until the 12th of October.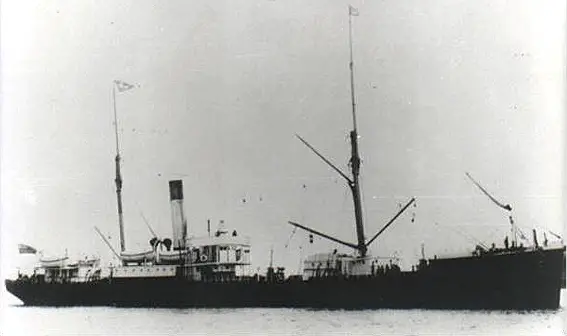 Second Mate Certificate - Failure
In his records it notes that after the SS Telemachus Lowe was "at home & up for examination." Subsequently, on the 29th of January 1906, 23 year old Lowe sat the examination for his Second Mate certificate in Liverpool. Unfortunately he failed, with the subject he failed in listed as "rules of the road." The "rules of the road" at sea pertain to avoiding collisions through procedures such as "red-to-red" and "green-to-green" in which vessels pass portside to port side, or starboard to starboard, hence the poem:
"Green to Green, Red to Red, Perfect Safety -- Go Ahead."
Lowe had to wait another six months before he could sit the examination again.
1906 SS Justin
The SS Justin was a 2249 tonne ship registered to Liverpool (118128). Built in 1904 by Barclay, Curle & Co. Ltd., Glasgow, it was a Steel Screw Steamer , 355 ft long, 48.7 ft wide and 24 ft deep and first owned by Booth Steamship Co. Ltd., Liverpool. (http://www.clydeships.co.uk/) Lowe signed on  on the 17th of February until the 6th of May - a total of 2 months and 20 days.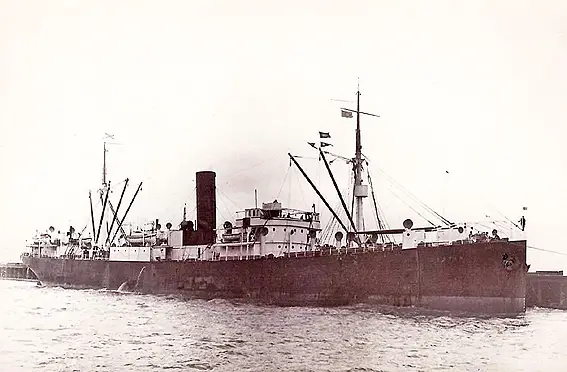 1906 SS Fabian
The SS Fabian was a somewhat smaller steam ship than the SS Justin at 1445 tonnes, also Liverpool registered (841156). Lowe departed Liverpool on the 29th of May 1905, with Mediterranean ports as their destination and returned on the 23rd of July, 1906.
Second Mates certificate
On the 20th August 1906, Lowe sat for his Second Mates certificate for a second time in Liverpool and this time passed. His application lists him as 5 foot 8 inches, of dark complexion, brown hair and brown eyes and with a tattoo of "H.G.L." in a heart on his right forearm. He lists his address as "Penrallt, Barmout, N.Wales". His birthplace is for some reason erroneously listed as Liverpool. His second mate certificate was issued on the 24th of August. It is Lowe's first seafaring qualification and he was now ready to become a ship's officer.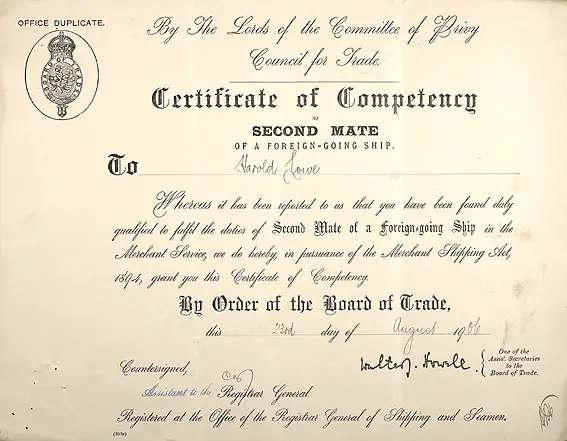 Receiving his second mate qualification even made the local news in The Cambrian News and Merionethshire Standard: