Side Menu:
Fifth Officer Lowe
Fifth Officer Harold Lowe
- Post-war and Retirement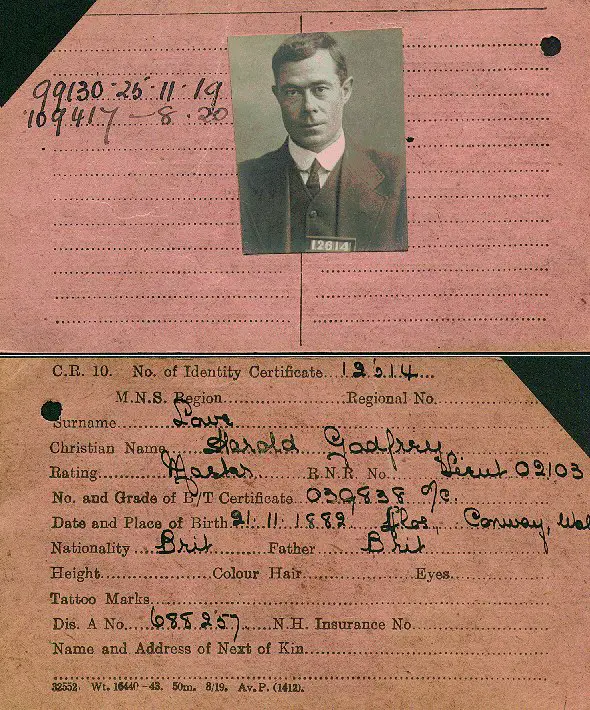 Returning home, Lowe was once again in the news when the Friday 4th of July 1919 edition of the The Cambrian News and Merionethshire Standard, a weekly newspaper circulating in the North and Mid Wales area, printed an article entitled "Swamped in the Bay - Titanic Hero's Experience":
Swamped in the Bay. "TITANIC" HERO'S EXPERIENCE.

An exciting boating accident occurred in the Harbour at Barmouth on Tuesday. Lieut. Harold G. Lowe, Penrallt, was out in his sailing boat accompanied by a visitor and a boy named Robert Lunt. Suddenly the boat capsized, throwing the occupants into the water. The incident was witnesed by boatmen on the Quay, who at once went to give aid. Lieut. Lowe was clinging to the boat with one hand and with the other he held the boy Lunt from going under. The visitor was holding on to the keel of the boat which had turned over. They were brought ashore by Mr. Harry Jones, Bronygr, who was in charge of the sailing yacht "abel." (?) The boat was not damaged and the occupants were none the worse after their experience.

Lieutenant Lowe, who went to sea when a lad, was fifth officer on board the "Titanic," having qualified as master mariner. He distinguished himself bravely on the occasion of the "Titanic" disaster in April 1912, and was the means of saving several lives. He commanded one of the collapsible boats, manned by eight of the crew. Before launching the boat he passed along the deck of the "Titanic" and restrained frightened passengers from swamping the boats. In case the boats were short of adequate crew he made exchanges whereby each was properly manned. On the boat under his command, he succeeded in putting up a mast and he also arranged to connect the boats in couples so that all would be together. Later, went back to the wreck and was in time to save one of the boats with thirty passengers.

On his visit to Barmouth in June, he was presented on behalf of the townspeople with a gold watch, chain, and in appreciation of his his bravery, and was also made the recipient of a valuable presentation sent from New York by one of those rescued in the boat he commanded.

(Cambrian News and Merionethshire Standard, 4 July 1919. Credit: Cambrian News Ltd.)
SS Turcoman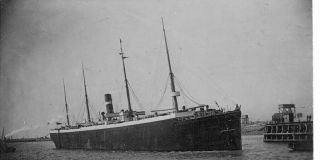 Lowe's first ship after the war was the SS Turcoman, an older ship, launched in 1892, owned by Frederick Leyland & Co which had been acquired by the International Mercantile Marine Company who also owned the White Star Line for their Portland service. Lowe served in the role of First officer - his White Star Line service record shows him aboard from October 1919 - through to January 1920 but it seems more likely he actually signed on the 20th of November 1919 through to the 29th of December 1919.
SS Cedric
The SS Cedric was familiar to several Titanic officers - Herbert Haddock had commanded her maiden voyage along with Henry Wilde as second officer. Now Lowe was her second officer on two voyages to New York between the 9th of January and 26th of April 1920.
The Cedric was the second of a quartet of ships over 20,000 tons, dubbed "The Big Four," and the largest vessel in the world at the time of her launch on the 21st of August 1902. RMS Cedric was a 21,035-gross register ton ship, 700 ft (210 m) long and 75 ft 3.6 in (22.951 m) abeam, with two funnels, four masts, two propellers and a service speed of 16 kn (18 mph). There was accommodation for 365 first-, 160 second- and 2352 third-class passengers, and a crew of about 350. Most importantly, she was on the shorter North Atlantic route, commencing her maiden voyage from Liverpool to New York on 11th of February 1903.
SS Dominion
The SS Dominion was built by Harland and Wolff in 1894 and at 6,618 gross tons was 445.5ft x 50.2ft and owned by, unsurprisingly, the Dominion Line, which after 1908 had operated  under the name "White Star-Dominion Line." Lowe was first officer between the 18th of August 1920 and the 8th of April 1921, on the route that included Quebec, Montreal, New York and Portland.
Freemason, work and training
During the 1920s his White Star Line service record notes sick leave (22.5.20 - 9.6.20) as well as holiday leave (9.6.20 - 1.7.20). During 1921, work became difficult to find. Lowe is listed as a standby on Runic (3.11.21 - 4.11.21) and Rimouski (28.3.22 - 4.4.22) according to his WSL service record and then later on 'half-pay' for several stretches between December 1921 and March 1922.
"Half-pay" was a term used in the British Army and Royal Navy of the 18th, 19th and early 20th centuries to refer to the pay or allowance an officer received when in retirement or not in actual service. It clearly had an effect on Lowe as he named a model boat he built for his children "Half-pay."
On the 13th of May 1921 he was initiated as a freemason at the St Trillo Lodge. By November 1921 he was on "drill" aboard the HMS Defiance, the Torpedo School Ship, as Lieutenant from 12th of November to the 26th of November 1921, followed by the HMS Vivid, another Torpedo School Ship.
SS Gallic
Lowe finally reached the rank of Chief Officer, post-War, aboard the SS Gallic on seven voyages to Australia and New Zealand between the 13th of May 1922 and the 27th of December 1925. The SS Gallic was a two-masted cargo steamer cargo steamship built in 1918, with a tonnage of 7,914.
During this time, he was also promoted to Commander in the RNR on the 20th of November 1923.
There were several stretches of half-pay once again in 1925:
Half-pay 4.3.25 - 30.3.25
Half-pay 27.5.25 - 24.7.25
SS Canada
For two voyages, Lowe joined the SS Canada, another ship in the joint White Star and Dominion Line. The Canada was a 8,806 gross ton ship built by Harland & Wolff, Belfast in 1896 for the Dominion Line with a length of 500.4ft x beam 58.2ft, one funnel, two masts, twin screw and a speed of 15 knots. There was accommodation for 200-1st, 200-2nd, and 800-3rd class passengers and was rebuilt and modified in 1903 and 1909 to increase capacity. Lowe served aboard the Canada as First Officer and then Chief Officer between the 3rd of April and 24th of May 1925 on two voyages that included Portland, Maine and Montreal.
SS Suevic
Lowe was briefly aboard the SS Suevic as first officer - from the 1st of August until the 9th of August 1925, enroute to Glasgow. The Suevic is the same ship where Charles Lightoller met his wife to be, Sylvia, in May 1904.
SS Regina
Lowe finally signed on for a much longer period of time when he joined the SS Regina as Second Officer on the 14th of August 1925, and remained for a period of 11 voyages until the 15th of August the following year (1926). The SS Regina was also part of the joint White Star Dominion line, on the Montreal and New York services.
The Regina was originally laid down for the Dominion Line in 1913 and finally launched on 19th of April, 1917. In December 1925 the Dominion Line was taken over by White Star Line. On December 12, 1926 the Regina made her first voyage from Liverpool to New York. At the time of that voyage, she appeared in White Star Line colours.
SS Ceramic
At the beginning of 1927, Lowe was back on the Australia service aboard the SS Ceramic for 2 voyages between the 29th of January and 12th of December 1927. The SS Ceramic was built in Belfast for the White Star Line in 1912/13 and operated on the Liverpool – Australia route. She had three screws, with a pair of four-cylinder triple expansion engines which gave her a speed of 16 knots.
Younger brother dies and RNR decoration
On the 11th of March 1927, his younger brother Edward who was 33 years old and living in Wellington New Zealand when he was lost overboard while working on the SS Waitemata. His body was never recovered. Lowe had now lost both an older and younger brother to the sea.
Also in 1927, according to his White Star Line service record he received a "R.D." decoration or medal in August 1927, which was followed by his release from the RNR with the rank of Lieutenant Commander, aged 45 on the 21st of November 1927.
1928 - Three ships
Lowe was briefly back on the SS Regina for a month in 1928 as Second Officer on the New York leg once more (04.02 - 28.02.1928) before switching to the SS Baltic for another month (03.03.1928 - 26.03.1928), followed by a much longer duration on the SS Laurentic (19.4.1928 -22.6.28).
In November 1928 his father George Edward Lowe passed away. George Lowe had lived to the age of 81.
Last Ship: SS Doric
The SS Doric was White Star's second and last turbine-propelled ship. The vessel was constructed by Harland and Wolff in Belfast and was launched in 1922. Her passenger capacity was 600 in cabin class plus 1,700 3rd. class, with a crew of 350.  It was used on the Canada trip and at least at one point was also a Royal Mail Ship on or before 1923. It is believed the Doric served on this same basic route from Liverpool to Quebec and Montreal from 1923 to 1932. The Doric was a 16,484 gross ton ship, with a length of 575.5ft x beam 67.9ft, two funnels, two masts, twin screw, speed 15 knots, accommodation for 600-cabin and 1,700-3rd class passengers.
Its Second Officer between the 27th of July 1928 and the 13th of November 1930 was Harold Lowe - and this was to be his last ship before retiring. He worked aboard her for nearly two and a half years on voyages to Canada, making it the longest period he spent aboard a ship in the post-war years. The Doric itself was taken out of service five years later in 1935.
Retirement
Perhaps there were indications that Lowe was about to retire. Other than difficulty finding work, as the world's economy entered the depression of the 1930s, Lowe himself was, according to his White Star Line service record, on frequent holiday leave, with as many entries for holiday as there were sailings on the Doric. His record also shows that he was alternating between Second and First officer, but mostly Second officer between 1928 and 1930. He had been in the role of First Officer for ten years, with only a brief moment as Chief aboard the SS Canada in 1925. There is also a curious entry for the dates of 14.7.28 - 26.7.28 under "Holiday" that lists "Sperry Gyro Course" - perhaps an indication of further training for updated equipment.
Ultimately, on the 26th of May 1931 Harold Lowe decided to resign from the White Star Line, aged a very young 49 years old and moved into 1 Marine Crescent, Deganwy where he pursued his hobbies of boating, fishing and shooting and later became a church warden.
He did not stop working immediately - at first looking into the world of local politics when in November 1932 he was elected unopposed in the Deganwy Ward of Conway Borough Council, finally retiring at the end of his second term in 1938. During his term as a Conway Borough Councilor, he volunteered to help organize Armistice Day commemorations.
During his time as a local councilor he also experienced a rather embarrassing event for a sailor, on the 19th of November 1937 when he nearly drowned in the Conway River, at Deganwy. The Liverpool Echo ran the story under the headline of "Titanic Survivor Rescued Fell Into River":
Titanic Survivor Rescued Fell Into River

At Deganwy Commander H. G. Lowe, a member of Conway Borough Council and a survivor of the ill-fated Titanic, was rescued from the river Conway, at Deganwy, early to-day. Accompanied by Mr. Williams Parry, a local railway clerk. Commander Lowe had set out from the shore in a dinghy to reach his motor-launch. Just after Parry had stepped on to the motorlaunch, a gust of wind caused his companion to lose his balance, and be fell between the two craft. The sea was rough, and Parry, who showed great presence of mind, caught hold of Commander Lowe's coat collar, and despite the fact that Lowe's knee boots had become waterlogged, Parry managed to pull him into the launch. Commander Lowe, who was exhausted, was afterwards taken home. (19 November 1937, Liverpool Echo)
With the outbreak of war, Lowe was ready once again to play a role, although this time on land. According to his Navy records, dated the 7th of May 1939, he was listed as "Air Raid Warden for district"; in fact he volunteered his home as a sector post.