Side Menu:
Fifth Officer Lowe
Fifth Officer Harold Lowe
- Death and Memorials
Sadly, in 1942 Harold Lowe suffered a stroke and he became wheelchair bound, unable to continue his wartime role. Two years later, on the 12th of May 1942, Lowe passed away at the age of 61, the first death among the surviving Titanic officers. The cause of death was listed as hypertension and cerebral haemorrhage malaria (chronic). His recurring problem with malaria had plagued him since his early days at sea when he sailed along the African coast.
He was laid to rest near St. Trillo's Parish Church in Llandrillo-yn-Rhos, not far from Colwyn Bay. Nellie chose a tombstone in the design of an open book, with the left-hand page memorializing Harold:
IN LOVING MEMORY OF MY DEVOTED HUSBAND HAROLD GODFREY LOWE COM. R.D. RNR. WHO PASSED AWAY MAY 12TH 1944 I THANK MY GOD UPON EVERY REMEMBRANCE OF YOU.
Later, the ashes of his daughter Florence "Josie" Edge Lowe were also interred on her death in 1996.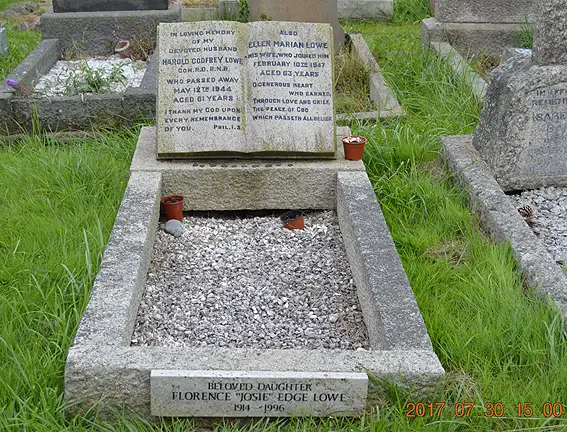 Family
Nellie joined her husband in death three years later on the 10th of February, 1947.
His sister Ada (born in 1879) had died in 1937. Edgar Reginald Lowe - Harold Godfrey Lowe's brother who was born in 1885 and had also followed a career in the merchant service - settled in New Zealand and enjoyed a successful career with the Union Steam Ship Company, commanding many of their vessels before passing away suddenly in 1941. His second son, who also had a career in the merchant service, was named Harold Arthur Lowe after Harold Godfrey and Harold and Edgar's brother Arthur.
John Lowe, the grandson of Harold Lowe, was also a captain in the merchant marine himself and went on to assist Inger Sheil in the writing of her biography Titanic Valour. He died in April 2019. A year later a large archive of family heirlooms was sold at auction. Another grandson, Godfrey Lowe lives in Australia.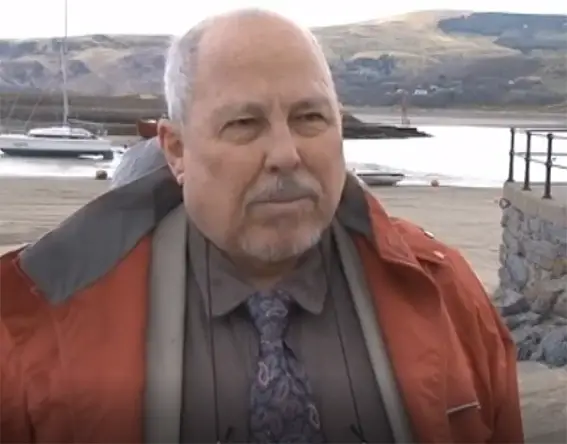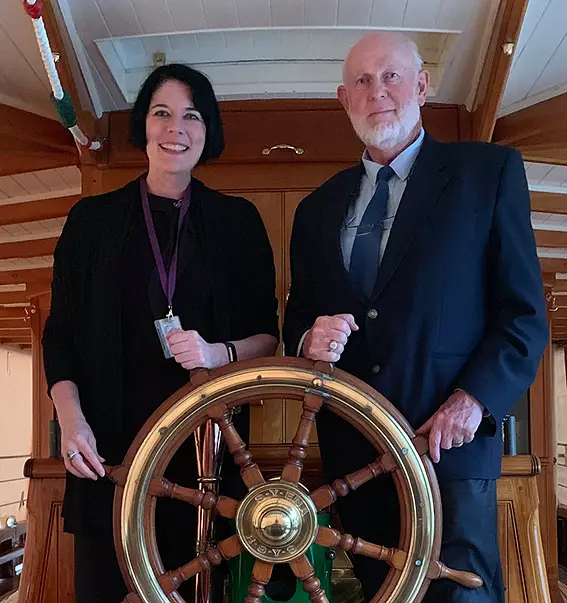 Memorials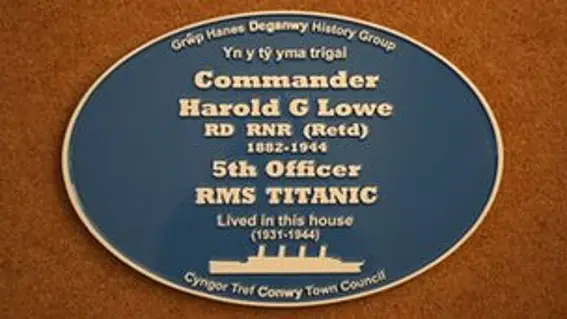 On April 10th, 2012, during the centenary of the sinking, a blue plaque was unveiled at Lowe's retirement home in Deganwy, identifying the property as having been lived in by the former Fifth Officer of the Titanic. In attendance at the presentation was merchant marine captain John Lowe, another of Harold Lowe's grandsons.
A BBC article on the unveiling reported:
Lowe lived in the waterfront house in Deganwy, Conwy, for 13 years until his death in 1944 aged 61. His grandson, John Harold Lowe, now lives there. Mr Lowe, a retired merchant navy captain, said his grandfather was known locally as Titanic Lowe. However, Mr Lowe does not remember his grandfather, who died when Mr Lowe was still a toddler.... Family photographs show the Titanic officer cuddling his grandson.

Mr Lowe said: "I've always held him in great esteem. Now that he's getting some recognition, that's even better. "Within the house, we've had various photographs up. I was proud to be associated with him, although in those days I hadn't delved into it. I knew he'd saved people but didn't realise the extent that he'd gone back [in a lifeboat to rescue people]. He was very reticent to talk about it. He talked to his son, my uncle, about it, but it was forbidden to talk about it."

The plaque was commissioned by the History of Deganwy Group and was unveiled on Tuesday afternoon.

(BBC, 10 April 2012)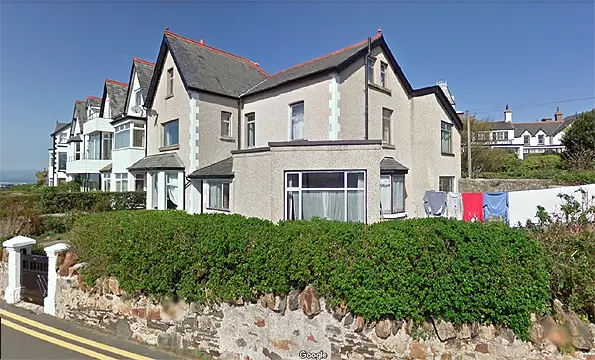 On April 15th, 2012 a second plaque was unveiled, this time in Barmouth. Maddie Mathews, an 18 year old student from Dyffryn Ardudwy, Gwynedd, had argued that Harold Lowe needed to be remembered for his acts of heroism when the ship sank, and she initiated a Facebook campaign entitled "We want recognition for Harold Lowe in Barmouth!" to accomplish this. The outcome was the dedication of an inscribed slate plaque which was unveiled along Barmouth Harbour. The design included Lowe's photograph and a colour image of the Titanic. Ioan Gruffudd, the Welsh actor who portrayed Lowe in James Cameron's movie, Titanic, was not able to attend, but a letter he wrote to the city council was read at the event. Harold's grandson, Captain John Lowe, was once again in attendance. It was unveiled by Captain John Lowe at the Harbour Master's office at 2pm on the 15th of April 2012.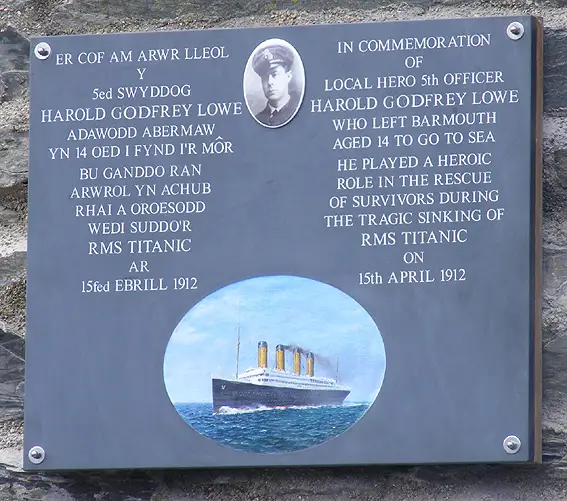 A BBC article on the unveiling reported:
At the ceremony, Captain Lowe said: "The heroic deeds of my grandfather are well documented and I won't go into that. "It is fitting that the memorial plaque is situated here on the quay from where you can see Penrallt, where my grandfather lived and the Mawddach estuary where he learnt his sailing skills." (BBC, 15 April 2012)
Artifacts and Auctions
In 2004, a menu of the first meal ever served aboard Titanic, which Lowe had sent to his fiancée when the ship was docked in Ireland, sold for £51,000, breaking the record for auctioned Titanic memorabilia at the time.
More recently, on the 20th of June 2020, a large number of Lowe's belongings were sold at an auction at Henry Aldridge & Son, including his whistle, telescope, artwork and bicorn hat. Auctioneers Henry Alridge & Son stated: "The following archive is sold by direct descent and has never been auctioned or offered for sale remaining in the Lowe family since 1912."