Captain Herbert Haddock
- Early Career
Herbert James Haddock was born in Rugby, a market town in Warwickshire, England, on the 27th of January 1861. A month later he was christened, on the 31 March 1861. Not long after, his brother Sideny George Haddock was born in June 1862, followed by James Rudolph Haddock (1865-?) and John Cecil Haddock (1865-1916).
Raised in Rugby, Herbert travelled to Liverpool to begin a four year apprenticeship in August 1875, when he was 14 years old. The apprenticeship was with the Rathbone Brothers, a company founded by William Rathbone II in 1742 as a Liverpool-based timber trading business By the 19th century it had become a leading trader in cotton from the United States and in 1841 it became the Liverpool agent for the East India Company.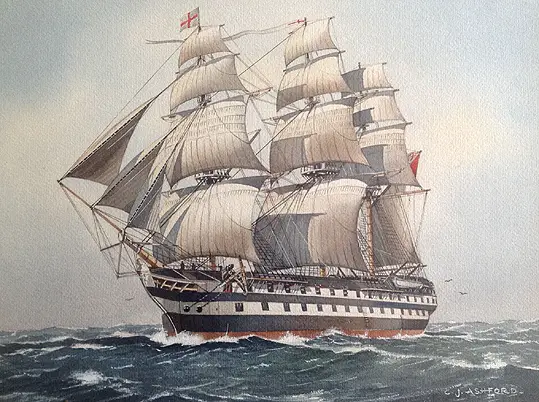 The apprenticeship was aboard the HMS Conway, a naval training school or "school ship", founded in 1859 and stationed on the Mersey near Liverpool. This was the same ship that Titanic's future Sixth Officer James Moody later attended also at the age of 14 in 1902. According to the website hmsconway.org by Alfie Windsor, the HMS Conway was "used to train 11,000 young boys for a life as officers in the British Royal and Merchant Navies as well as navies and other maritime organisations around the world... Cadets arrived as boys and left, about two years later, as men, true to the ship's motto: "Quit ye like men, be strong". A special breed of men who continue to have a strong influence in all walks of life around the world."
Just prior to leaving the Conway, on the 22nd June 1877, Haddock was made a "midshipmen" in the Royal Navy Reserve.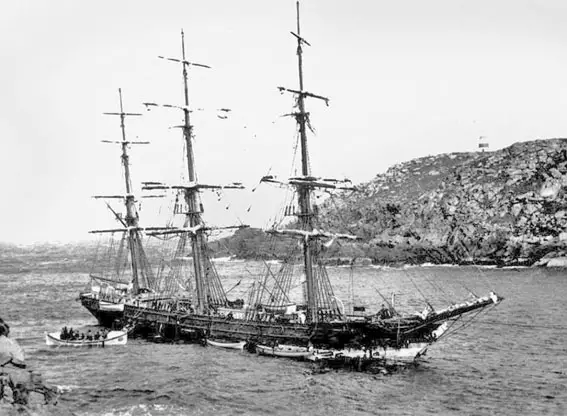 Haddock's two years aboard the ship learning the theory and practice of sail, from 1875 to 1877, counted as one years' sea time towards his Board of Trade Second Mate's Certification, for which he required a total of 4 years to apply. Hence in July 1877, Haddock joined the Horsa, described as a "square rigged sailing vessel" registered in Liverpool in his Second Mate certificate for a total of 3 years from July 1877 - July 1880.
According to the website the "Caledonian Maritime Research Trust" (clydeships.co.uk) the Horsa was built and launched in 1860 and had a gross tonnage of 1128 grt / 1092 nrt , 220ft long, a breadth of 34.2ft and a depth of 21.7ft. At the time that Haddock was an apprentice, it was owned by the Star Navigation Co Ltd, Liverpool, a company owned by the Rathbone Brothers.
In August, Haddock travelled to London and sat for his Second Mate certificate on the 17th of August 1880, passing on first attempt. At the time, he listed his address as 21 Market Place, Rugby, a central location not far from the clock tower. The certificate was issued on the 30th of August 1880 at the port of Liverpool.
With his first qualification in hand, Haddock began his career on the 19th of November aboard the Orion, a brig described in his papers as registered in Liverpool with the number 69385. The ship was a cargo steamer of the Star Line (Star Navigational company) owned by the Rathbone Brothers, Liverpool and built in 1873. It was involved in foreign trade. According to the website Tyne Built Ships, it was of iron construction and built by Andrew Leslie & Co, 2297grt, 1610nrt, 342.3 x 34.9 x 20.2ft (http://www.tynebuiltships.co.uk/).
In the capacity of Third Mate, Haddock is listed as being aboard the Orion for three voyages - 19/11/1880 - 14/4/1881 (4 months 25 days), 25/5/1881 - 20/8/1881 (2 months 25 days, and 15/9/1881 - 27/1/1882 (4 months 12 days).
He then signed on to the Mira on the 16th of February 1882, listed in his papers as a brig of 1668 tonnes, Liverpool reg 70966. According to Tyne Built Ships, this was also owned by the Star Navigation Co Ltd, Liverpool, built in 1875 by Andrew Leslie & Co with the dimensions of 2610grt, 1648nrt, 350.2 x 37.0 x 27.8ft.
His BOT paperwork lists him as working aboard the Mira as Third mate for five voyages, mostly of 2 months each, until August 1883.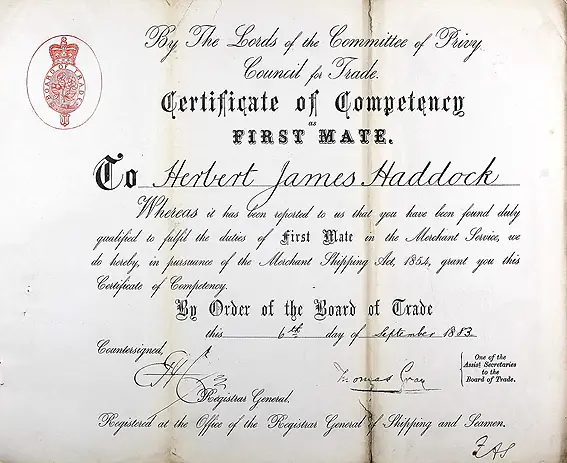 In September 1883 he then applied for his next qualification - First Mate - in Liverpool and on the 3rd of September he passed on first attempt and a certificate was issued on the 18th of September 1883. By November he was back aboard the Mira, but now in the capacity of Second Mate, for a series of five voyages of two to three months each starting on the 24th of November 1883 until the 21st of April 1885.
Returning to his qualifications, like William Murdoch and Joseph Boxhall, he skipped his Masters and sat for his Extra Masters certificate on the 14th of September 1885. Unlike Captain Smith, Henry Wilde, Charles Lightoller or Joseph Boxhall, he passed on first attempt, just as William Murdoch would do in 1896. His address was still listed as 21 Market Place, Rugby.
Not long after, on the 9th of March 1886, he was promoted to sub Lieutenant in the RNR and a year later began his training as an Acting Lieutenant aboard the HMS Imperieuse, listed as serving duty aboard her between the 8th of July 1887 - 19th August 1887.
The HMS Imperieuse was the lead ship of her class of two armoured cruisers built for the Royal Navy in the 1880s, having been completed in September 1886. The steel-hulled steam ship was fitted with a ram and the hull was sheathed in teak which was covered in copper to reduce biofouling. The crew numbered approximately 555 officers and other ranks. The ship was initially brig-rigged with two masts, but these were replaced by a single military mast amidships shortly after completion as she proved to have very poor sailing qualities during her trials.
He was then moved onto the HMS Edinburgh, an ironclad battleship of the Colossus class, working aboard her for almost a year, from the 20th of August 1887 until the 25th of July 1888. The HMS Edinburgh had guns carried in two turrets positioned near the centre of the ship. Haddock joined just after the Edinburgh was commissioned at Portsmouth in July 1887 for the 1887 Golden Jubilee Fleet Review, and was then posted to the Mediterranean, where she was commanded by Commander (later Admiral Sir) Percy Scott until 1890.  It is likely that Haddock spent a considerable amount of his time in the traditional naval task of cleaning the ship. According to Fifty Years in the Royal Navy written by Percy Scott (1919):
"In those days it was customary for a Commander to spend half his pay, or more, in buying paint to adorn H.M. ships, and it was the only road to promotion. A ship had to look pretty ; prettiness was necessary to promotion, and as the Admiralty did not supply sufficient paint or cleaning material for keeping the ship up to the required standard, the officers had to find the money for buying the necessary housemaiding material."
The Royal Navy training and ExtraMasters qualification made Haddock a good fit for the White Star Line, and in October 1888 he became a White Star officer.