Captain Herbert Haddock
- Retirement and Death
By the end of 1915, Haddock's duties as commander of a fleet of dummy warships was complete. Only a few months later, on the 2nd of February 1916 according to his White Star service record, Haddock officially resigned from the White Star Line, aged 55.
That same year, on the 17th of July 1916, he received recognition of his 1914-1915 service with the Admiralty's dummy battleship fleet, when he was appointed as the first Royal Naval Reserve Aide-de-Camp to the King, a position he would hold for three years, according to the 19 July 1916 edition of The Times. According to the Western Daily Press, of 22 July 1919, Haddock had the "distinction of being appointed an A.D.C. to his Majesty the King for rescuing the crew of the Audacious."
Death of Brother and Son
1916 was a year of loss for Haddock. On the 9th of March his brother John Cecil Haddock died, followed shortly thereafter by the death of his son 21-year-old Geoffrey Haddock (1895–1916) on the 17th of September 1916. Listed as a Lieutenant in the Canadian Infantry, 24th Battalion (24th Victoria Rifles), he died in Courcelette, Picardie, France of unknown causes and although his body was never recovered, he has a headstone in the family plot at the St Mary Extra Cemetary, in Southampton. There is also a memorial at Vimy, Departement du Pas-de-Calais, Nord-Pas-de-Calais, France.
Geoffrey Haddock
Born in Birkenhead on 10th January 1895, Geoffery (sometimes also called Godfrey - the 1901 census lists him as Godfrey and the Southampton Cenotaph Memorial Wall also lists him as "Godfery" ) was Herbert and Mabel's oldest son. Likely due to his mother's Canadian connections (her grandfather John Francis Bouchette was born in Quebec) "Geoffrey emigrated to Canada in May 1912, a passenger on SS Canada which left Liverpool on 18th May 1912, and arrived in Quebec on 26th May 1912. He was amongst a list of passengers who intended to settle in Canada. On the departure papers it states that he was a student but on his arrival papers it states 'Clerk'. On the 1913-1914 Montreal City Directory Geoffrey lived at 127 Drummond Street and was employed as private secretary to the President of the Great Trunk Railway." (Jackie Chandler/Southampton Cenotaph)
It was the "Great War" of 1914-1918 that brought Geoffrey back to England. He enlisted in the newly formed Canadian Expeditionary Force in Montreal on the 24th of October 1914 and "Geoffrey's Battalion, the 24th Victoria Rifles, embarked for Great Britain on 11th May 1915 and arrived in France on 16th September 1915 fighting as part of the 5th Infantry Brigade, 2nd Canadian Division, in France and Flanders until the end of the war. Geoffrey was promoted to Sergeant and then commissioned in the field to Lieutenant. He was part of 'D' Company and he was killed in action on 17th September 1916 in Courcelette in the Battle of the Somme. At 12.30pm on that day orders were received to attack the German front line near to a sugar refinery, south of the village of Courcelette. The attack started at 5.00pm. 'D' company suffered many casualties and these heavy losses were blamed on the inadequacy of the artillery action prior to the attack. His body was never retrieved." (Jackie Chandler/Southampton Cenotaph)
Geoffrey was awarded the Victory medal and the British War medal and was held in high regard. According to the Southampton Cenotaph and Old Birkonian Society, his Colonel wrote: ""From the very day your son joined my battalion in Montreal he has been close to me, and only the other day General Byng, our Corps Commander, at an inspection asked me who your son was – so smart and soldierly he looked. His place can never be filled. . . . The devotion of your son to duty has been an inspiration to us all." A fellow officer also wrote: "Geoff was a born leader, and his example will help those of us who are left. The standard he set for us is very high, and I only pray that we can live up to it. … It is such as he that make our country what it is to-day." (Jackie Chandler/Southampton Cenotaph)
Although officially his body was never recovered, "there is a grave at Adanac Military Cemetery, Miraumont for an unknown Canadian Lieutenant, and on the 'Find a Grave' website this has been assigned to Geoffrey. The headstone inscription reads: 'A Canadian Officer (Lieutenant) of The Great War'... The name Adanac was formed by reversing Canada and was made after the Armistice. Graves were brought here from Canadian battlefields around Courcelette so it is possible that Geoffrey is buried here." (Jackie Chandler/Southampton Cenotaph)
In addition to the above mentioned Adanac Military Cemetery, Geoffrey Haddock is also mentioned at the Vimy Memoria, the Canadian National Vimy Memorial, dedicated to those who served and died in the Canadian Expeditionary Force during the First World War, with 11285 names carved on the memorial. His name is also listed on the Southampton Cenotaph, under "Haddock, Godfery".
Unemployed
The following year, 1917, Herbert Haddock's Royal Navy records list Haddock as officially "unemployed" but he does make at least two trips across to the United States, as the Ellis Island ship manifest records list him visiting the country on the 14th of May 1917 aboard the American Line's St Paul, on his way to Newport News, where he would be received by the British Navy, listing his occupation as a "Mariner" and his passage paid for by the Admirality.
Then on the 31 August 1917, he once again arrived at New York aboard the Adriatic on his way to Norfolk, Virginia, listing his occupation as "Naval Officer" and interesting, considering his resignation the year before, the passage is paid for by the White Star Line. There is presently no information as to the purpose of these two trips.
On the 16th of July 1919, White Star commander Charles A Bartlett succeeds Haddock as Aide-de-Camp to King George V. On the 8th of December 1919, Capt. Herbert J. Haddock, C.B., R.D., is placed on the Royal Naval Reserve's retired list. (The London Gazette, Issue 31705, 23 December 1919.)
Locations and Deaths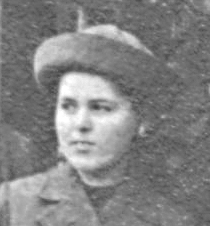 The Haddock family had several addresses during their lifetime, notably 15 Esplanade, Rock Ferry, Cheshire and later, according to the 1901 census, 56 Chester Road, Birkenhead, until at least 1904 and then later they moved to Southampton. The move was likely to coincide with the transition from Liverpool to Southampton for the north Atlantic route. At the time of the Titanic disaster, he and his family were living at 40, The Avenue, Southampton (now the site of the Travelodge) but also lived in Garden City, Bitterne Park, Southampton and 2 Bitterne Way, Bitterne.
Haddock's youngest daughter, Joan Haddock (born 21 October 1904) died suddenly in a nursing home in Battle, Sussex on the 21st of November 1920 having only just turned 17 years old and is buried in the St Mary Extra Cemetery.
On the 11th of March 1935, Haddock's wife Mabel passed away in Southampton. She was only 64, while Haddock was then aged 74. He lived for another 11 years. In the 28th of May 1935 edition of the London Gazette, his daughter Ruth was described as a spinster.
In 1937, their younger son Herbert (21/10/1903) married Elizabeth Norah Stanley in India. The 1939 census lists Haddock as living at number 18 Furzedown Road, Southampton aged 78 as a "Master Mariner (Retired)" and living with Ruth Haddock, his daughter, (born 14 May 1896), and doing "Domestic duties"
One of the last recorded moments of Haddock in the printed press was a charitable action during the middle of the German Blitz that caused much destruction to Southampton. The Vice President of the United States Lines, P.V.G. Mitchell, wrote a letter to the editor of The New York Times on the 4th of February 1941:
An Appeal for Southampton
TO THE EDITOR OF THE NEW YORK TIMES:

While I am very conscious of the multitude of demands on the generosity of Americans for aid in some form for the distressed peoples of Great Britain and, Europe in general, I have just received a letter dated Dec 12 from Sir Herbert J. Haddock, one time master of the Olympic and former commodore of the White Star fleet, which I would like to quote:

"As the papers will have told you, Southampton has had a very bad knock, (Sentence blocked out by censor). You were out in Frisco after the earthquake, so can judge what Southampton is like. There is bound to be much destitution. So many here have lost every stick they possessed. Would you 'pass the hat' round amongst your friends and send any contributions to The Mayor, Civic Center, Southampton, for the Distress Fund?"

As Sir Herbert was well known to a great many Americans who traveled with him over a long period of years. and as Southampton is his home, occurs to me that possibly some of his old friends might wish to make a donation to the Distress Fund for the destitute of Southampton, who are undoubtedly in dire need. Any one who recalls Captain Haddock will realize that the need must be great to induce him to make an appeal. The many Americans who have landed or embarked at Southampton will share my feelings over the destruction wrought in this fine old city, which, from my information, has suffered severely, while dock areas, which were really important military objectives, have been damaged very little.

I am sending contributions solicited personally, and I should be glad to act as almoner for any of your readers if they care to contribute.

P. V. G. Mitchell, Vice President, United States Lines. New York, Jan. 29, 1941.

( The New York Times, 4th of February 1941, courtesy of )
Haddock was likely referring to the worst raids on Southampton that occured on 23 and 30 November and 1 December 1940 and were generally referred to as "Southampton's Blitz". Among the victims of the bombings was Edgar L. Perry, who had worked as a coal trimmer on board the Titanic in 1912. Perry, who had survived the sinking, perished along with his wife on 23 November 1940 as they sought shelter from the bombing. Captain Smith's former house in Winn Road was also hit and mostly destroyed when it suffered a direct hit on the 18th of April 1942.
Finally, on the 4th of October 1946, Captain Herbert J. Haddock died in Southampton at the age of 85 and was buried in the St Mary Extra Cemetery, in Southampton.
The New York Times obituary, dated the 6th of October 1946 stated: "Captain Haddock was an exceedingly modest man who hated to see his name in the newspapers."
The two remaining children, Ruth and Herbert, died in 1958 and 1988 respectively. Ruth died on the 25th October 1958 while Herbert lived on until the 13th of June 1988.
Thanks to work by author Louis Francken and Peter Baker (a member of the Bitterne-Southhampton historical society), Captain Herbert Haddock's grave was located and cleaned up in 2011, with the discovery that the edges of the grave to Geoffrey (with the central cross) also contained dedications to the family as follows:
Bottom Side: In loving memory of Joan Haddock died 21st November 1920 aged 17
Right Side: Mabel Eliza beloved wife of H. J. Haddock died March 11th 1935 aged 63
Top Side: Also of Herbert James Haddock C.B. R.D. Master Mariner died October 4th 1946 aged 85 years
Left Side: In memory of Jessie Francis Baines Bouchette Relict of Quebec Canada died 23rd December 1918.
In 2011, Belgium based researcher Louis Francken published a 192 page book in French entitled "Le vrai capitaine Haddock: Herbert James" (Ed Avant-Propos. Waterloo 2011). Francken is described on Amazon as "a physicist passionate about the adventures of Tintin." He "held a professorship at a large university" and is a "President of international committees and visiting professor at several universities, he is the author of numerous articles." He started writing about Captain Haddock after discovering that a relative sailed aboard the Germanic from Liverpool to New York in 1902 when Haddock was in command.
A description in French states about the book:
This work traces the destiny of this British naval captain, first commander of the Titanic and its sister ship, the Olympic. The exploits of this valiant sailor during the First World War even earned him the nickname "Nelson of the British Merchant Navy". This multi-layered story, where colorful characters meet, also reveals little-known aspects of events such as the sinking of the Titanic, the lure of the "dummy fleet" - a fleet of fake warships - or some episodes of the Great War. The only complete biography of the real Captain Haddock.