Captain Herbert Haddock
- White Star Line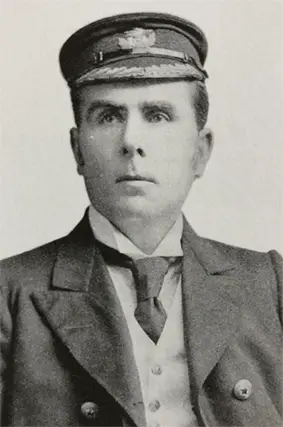 Herbert Haddock joined the White Star Line as Fourth Officer at the age of 27, on the 6th of August 1888. He very quickly rose through the ranks, although sadly his White Star Line record of service presently omits a list of the ships he worked aboard. However it does list the dates of when he achieved the following ranks:
August 6, 1888 - 4th Officer
Oct 3, 1888 3rd Officer
March 18, 1889 2nd Officer
Jan 1891 1st Officer
March 1892 Chief Officer (Atlantic)
June 1892 1st Officer
Dec 1892 Chief
Feb 1893 1st officer
June 1893 Chief Officer
Dec 1893 Commander
It is notable that within the space of only 5 years he went from Fourth Officer to Commander. Midway through this period, on the 15th of August 1890, he was made a Lieutenant in the Royal Navy Reserve.
During this time, between 1888 and 1893, Haddock likely worked aboard the RMS Britannic and SS Germanic. According to author Wade Sisson in his book Racing Through the Night: Olympic's Attempt to Reach Titanic, "Haddock's first command for the line was the 5,000-ton Britannic." The Britannic was a single-screw passenger steamship equipped with sails built for the White Star Line's North Atlantic run.
Family
In the same year he first became captain, Herbert Haddock married Mabel Eliza Bouchette in Rock Ferry, Cheshire on May 13th, 1893. Mabel was born in West Derby, Lancaster c.1872 and lived with her father, Francis, at 91 Townsend Lane, West Derby, Liverpool. Mabel's parents "Jessie and Francis Baines Bouchette were married by special licence in Liverpool, England on 15th January 1866. Francis' father, John Francis Bouchette was born in Quebec, Canada and he married Mary Frances Baines, who was born in England, in 1830." (Jackie Chandler/Southampton Cenotaph)
Herbert and Mabel had four children – Geoffrey (10 January 1895 – 17 September 1916), Ruth (1896 – 26 October 1958), and twins Herbert (21 October 1903 – 1988) and Joan (21 October 1903 – 21 November 1920). Their first son, Geoffrey was born in Birkenhead on 10th January 1895 and christened on 14th March 1895 in Rock Ferry.
Britannic and Germanic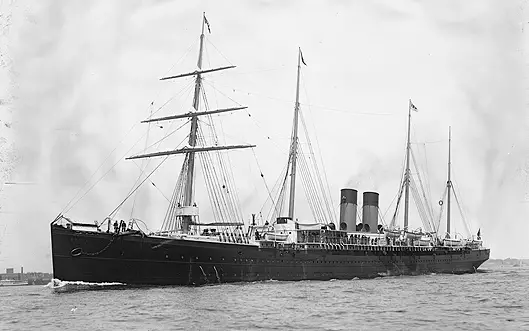 According to Sisson, Haddock's "time as skipper wasn't without memorable incidents." Sisson describes that at 10am on the 20th of April 1896, on a westbound crossing, the Britannic was struck by an enormous rogue wave that "swept over the bridge, which Captain Haddock had just left." The wave "shattered the starboard lifeboat to pieces and nearly swept First Officer Chapman overboard. Nobody was killed in the incident, but some steerage passengers suffered bruises." (Racing Through the Night: Olympic's Attempt to Reach Titanic, by Wade Sisson)
Haddock also had to deal with mail theft involving $20,000 worth of bonds when in August 1898 "four members of Britannic's crew were arrested on smuggling charges in connection with a plot to steal bonds from mail packages in the hold. Captain Haddock met with an Assistant US District Attorney along with an assistant steward Henry Galway, who confessed his role in the plot." Then on the 21st of April 1899 "Haddock reported having endured heavy seas that made it impossible for his ship to communicate with shore."(Racing Through the Night: Olympic's Attempt to Reach Titanic, Sisson)
Haddock's next command was the Britannic's sister, the Germanic, which had entered service in 1875. When Haddock took command in 1899 she had just undergone repairs after a shallow sinking at White Star's New York City pier in February, which had been caused by a heavy layer of snow on her decks. Haddock himself also experienced bad weather aboard the Germanic in March 1901 when the weather was so stormy with a lack of visibility that she was forced to anchor at Sandy Hook and arrived two days late into New York.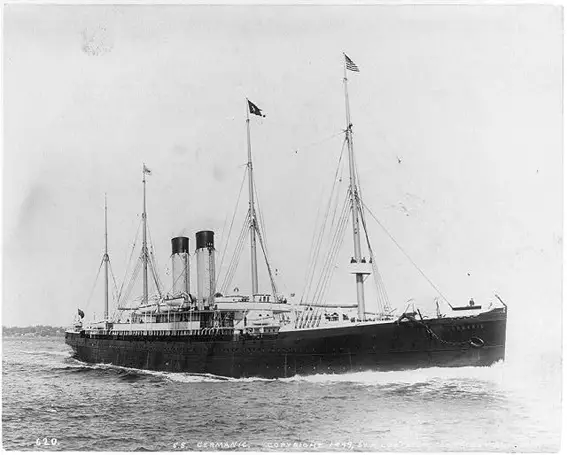 In August 1901, King Edward VII named Haddock a Commander of Bath, an honour afforded members of the military (including Royal Navy) on special occasions, such as the Coronation, which took place the same month. (The New York Times, 8 August 1902 p12)
1903 Cedric
A highlight in Haddock's career was when he was made captain of the RMS Cedric for its maiden voyage on the 11th of February 1903. The RMS Cedric was the second of a quartet of ships over 20,000 tons, dubbed "The Big Four," and the largest vessel in the world at the time of her launch on the 21st of August 1902. RMS Cedric was a 21,035-gross register ton ship, 700 ft (210 m) long and 75 ft 3.6 in (22.951 m) abeam, with two funnels, four masts, two propellers and a service speed of 16 kn (18 mph). There was accommodation for 365 first-, 160 second- and 2352 third-class passengers, and a crew of about 350. Most importantly, she was on the shorter North Atlantic route, commencing her maiden voyage from Liverpool to New York on 11th of February 1903.
At 5am on the 11th of February 1903, 42-year-old Herbert Haddock came onboard and took command of the ship in Liverpool, arriving in New York on the 20th of February after a successful crossing. Also on this journey, in the role of Second Officer, was Henry Wilde, who would later become Titanic's Chief Officer, as well as Hugh McElroy, purser.
It made news on the other side of the Atlantic. The New York Times of Saturday 21st of February 1903 ran the following piece:
LINER CEDRIC IN PORT

Largest Steamship Afloat Pronounced Steady as a Rock

Gales and High Seas Made No Impression on Her, and None of the Passengers Was Seasick

The largest steamship ever constructed slowly made her way, last evening between 6 and 8 o'clock, up New York Bay and the North River to the White Star piers at the foot of Banks Street. The huge vessel was the new transatlantic liner Cedric, a sister of the Celtic of the same fleet, but ninety-six tons larger.

The Cedric made a good voyage, according to officers and passengers, and each and every one of them pronounced her almost perfect as far as seaworthiness and easygoing in the roughest kind of weather are concerned. For instance, Sir Cavendish Boyle, the Governor of Newfoundland, who was among the passengers, said that she was as steady as a rock, and that although huge seas often hurled themselves against or over her sides, they had no effect on the monster, which went her way without even so much as a tremor. "The Cedric is a good example of the kind of ships the Morgan combine is turning out," added Sir Cavendish.

Another staunch supporter of the Cedric's qualities of resistance to big seas and high winds was Clegg, the White Star Line's veteran smoke-room steward, who has been in the employ of the line nearly a quarter of a century.

"When we left Queenstown," said Clegg, "I placed a small wine glass filled with champagne on the edge of a sideboard on the port side of the smoke room. I never touched that glass all the way across, and when we got to Sandy Hook to-day the glass had not moved half an inch and not a drop of wine had been spilled. Now, that proves that the Cedric is a wonder, doesn't it?"

In appearance the Cedric is almost exactly like her sister ship the Celtic. What small differences in construction do exist, it would take an expert to find. She is 700 feet long, 75 feet wide, and has a depth of 49 1-3 feet. Her gross tonnage is 21,000 tons, while her displacement is 38,000 tons. Like the Celtic, she has four masts and two funnels, and is designed to cross the Atlantic at an average speed of about 17 knots. Her interior fittings, while not at all gorgeous, are yet elegant in appearance.

The Cedric brought 742 passengers, 312 of whom were in the first and second cabin. According to Dr. R. D. Doble, formerly of the Teutonic, the ship's surgeon, not a passenger was seasick during the voyage, so easily did the big ship plough her way through the mountainous seas on the way over. The log of the liner shows that she encountered all kinds of gales, especially during the last four days, when she ran into a succession of heavy northwesters.

"They did not bother us any, though," said Capt. Haddock, "for on this ship you would hardly know you were at sea unless you happened to take a walk on deck or looked out of your stateroom window."

The Cedric crossed the ocean in 8 days, 8 hours, and 16 minutes. She came over the long course of 2,889 miles from Daunt's Rock to New York, and her log shows that her day's runs were 365, 390, 383, 333, 351, 331, 303, 358, and 75 to Sandy Hook. Her average speed was 14 1/2 knots.

Her commander is Capt. H. J. Haddock, C. B., R. N. R., formerly of the Britannic, Germanic and Celtic. The chief officer is Lieut. Alexander Hambleton, R. N. R., and the chief engineer J. W. Alexander, who for the last two years had been chief engineer on the Britannic, which has been doing service as a Government transport. The purser is H. McElroy.

-The New York Times, Saturday 21st February 1903
Haddock returned to Liverpool on the 6th of March 1903 on the return leg. It was one of many voyages as Master of the Cedric on its monthly service to the States, for which Wilde also remained as Second Officer between February and November 1903.
Cedric Sinking Rumour
In November 1903, there was a rumour started in Liverpool that the Cedric had been "sunk in the mid-Atlantic by a collision with the Lamport and Holt steamer Titian.." The report was carried in the Friday, 27th of November, 1903 edition of The Times (London) stating: "There was a certain plausibility about the report, as the Cedric left Liverpool on November 18 for New York, and the Titian sailed on November 14 from New York for Manchester. The story was cabled to New York and thence returned here."
Captain Haddock was in charge of 290 first class passengers, 160 second class and 540 steerage class passengers so the reports must have caused much concern at the White Star offices as worried relatives contacted them. However, the Titian arrived safely in Manchester, as did the Cedric in New York on the evening of which "places beyond doubt the baseless character of the story." (The Times, Friday 27th November 1903.)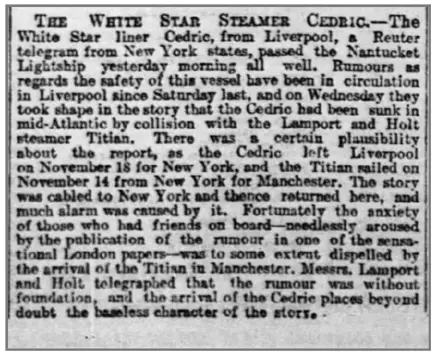 During this time, Haddock's youngest son and daughter were born on the 21st of October 1904 - Joan and her twin brother Herbert, at Rock Ferry, Cheshire.
Haddock's Navy records list dozens of crossings between 28.4.1904 - 2.4.1907 for which he is listed as the Cedric's captain. For some of these voyages documents remain -such as an "Abstract of Log" of the S.S. Cedric dated February 10th, 1904 detailing the ship's progress between Liverpool and New York from the 11th of February to the 19th of February, a total of 2884 miles in 8 days, 19 hours and 22 minutes, arriving in New York at 4.06pm.
Another document from 1904, a Second Class passenger list from the SS Cedric dated May 18, 1904 lists "Commander H.J.Haddock C.B., R.N.R"
Some crossings were eventful, such as on the 15th of March 1905, during a voyage to New York, lasting 11 days:
"Captain Haddock was said to have described as being one of the most remarkable in his long experience, Cedric was struck by three huge waves, estimated as being at least 60 feet in height. The first wave struck the ship on the port bow, causing her to roll heavily to starboard; the second caused the cover of Hatch. No2 to be smashed, broke part of her port rail, and shattered a number of her port lights; the third and huge final wave bent a number of the ships forward plates.

On 21st March 1905, the New York Times reported that still during the above storm, on 16th March, a baby boy was born in 3rd class to Mrs Sarah Whitney. He was said to have been named Cedric, just like the ship in which he was born on."
(Source: White Star History, https://www.whitestarhistory.com/cedric)