Side Menu:
Fourth Officer Boxhall
Fourth Officer Joseph Boxhall
- Early Life
Joseph Groves Boxhall was born on the 23rd of March 1884 in Hull in the East Riding of Yorkshire, England, the second child of 23-year-old Miriam (Mary) Abigail Groves (born 1861) and 26-year-old Joseph Boxhall, Sr (born 15th February 1858). Hull is the abbreviation for Kingston upon Hull, a port city in East Yorkshire, England.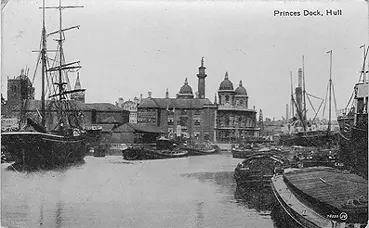 He was the second child of Joseph and Miriam and had two sisters who survived into adulthood - Violet (an older sister) and another named Mabel ('Mae') a younger sister. A third sister, who would have been the youngest, named Enid Grace, died only a few months after she was born.
He was born into an established seafaring tradition: His grandfather had been a mariner. His uncle, Charles Boxhall, (born in 1848) was a Trinity House buoy master and Board of Trade official and was married to Rebecca Groves (sister of Miriam Groves, Joseph's mother) and had four children. More importantly, his father was a respected master with the Wilson Line of Hull and often sailed between England, Norway and Sweden.
According to a letter Boxhall wrote to a Mr. Joe Carvalho of Massaschusetts, 24 April 1961, his father took the children to the United States in the ship the SS Alecto in 1896 when Boxhall was aged 11:
"Now I must tell that when I was 10 or 11 years old my father took us to Boston in S/S Alecto of which he was master. He docked at Mystic Dock Chelsea and whilst I stayed with English friends in Orange Street Chelsea, I will remember setting off fireworks in the street lined with trees then on the 4th of July."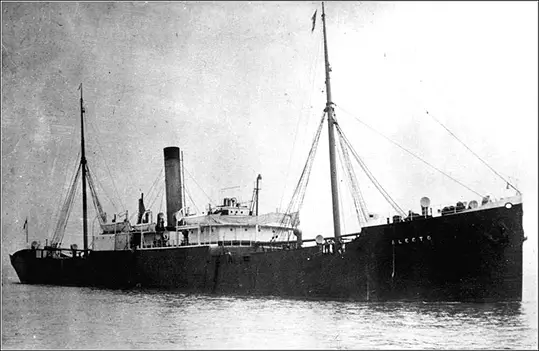 In a latter letter dated 1962 he added:
"As a boy of 11 my Dad took my Sister and I from Hull to Boston MASS. I was sea sick really all the journey. Father was master of a steamer called 'Alecto'. We stayed with English friends who lived in Orange Street or Avenue, Chelsea and we had the pleasure of being there 4th July celebrations."
He followed this up with another letter than mentioned: "I don't know whether I told in my previous letter that I visited Boston and laid up at Mystic Wharf Chelsea when I was a school boy about 1896. " (Letters courtesy of Joe Carvalho & Shelley Dziedzic, Encyclopedia Titanica)
Apprenticeship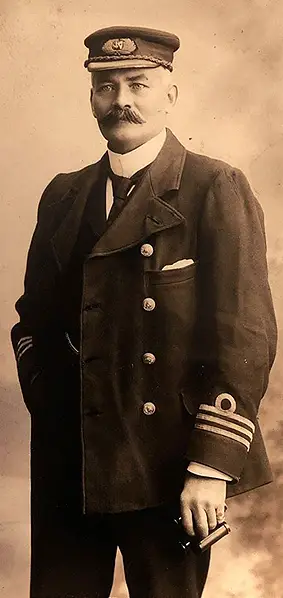 Despite suffering from seasickness as a boy aboard the SS Alecto, Boxhall followed in the footsteps of his ancestors and choose a career at sea. During the Titanic Senate Inquiry he testified that he had "12 months training in a navigation school... In Hull, England" with training focused on "Navigation and nautical astronomy."
His 4 year apprenticeship began with the Thomas William Line of Liverpool on the 2nd of June 1899, when he joined his first ship, the Cambrian Warrior, a three masted barque that had been built in Sunderland in 1885 and registered in Liverpool.
Boxhall's diary as an apprentice aboard the Cambrian Warrior between 1899 and 1902 has come to light from the archives of Hull Trinity House. The journal "charts his early years as an ambitious seaman on various vessels criss-crossing the world's oceans and among the many snippets in the diary, which provides an insight into a sailor's life at the turn of the last century, Mr Boxhall tells the story of a drunken sailor who in 1899 fell over the side of a small vessel and had to be rescued, and how in 1900, a colleague failed to secure a sail properly and it blew over the side to trail behind his ship 'like a wedding gown. ' " (Yorkshire Post, "Diary written by officer on Titanic found in archives", 07 May 2003)
Having started his apprenticeship aboard a sailing ship, in his final year Boxhall was moved onto a steam ship, the SS Hemisphere, also owned by Thomas William and registered in Liverpool. It was a cargo ship built in 1897, 3486 tonnes with a single shaft, triple expansion engine and was 106.7 metres long and 14.2 metres wide. On the 28th December 1914 when 400 miles NE by E from Pernambuco the SS Hemisphere was captured by the German Auxiliary Cruiser SMS Kronprinz Wilhelm and scuttled on January 7th/8th 1915.
During the course of his apprenticeship he sailed to Russia, the Mediterraenan, North and South America and Australia. On the 2nd of June 1903 however, his apprenticeship was complete and he spent July preparing for a test so as to obtain his Second Mate's Certificate, which he passed on the 15th of July 1903, the certifiate being issued on the 25th of July 1903 to his address: 87 Walton Street, Hull.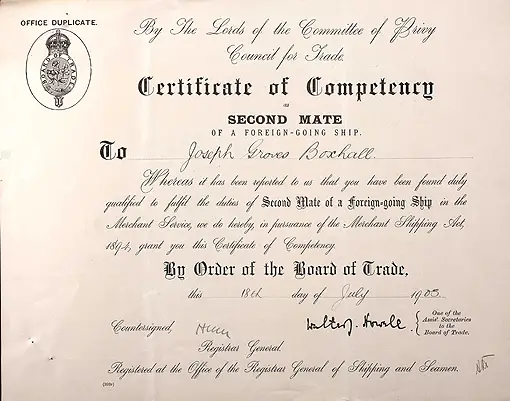 But it was not all a time for celebration for young Boxhall, as in March of the same year (1903) his mother, 42-year-old Miriam, died. Captain Joseph Boxhall, subsequently remarried at the age of 45. Although presently unconfirmed, there was at least one if not more step-siblings after his father remarried - his father's wife had children from her first marriage.
Nonetheless, 19-year-old Joseph Boxhall was now ready to begin his career at sea.