Side Menu:
Fourth Officer Boxhall
Fourth Officer Joseph Boxhall
- A Career at Sea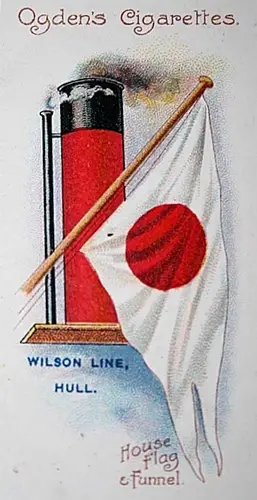 Having acquired his second mate's certificate, Boxhall went to work with his father at Thomas Wilson Sons & Co., a British shipping company founded in 1840 and most commonly known as the Wilson Line.
SS Iago
On the 27th August 1903 he signed on to his first ship - the SS Iago and he served aboard her for 1 one month and 25 days until the 21st of October, 1903. The SS Iago was built in 1899 and is described as a "Steel Screw Steamer, twin masted Brigantine rigged, official No. 95781, registered Hull, 295 x 38 x 20 ft, 1550 tons, 200 h.p. speed 10 knots." and listed as carrying "large general cargo" with "Bombay" as its destination (humberpacketboats.co.uk).
SS Martello
On the 31st of October 1903 he served about the SS Martello, a cargo ship built in 1884 and used on the New York Service. It is described as an "Iron Screw Steamer, 370 x 43 x 28 ft, 2439 tons 400 h.p" and "capable of carrying 600 head of cattle" (humberpacketboats.co.uk). This ship had been involved in two collisions - "6th May 1886 in collision with sailing cutter 'Ida', of Falmouth, off the Lizard. 8th May 1887 under the Command of Captain Francis E. Jenkins, in collision with the American barkentine 'Freda A. Willey', of Falmouth, off Sandy Hook Lightship in fog" (humberpacketboats.co.uk). Fortunately, during Boxhall's time aboard her nothing so serious occured and he was third mate for two trips - during November and December, for one for 1 month and ten days, the other over the New Year for one month and 14 days ending on the 28th of January 1904.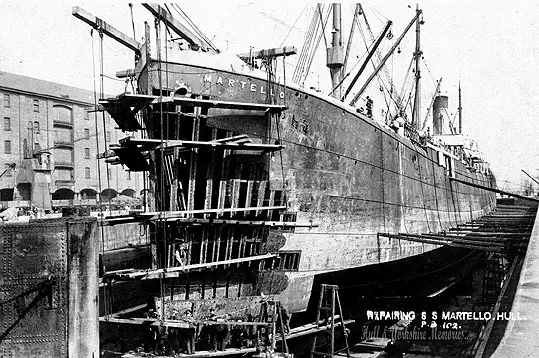 SS Dido
Staying with the Wilson Line, Boxhall's next ship was the SS Dido, built in 1896, a "Steel Screw Steamer, official No. 105097, 400 x 48 x 29 ft, 250 h.p." It was designed for the "Bombay trade and capable of carrying 7,200 tons deadweight at a speed of 10 knots" (humberpacketboats.co.uk). Boxhall only served aboard her once but it was his longest trip so far at 3 months and 18 days in duration, from 21st of February 1904 until the 7th of June 1904.
The SS Dido was later sank by a mine on the 26th of February 1916 in the north sea while travelling from Middlesbrough to Bombay. During the war the Wilson Line, the biggest private shipping company in the world, lost about 50% of its fleet. (humberfirstworldwar.co.uk/)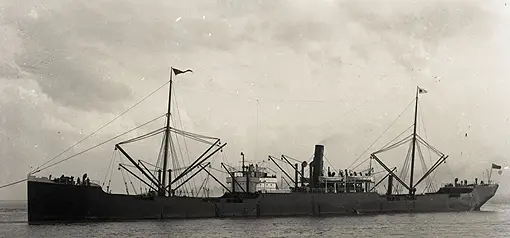 He returned for another two trips aboard the SS Iago between June and November 1904, still as third mate, both trips just over 2 months in length and with only 9 days back in Hull between journeys.
First Mate Certificate
Boxhall clearly had further aspirations as he sat for his next qualification - a First Mates certificate and passed on the 12th of January 1905.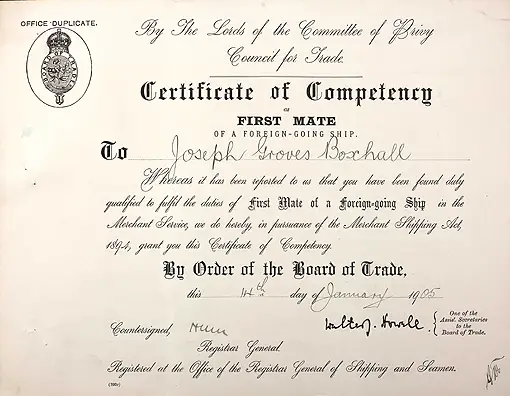 SS Colorado
However, on his next Wilson Line ship, the SS Colorado, he remained as third mate, sailing aboard her for four journeys, each just over a month in length, from the 25th of January, 1905 until the 22nd of July 1906. The SS Colorado had been built in 1887, a steel screw steamer that was "370 x 45 x 28 ft, 2787 tons, 450 h.p... 44 passenger capacity.For the New York Trade." The year before she had been involved in a "collision with the steamship 'Boston City' of Bristol in New York Bay, on January 31st. March 1907 Messrs Wilson, Sons, & Co. Hull yesterday received a telegram stating that their steamer 'Colorado', which had been several days overdue, had arrived safely at New York. Scrapped 1907" (humberpacketboats.co.uk).
SS Rosario: Promotion to Second Mate
Boxhall's most recent certification paid off when he was promoted to second mate aboard the SS Rosario, a steel screw steamer that was "275 x 34 x 19 ft, 1239 tons, 140 h.p." (humberpacketboats.co.uk). Boxhall served aboard firstly for one month, from the 19th of August 1905 until the 23rd of September 1905, and then again for 3 months and 7 days from the 10th of October 1905 until the 16th of January 1906.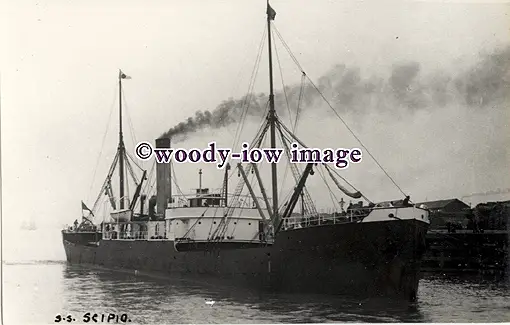 SS Scipio
Between January and June 1906 Boxhall was listed as "out of employment through sickness." However he recovered sufficiently to join the SS Scipoi on the 9th of June 1906, where he sailed aboard her as second mate a total of seven times between June 1906 and April 1907. The SS Scipio was a steel screw steamer "270 x 38 x 19 ft, 1118 tons, 118 h.p.... Launched [in 1894] by Miss Madeline Robinson." (humberpacketboats.co.uk)
Extra Masters Certificate
Clearly keen for further advancement Boxhall studied for his Master's and Extra-Master's certification at Trinity House in Hull. He firstly failed the test on the 30th of August 1907, with the reason stated as a "general deficiency of marks" but then later passed the examination on the 14th of September 1907, with the certificate addressed to his new location: 27 Westbourne Avenue, Hull.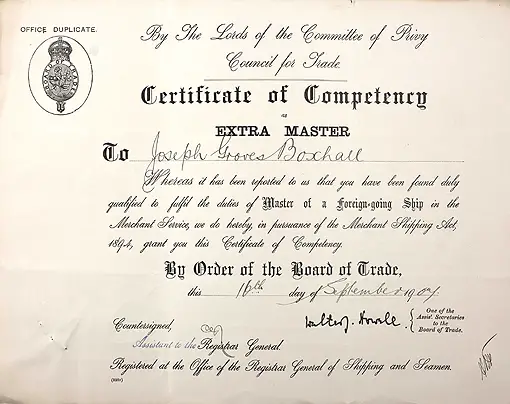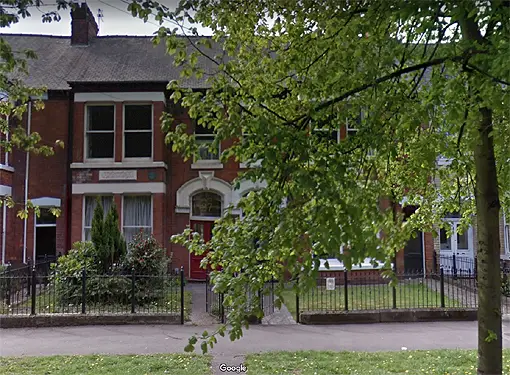 White Star Line
At the United States and British Inquiry, in 1912, when asked "How long have you been with the White Star Line?" Boxhall replied: "Five years next November." Which indicates that he joined the White Star Line in November 1907. One of his earliest berths was the liner Oceanic which he began serving aboard in July 1908 in the capacity of Sixth Officer and subsequently Fifth Officer. Aboard the Oceanic he met Charles Lightoller, who worked from 1907 to 1911, as Second officer and then moving on to First, and the only Titanic officer Boxhall knew prior to joining the Titanic in Belfast.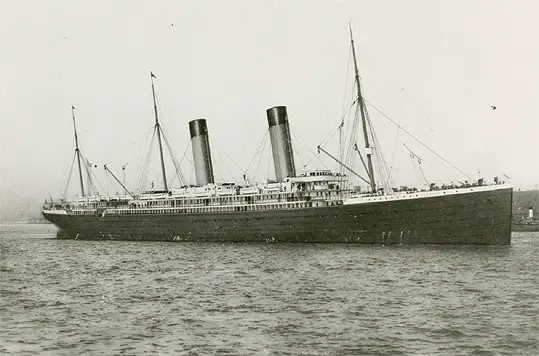 The Oceanic was certainly a step up for Boxhall. Launched in 1899, she was the largest ship in the world until 1901 and at 17,272 gross tonnes was 704 ft (215 m) long and 68.4 ft (20.8 m) wide, powered by triple expansion reciprocating engines equalling 28,000 horsepower.
However it was not all work aboard the Oceanic. In a photograph from the Bell Album collection, Boxhall is pictured with his sister Mabel as she visits the Oceanic docked in Southampton. Dressed in a hat they prepare to go out on the town with a group including Engineer Drake, perhaps a friend of Boxhall's. There is also a playful photograph of Boxhall in a lifebuoy aboard the Oceanic while in his summer white uniform, New York, dated 29 May 1909.
On 1 October 1911, Boxhall was confirmed as a sub-lieutenant in the Royal Naval Reserve.
After spending time on the Australian run in 1911, by the end of the year he was back on the North Atlantic run aboard the Arabic. The Arabic had William Murdoch as its Second Officer in 1903 (June 1903 - 24th May 1904), during which time his quick thinking averted disaster when he overrode a command from a superior officer to avoid a collision.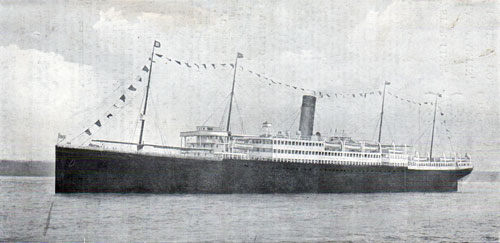 He signed off the Arabic in January 1912 as he been appointed fourth officer on a much larger ship: RMS Titanic.